How-To
Choosing Wallcoverings
Homebuilding pro Mike Litchfield sorts through the material choices for wallcoverings and adhesives, with some handy tips on ordering by the roll.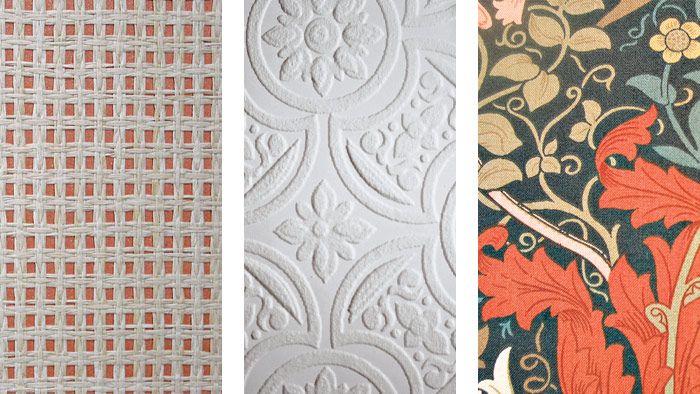 Today, wallpaper is available in so many materials—including grasses, bamboo, rice paper, foil, and cork—that they are collectively called wallcoverings, and some of them are stronger, more durable, and easier to maintain than some paints. Many are backed with paper or cloth, with cloth being stronger. But by far the most popular are vinyl-coated wallcoverings, which are washable and grease-resistant.
Most wallcoverings come prepasted. This makes them easier to apply and—years later—easier to strip from the wall. Because the manufacturer has already pasted the covering, all you need to do is unroll it and soak it briefly in a water tray. Many pros avoid the drips and mess of a water tray by rolling a prepaste activator onto the backing.
Selecting Materials
Choose a wallcovering whose pattern and color are appropriate for the room. There are no hard and fast rules on what works. But in general, lighter colors make rooms look larger, and darker colors make rooms look smaller. Smaller, subdued patterns are better for quiet rooms. Splashy floral prints tend to serve better in places such as front halls that bustle with activity. Delicate textiles or grasses are best reserved for rooms with little traffic and little risk of bruising. Also, consider the age and energy level of the people in the room. For example, vinyl-coated murals of rock stars or sports themes will appeal to kids and endure abuse.
Washable wallcoverings can be sponged clean occasionally with a mild soap or cleaning solution. Scrubbable coverings can take a vigorous scouring with a nylon-bristled brush or a pad, as well as stronger cleaning agents. There are also strippable and peelable wallcoverings, discussed at greater length in "Stripping Wallpaper".
For do-it-yourselfers, it's smart to choose a covering that's easy to hang. That is, textured coverings can be fragile and difficult to handle. The condition of existing walls also should affect your decision. For example, heavy coverings can conceal minor wall flaws, whereas lightweight papers will accentuate flaws and won't conceal underlying bold paints or vivid patterns. If walls or trim are badly out of square, avoid coverings with large, bold patterns because slight mismatches along their edges will be more obvious than if patterns are subdued.
Wallcoverings
Wallpaper, actual paper, is most appropriate for historically accurate restoration and wherever you want fine detail. Although vinyl coverings are increasingly hard to distinguish from paper, vinyls tend to look glossier. Although paper may have an aesthetically pleasing flat finish, it is more vulnerable to grime and abuse.
Vinyl is today's workhorse, available in a dizzying range of patterns and in finishes ranging from flat to glossy. Vinyl is especially suitable for areas with traffic and moisture. Most vinyls are washable, and cloth-backed vinyls are usually strippable—that is, they are easily removable when you want to change them. Although no wallcovering is intended to conceal major cracks and irregularities, heavier vinyls can conceal minor flaws. One thing to note: vinyl wallcovering can trap moisture in walls, so it is not ideal for exterior walls (particularly in warmer climates) unless the walls have foam insulation inside.
Fabric coverings include cotton, linen, silk, stringcloth, and wool. They're often chosen to match or coordinate with colors and textures in drapes and fabric-covered furniture. They come paper-backed, acrylic-backed, or unbacked (raw). And the backing largely determines the method of installation. Avoid slopping adhesive or water onto the fabric facing because some fabrics stain easily; delicate fabrics are usually dry hung, in which paste is applied to the wall and the dry wallcovering is smoothed onto it.
Natural textures, such as rice paper, grasses, and bamboo, tend to be expensive, temperamental, and delicate. And because the thinner coverings reveal even minor flaws in wall surfaces, you first need to cover the walls with a lining paper. Still, natural textures are evolving, with vinyl-coated versions that are relatively durable and easy to install. Besides their beauty, most natural textures have no pattern that needs matching.
Foils and Mylar also vary greatly in appearance and ease of handling. For example, heavier, vinyl-laminated foils are durable and easy to install. However, some uncoated metallic coverings retain fingerprints, so you should wear disposable nitrile gloves when hanging them, or perhaps avoid them altogether. That said, foils are well suited to small rooms because they reflect light, thus making the space appear larger. Lincrusta, an embossed wallpaper similar to a fine cardboard, is making a comeback. The modern version of Victorian lincrusta is called anaglypta.
Cork and wood-veneer wallcoverings are finely milled and manufactured to use cork and rare woods efficiently. Typical veneer dimensions are 1⁄64 in. thick, 1 ft. to 4 ft. wide, and 12 ft. long. Such specialty coverings may be available through suppliers of professional paperhangers.
Borders are thin strips of wallcovering that run along the edges of walls where they meet ceilings, wainscoting, and trim. They can be installed over wallcovering or directly to drywall or plaster. The surface determines the adhesive.
A Wall of Your Own Thanks to technology, you can have wallcoverings fabricated with virtually any pattern or image you want, including historical documents or wall-size photos of family members. The cost has come down a lot. Make sure these special coverings are treated with a protective coating such as a clear acrylic for easier cleaning.
Pastes
Like wallcoverings, pastes have evolved. Probably the best advice is to follow the manufacturer's paste specifications, usually printed on the wallcovering label, along with the code and run numbers. If the paste isn't specified, ask your supplier to get that information from the manufacturer.
Wheat pastes were the standard for centuries, but that changed in the 1960s and 1970s, with the introduction of vinyl wallcoverings. Trapped behind an impervious skin of vinyl, wheat paste was an ideal medium for mold. Moreover, wheat paste wasn't strong enough to bond many of the newer, thicker materials. Wheat pastes are occasionally specified for delicate wallpaper, but clay- or starch-based adhesives with additives that increase grip and discourage mold have largely supplanted them.
Pastes come premixed or as powders to be mixed with water. Premixed pastes are generally stronger, more consistent, and more convenient. Once opened, however, they have a relatively short life. In general, the thicker the paste, the quicker it dries and the greater the weight it can support.
Choosing the Right Adhesive
Most of the adhesives described here come premixed, unless otherwise noted.
Clay-based adhesives dry quickly and grip well. Use them to install heavy vinyls, Mylar, foils, or canvas-backed coverings or to adhere wall liners to irregular surfaces such as concrete block or paneling. Caution: Clays stain delicate materials. They may attack paint substrates, and they probably dry too quickly for amateurs to use successfully.
Clear adhesives may be the best all-around pastes. They're strippable, grip almost as well as clays, and won't stain. Clear adhesives are frequently classified either as standard mix (good for most lightweight coverings) or as heavy duty (for weightier coverings).
Cellulose has the least grip of any adhesive in this listing, but it's strong enough for delicate papers—especially for fine English wallpapers and unbacked murals. It won't stain but is somewhat less convenient because it comes as a powder to be mixed with water.
Vinyl-to-vinyl adhesive is recommended for adhering vinyl borders over vinyl wallcoverings or new vinyl wallcovering over old. It's so tenacious that it can't be stripped without destroying the substrate, so wipe up stray adhesive immediately. It's also used to adhere wall liners, Mylar, and foil.
Prepaste activator makes prepasted wallcoverings easier to install. It improves adhesion, while letting you avoid the mess of water trays. Prepaste activators are rolled on, which conveniently increases slip time, the time in which you can adjust wallcovering after hanging it.
Seam adhesive typically comes in a tube, reattaches lifted seams and tears, and is compatible with all wallcoverings. After applying seam adhesive, roll the seam.
Wallcoverings, Adhesives, and Application
| | | |
| --- | --- | --- |
| Wallcovering | Adhesives and Application | Comments |
| Prepasted | Paste already on backing; soak in water tray or machine according to manufacturer's recommendations. | To avoid mess of water tray, roll prepaste activator onto backing, which allows longer work time. |
| Lightweight vinyl | Standard clear adhesive; kitchen and bath adhesive with mildewcide in high-humidity areas | To avoid stretching vinyl when smoothing, use rubber squeegee or plastic wallcovering smoother. |
| Heavy vinyl | Heavy-duty clear adhesive; clay-based adhesive | If surface to be covered is rough or textured, install liner first. |
| Vinyl border over vinyl covering; new vinyl covering over old vinyl | Vinyl-over-vinyl adhesive | If adhesive gets on facing, sponge off immediately. |
| Vinyl border over flat paint | Standard clear adhesive; vinyl-over-vinyl adhesive | Sponge paste off walls quickly. |
| Wallpaper (including delicate English papers) | Cellulose adhesive; standard clear adhesive | Smooth with soft-bristle brush; if paste gets on facing, blot off with damp sponge. |
| Natural fibers (grasses, rice paper, bamboo) | Follow manufacturer's recommendation, usually clear adhesive. | Fibers vary greatly; some are vinyl coated and durable; dry-hang delicate types. |
| Paper-backed fabrics | Cellulose adhesive; standard clear adhesive | Dry-hanging usually best, test-hang small sample to be sure; avoid getting adhesive on fabric face. |
| Paper-backed upholstery, drapery, or other heavy fabric | Heavy-duty clear adhesive | Requires stronger bond; roll adhesive onto backing, but test-hang small sample to be sure. |
| Raw (unbacked) fabric | Cellulose adhesive; standard clear adhesive | Dry-hang; avoid getting adhesive on fabric face; test-hang sample to be sure. |
| Foils; Mylar | Clay-based adhesive; vinyl-over-vinyl adhesive | Not strippable; often dry-hung |
| Paper-backed murals | Follow manufacturer's recommendation; cellulose adhesive; standard clear adhesive. | Follow manufacturer's recommendations; may require liner and/or dry-hanging. |
| Canvas backed | Clay-based adhesive | Prime wall first or adhesive and covering may not be strippable. |
| Lincrusta, anaglypta coverings (embossed, often of heavy paper) | Clay-based adhesive | Roll adhesive onto back of covering; smooth with brush; don't roll seams. |
| Cork, thin wood veneer | Clay-based adhesive | Run liner perpendicular to finish covering; wipe paste off face immediately. |
| Wall liner; lining paper | Clay-based adhesive; vinyl-over-vinyl adhesive | Prime walls first; smooth coat or fill textured walls, block, and paneling. |
Ordering Wallcovering
Start by calculating the square footage of your walls and ceilings. Once you've determined the overall square footage, subtract 12 sq. ft. for each average-size door and window. To determine the total number of rolls you'll need, divide the square footage by the square footage listed on the rolls. If you're using American single rolls (see "How Much on a Roll?" below), you could instead divide by 36 (the number of square feet on each roll). But dividing by 30 gives you an allowance for waste.
If the room has numerous recesses, difficult corners, or a lot of trim to cut around, order an extra roll or two. Also, if the pattern is large, you'll waste more because you'll need to match patterns along seams. On the back of most wallcovering, you'll find the pattern repeat, usually stated in inches: The larger the pattern repeat, the greater the waste. Also, order an extra roll or two for repairs. You never know when a roof will leak or a child will ding a wall.
How Much on a Roll?
Wallcovering rolls (also called bolts) are available in American single rolls, Euro rolls (metric), and commercial widths. At this writing, Euro rolls dominate the market.
American single rolls are 18 in. to 36 in. wide. (A 27-in. width is comfortable for most people.) The wider rolls generate fewer seams but are much more difficult to handle. Whatever the width of an American single roll, it will contain 36 sq. ft. of material.
Euro rolls are 20-1/2 in. to 28 in. wide and are generally sold as double rolls (twice as long). Typically, there are 56 sq. ft. to 60 sq. ft. on a Euro roll.
Commercial coverings are typically 48 in. to 54 in. wide, beyond the skills of most nonprofessionals to hang.
PRO TIP: When you pick up a shipment of wallcovering, check the code number and run number on the label packed with each roll. Code numbers indicate pattern and color. Run numbers tell what dye lot you're getting. The dyes of different runs can vary considerably and will be especially noticeable side by side. So if you must accept different runs to complete a job, use the smaller quantity in a part of the room that isn't as conspicuous. Patterns tend to be current for at least two years.
Previous:
Removing Old Wallpaper
Next:
Designs Like These Are Why Wallpaper is Making a Comeback