How-To
Spray Finish On-Site
Waterborne lacquer and a basic high-volume low-pressure (HVLP) spray gun yield quick, quality paint jobs on interior trim, cabinets, and more.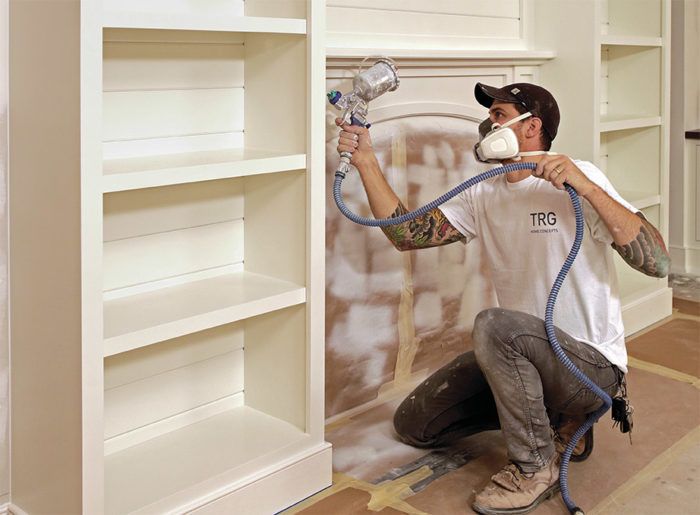 Synopsis: In this article, Tyler Grace explains his method of spray finishing cabinetry, mantels, overmantels, bookcases, and other built-ins on site. Tyler describes his setup of high-quality (but low-cost) spray equipment, including a high-volume low-pressure turbine unit, and the different types of primer and waterborne lacquer that he uses for finish work. He then explains step by step his sequence of priming, sanding, painting, caulking, and spot finishing. The article also includes a sidebar that describes the features of a spray gun and the ideal settings for airflow, which controls overspray; material volume, which controls the amount of wet-film thickness; and air-cap orientation, which controls the spray pattern.
---
People often ask why I spray finish a lot of my own cabinetry, built-ins, and trim on site. The answer depends on why you're asking the question. If you're wondering why I spray finish instead of using prefinished options, it's because a spray finish means more leeway for caulking transitions, filling nail holes, plugging screws, and sanding joints that need a bit of extra touchup work. If you're questioning my choice of a spray finish over a brushed finish, the answer is that a spray finish is faster to apply and smoother to the touch. If you're wondering why anybody would bear the hassle of doing a spray finish on site instead of in a dedicated booth, I'd ask if you were offering me a bigger shop. And if you're asking why I spray finish on my own rather than pick up the phone and call a painter to do the spraying for me, well, that just comes down to how much control I want over my work, and whether I'd rather pay a subcontractor or myself.
The truth is that spraying on site isn't always the best option — it takes time to set up and break down an on-site spray job, and time is money. But spraying on site has some definite perks for finish carpenters and remodelers who want to offer their customers one-stop shopping for their custom finish work. Besides, high-quality spray equipment is less expensive than ever, and modern waterborne finishes are safer, are easier to work with, and dry much faster than their solvent-based predecessors.
On a medium-size job like finishing the mantel, overmantel, bookcases, and console cabinet in this article, I can easily spray two coats of shellac, two coats of primer, and two coats of waterborne lacquer in a single day, with results that are as good as you'd see in any cabinet shop.
Experience will guide your workflow
If I'm building cabinetry on site, I generally set up a shop in the room where the work will be installed. Since I'm already isolating and protecting the entire room when setting up my tools, it's easy to get it ready for spraying too. In addition to vacuuming thoroughly, set up includes masking the room and ensuring proper airflow.
Spraying on site also means deciding what should be installed before finishing and what should be left free to move around. Most of this decision comes down to the risk of overspray. When spraying quick-curing waterborne finishes into enclosed spaces, the overspray can blow back toward you and settle on surfaces that are already beginning to cure, leaving a gritty finish. Trimwork and relatively flat items aren't as problematic as boxes, which is why I chose to install this mantel and overmantel and then finish them in place. I also fit and fastened the console cabinet because I only needed to spray the outside of that piece (the interior was built using prefinished plywood).
For more on spray finishing, watch the campanion video: Tips for On-Site Spray Finishing
Plus, click to see details of Tyler's spray rig setup, and also click for his use of a wet-film thickness gauge.
For more photos and details, click the View PDF button below:
View PDF
Next:
Tips for On-Site Spray Finishing