How-To
Stripping Wallpaper
Use these pro tips to take your wall from paper to paint with minimal damage.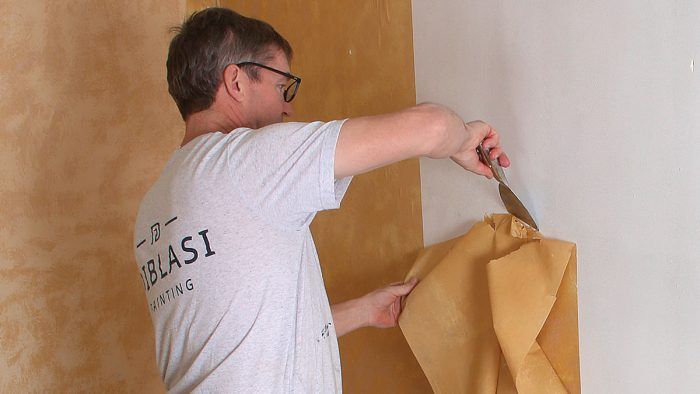 Synopsis: Professional painter Mike DiBlasi explains the proper way to remove wallpaper from drywall or plaster walls, and the best products and tools for the job. He describes how wallpaper is made, the importance of protecting the house, how to peel or sand the facing layer of the wallpaper, and then how to get at the glue on the backing and scrape the wallpaper from the wall before patching, priming, and painting.
---
In the 30 years I've been a professional painter, I've stripped a lot of wall- paper. The fundamental idea is to make it as easy as possible to remove so you don't damage the wall underneath. To do that, it helps to understand how wallpaper is made.
Wallpaper has two layers: facing and backing. The facing has the pattern, and can be made of vinyl, paper grasses, fabric—almost anything. No matter what the facing is, you need to get past it so you can get to the backing, which is held to the wall with water-soluble adhesive. Unless the paper was hung using the wrong glue or applied to an unprepared wall, the wallpaper paste should give up its grip after a good soak with water. Many folks are under the impression that you need to use a steamer to release the glue, but the reality is that only 1% of our work pulling off wallpaper requires a steamer—almost always because the walls were improperly prepared. I'll talk more about how we wet the glue later. First comes the prep.
Protect the house
Before any wallpaper removal starts, it's important to protect the house and its occupants' stuff from the dust that often comes from the removal process. We remove all of the furnishings from the space and cover the entire floor with Ram Board surface protection, using blue painter's tape at seams and around the perimeter. Once the floor is covered, we close off the workspace by taping plastic over doors or building temporary walls with plastic sheeting and support poles. If the floor is especially valuable or easily damaged, we coat the floor protection with water-based polyurethane, which adds to the board's water repellency and dries quickly with little odor. It can take a long time to cover the floor and build enclosures, so we include this work as part of any proposal and remind potential clients we're doing all we can to protect their house and belongings.
To view the entire article, please click the View PDF button below
Wallpaper the Right Way – Installed correctly, this wall covering should last a lifetime and come off easily once it has worn out its welcome.
Fitting Wallpaper Around Trim – Paperhanger John Clift shows how to align, cut, and fold wallpaper for a clean fit where it meets windows and doors.
View PDF
Previous:
Getting Surfaces Ready for Wallpaper
Next:
Removing Old Wallpaper