Tools & Materials
Semi-Pro Paint Sprayer
The Wagner Flexio 3000 spray rig is a good alternative to professional painting equipment when you want a faster, smoother job than you can get with a brush or roller.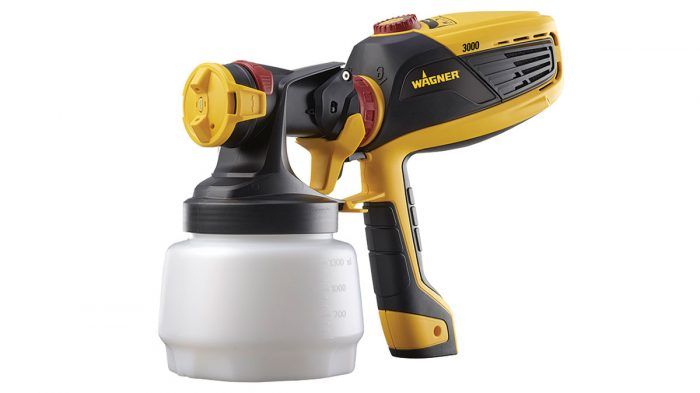 I'm not a professional painter, so to avoid litigation, I only paint things I own. This limits my canvas, and has made it impossible to justify buying a top-of-the-line spray rig. But my hands cramped up just thinking about all the deck and shed finishing projects I had on tap this spring, so I splurged a little bit on Wagner's Flexio 3000. This is a consumer-grade HVLP sprayer, and it comes with two "nozzles" that include both the spray tip and the cup. The bigger one holds about 1 1⁄2 quarts of material for larger projects like siding and fences. The smaller cup is meant for small projects and thinner finishes.
The nozzles connect to the hair-dryer-size turbine. The turbine has a variable air-power adjustment, and the bigger of the two nozzles has additional adjustments for material flow, spray width, and spray shape. The smaller-detail finish nozzle is much the same, but without an adjustment for spray width. For $160, I was skeptical, but coverage and texture were better than I've ever achieved with a brush. Overspray was minimal once I had everything adjusted for the vagaries of the particular finish. The rig does quite well with unthinned latex, so long as it's not too hot out. Thinning reduces clogging, which became a nuisance during hot, dry weather. For the most part, these clogs were easily solved by wiping the tip with a damp rag. I didn't attempt to spray oil-based deck finish without thinning, but the results were similar to latex. When it comes to cleanup, I found it took a bit longer than the five minutes Wagner advertises, but it was nothing compared to the amount of time I saved by spraying. For an entry-level sprayer, it does a good job.
Photo: Courtesy of Wagner
From Fine Homebuilding #286
---
RELATED LINKS:
Previous:
Two High-Quality Caulk Guns From Tajima and Cox
Next:
Speedy Paint Sprayer