How-To
House Painting: Spray Rig vs. Brush and Roller
Consider prep time, conditions, and cleanup to determine the fastest way to tackle an exterior paint job.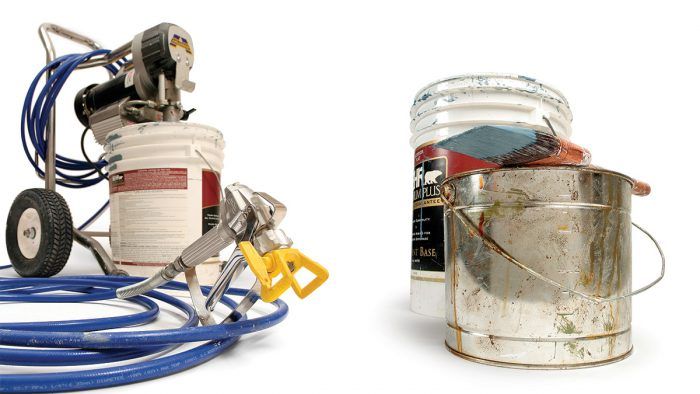 Synopsis: We know surface prep is a big part of any paint job. But once that's out of the way, there are two choices for applying a fresh coat of exterior paint or stain: by brush or with a sprayer. Brushwork is slower but more predictable; sprayers can get the job done in a fraction of the time — under the right conditions. Pros who work with either or both techniques know which to employ to get the best result in any given situation. Their knowledge is what this article will explore: Through the voice of professional painters, it will take a detailed look at the factors smart painters weigh when determining whether to spray or brush paint, factors that range from the type of finish being applied, to the staging available, to the skill level of their crew.
---
A good painter knows that prep work is everything. Once that's done, though, there are two choices for applying paint or stain: with a brush or roller, or with a spray gun. You'll find professional painters on both sides of the fence. Some stick with painting by hand, either because that's how they learned the trade or because their customers prefer it. Many others use spray equipment, either by itself or, more frequently, in tandem with brush and roller.
There's no question that spraying an exterior finish is much faster than brushing or rolling alone. But before pulling the trigger, spray painters have to make sure all surfaces are protected against overspray, the inevitable drift of atomized paint particles that bounce off the surface or are carried away by wind. This takes time, so the question becomes: Does the time saved by spraying the finish outweigh the effort of getting ready to spray?
The answer depends as much on the person who is holding the brush or sprayer as it does on the type of finish, the type of trim and siding, the time available, and the weather conditions.
The Case for Spraying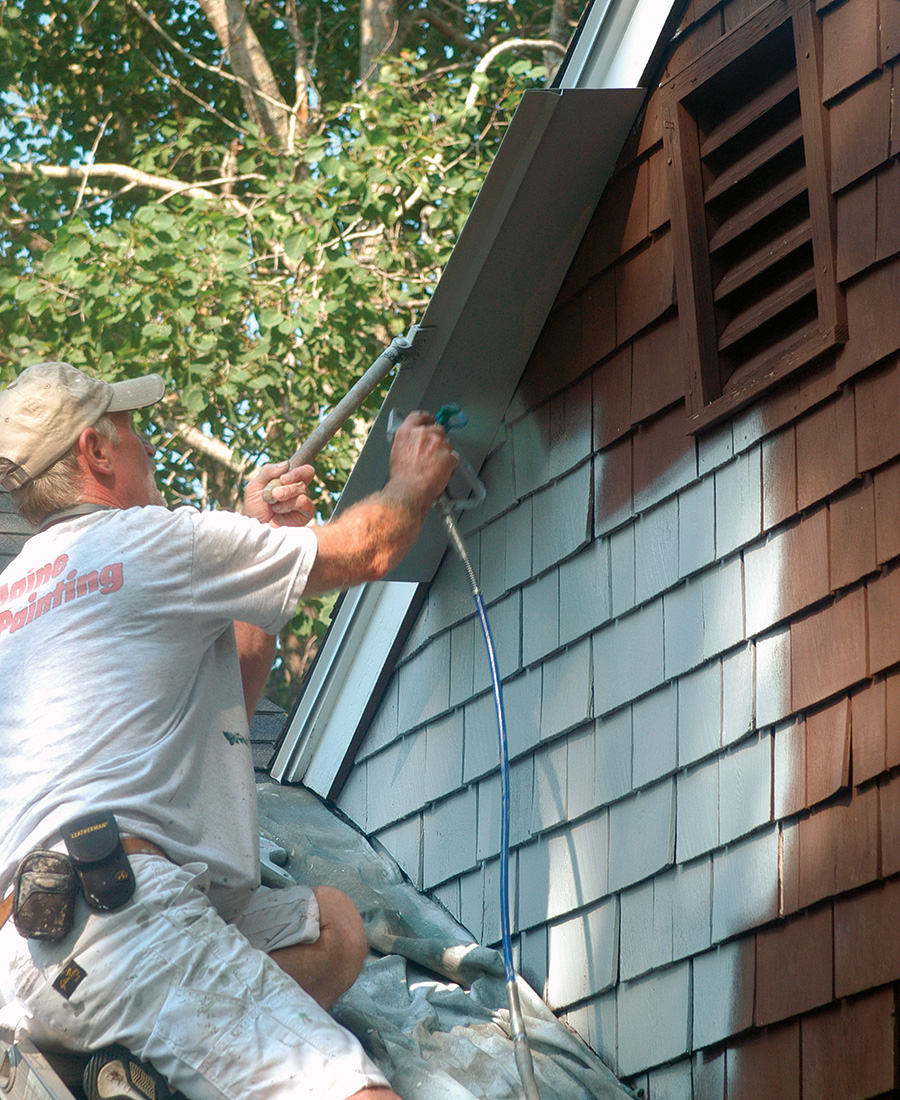 Although many painters combine spraying with brush and roller work, there are circumstances where a sprayer alone is the best approach. Rhode Island painter Tim Leahy found one such opportunity in the restoration of a period brick home in Newport, R.I., where carpenters had installed a wide band of complex trim at the top of the second story. The house had already been staged, allowing painters to move quickly. Although masking off the wall below the trim took an hour, it took one painter just 30 minutes to spray a 60-ft. section of soffit, a job that would have taken two painters with brushes half a day to complete.
Easy access and calm winds helped to guarantee a high-quality spray finish in a very short time. A smooth substrate also helped: The trim was sprayed with primer before it left the shop. After installation, nail holes were puttied, the surface was resanded, gaps were caulked, and the trim was primed again.
That's the key to a good spray-only finish. Aluminum siding, metal meter boxes, and smooth metal fencing — the smoother the surface, the better it responds to a spray gun alone. In the hands of a skilled painter, a spray gun leaves a blemish-free finish without roller or brush marks.
When it's Best to Break Out the Brushes
Nonetheless, it takes time to set up a sprayer, to mask off areas to be protected, and to clean the equipment at the end of the day. When that outweighs the speed advantage of spraying, out comes the brush or roller.
Stan Hallett found that to be the case as his crew repainted a sprawling condominium last summer in a Portland, Maine, suburb. Although a sprayer made sense on the sidewalls, it was easier to paint the simple trim by hand because nothing had to be masked. As one painter applied solid stain to clapboard and shingle walls with a gun and brush, a second followed with just a brush for the trim.
Hallett and Leahy both weigh the circumstances carefully before they make their choice. "Why would we go through all the hassle of spraying when we can just fly right along with a brush?" Leahy asks. "We make our decision based on complexity and how much time we can save. If you have a big soffit with corbels and brackets and decorative trim, it'll take two guys all day to paint with a brush, and you can spray it in an hour. If you have a simple trim detail that two guys can knock out in a half-hour by brush, then you lose the reason to spray."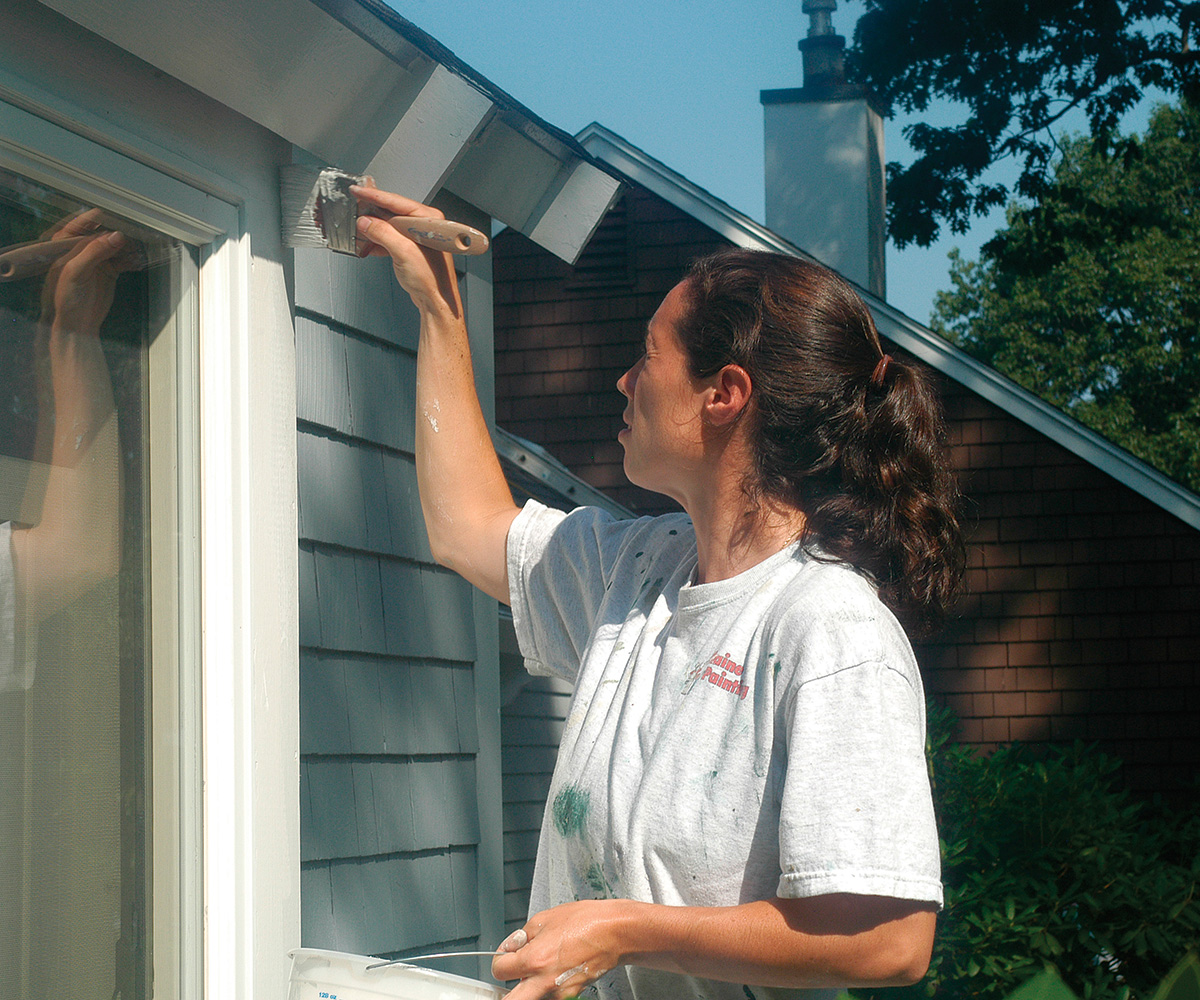 Sticking with a brush or roller also makes sense when there isn't much paint to apply. "It always comes down to the volume of paint," says Berkeley, Calif., contractor Hugh Schreiber. "If you're doing less than a gallon of paint, I would say it's not worth cleaning the sprayer."
Working around lots of obstructions is another reason to stick with a brush, Schreiber adds. In an area with lots of windows, doors, and fixtures, it may not be worth the effort to mask everything.
Other painters apply finish exclusively by hand because that's what their customers expect. Brian Doherty, a Richmond, Va., area painter, never uses spray equipment even though he's well aware of its speed advantages. Why? First, because that's how he learned the trade. And second, his traditionally minded customers don't want spray equipment in or around their homes for fear of damage from overspray.
Combining Spray and Stroke
Spraying gets a lot of finish on the surface quickly and evenly, and a brush or roller works the finish into the surface for good penetration, better coverage, and ultimately, better durability. Combining the two—called back-brushing or backrolling—offers all the advantages of both.
"Spraying by itself would be wonderful if it worked well because it's very quick," says Hallett. "But it doesn't do a good job. That paint is going to be gone in 10 years. We spray only as a means of getting the paint onto the surface."
Hallett's technique is common. After masking off nearby surfaces, a painter sprays a section of wall, then works the same area with a brush or roller to even the coat and push paint into the surface. The paint film is more uniform, and the pressure from the gun forces paint into all the depressions that a brush or roller by itself might not reach. Surfaces with uneven texture, such as rough-sawn clapboards, shingles, and splitface masonry block, are especially well suited to this approach.
Manuel Fernandes, chief inspector for the Master Painters and Decorators Association, says new work always should be back-rolled or back-brushed on the first coat. "If you spray it only, the paint just sits on top of the substrate," he says. "You're not forcing the paint into the pores of the wood."
But back-rolling or back-brushing on subsequent coats is a judgment call. Rough-textured surfaces may benefit from a second round of back-rolling or back-brushing, but a sprayed second or third coat on a smoother substrate may not need any further attention. That's where experience counts.
For more photos and details, click the View PDF button below:
View PDF
Previous:
A Checklist for Exterior Painting
Next:
Repainting a House: Don't Be Afraid to Spray