How-To
How To Remove Exterior Paint
When you have to take it all off, power tools and chemical strippers make quick work of a nasty job.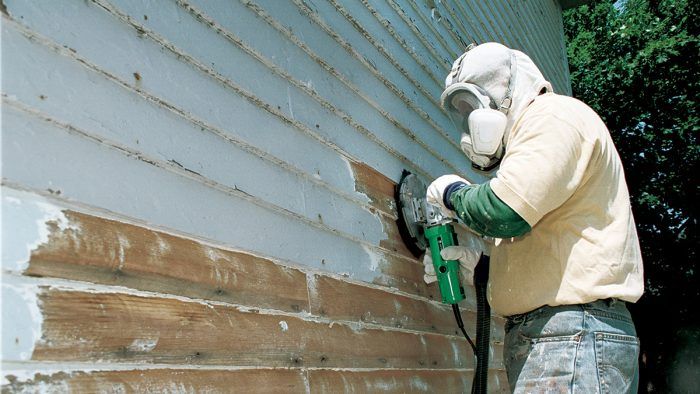 Synopsis: A professional painting contractor explains how he preps an old house for a new paint job, as well as the pros and cons of the various chemicals and tools that can be used to remove old paint. Includes sidebars on lead safety and symptoms of paint failure.
---
When I was a kid, I never had to look for work. From the time I was 12 until I graduated from college, my summer job was scraping and painting my parents' sprawling, 175-year-old New Hampshire farmhouse. Every few years, I'd complete a lap, only to have to start over again. After I became a professional painter, the value of doing a job once and doing it right sank in. Over the past 15 years, I've refined the methods and the materials that I use to ensure a long-lasting paint surface. These days, I can confidently say that if it's done correctly, a good paint job should last 20 years.
Sometimes, You Have to Take it All Off
A long-lasting paint job depends on high-quality paint (and plenty of it), but prep work is even more important. Before repainting, most conscientious painters give a house a thorough hand-scraping and pressure-washing. That's fine as long as all the existing layers of paint are securely bonded to each other and to the substrate. On my parents' house, like many of the houses I've worked on, that was not the case.
I'm not trying to say that all houses must be stripped bare before repainting. In my experience, unless they suffer from specific moisture problems, newer houses (up to 35 years old) are less troublesome than older houses. If a house was primed and painted correctly when new, especially if it was painted with a high-quality, flexible latex, the paint finish should last a long time and should be easy to recoat when it wears out.
Repainting is similar to reroofing, in that you can pile only so many layers on top of one another before it's time for a tearoff. At the time I started my summer job, my parents' house already had six or seven distinct layers of paint on it. Oil paint is much less flexible than latex, and its ability to expand and contract along with the wood diminishes with each new layer. On older houses, unless the finish is thin or in good shape and well protected from the sun (expansion and contraction are most extreme on the southern exposure), I generally advise homeowners to bite the bullet and allow me to remove all the old oil-based paint before I begin repainting with latex.
Mechanical Scrapers Get the Job Done Quickly
It's easy to make the argument for removing failed paint, unless you have to come up with the cash to pay for it or do the work yourself. Over the years, I've tried all the traditional methods for removing paint and found serious drawbacks with each:
Hand-scraping is slow and grueling.
Power-sanding is slow and messy.
Heat is slow and dangerous (even low-temp heat guns can start a fire).
Chemical paint removers are slow and expensive (most are also toxic).
It's no wonder that most painters would rather convince themselves (and their customers) that a quick scrape and wash is all the prep work a house really needs.
For more photos and details, click the View PDF button below:
View PDF
Previous:
The Art of Pressure Washing
Next:
There's No Escaping the Scraping