A Vessel-Sink Conversion
Convert a suitable piece of furniture into a vanity for a vessel sink and then install and hook up the sink.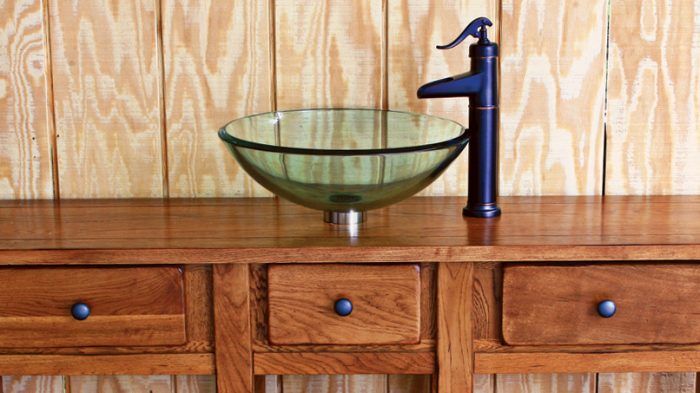 A popular trend in interior design is cabinetry that looks like furniture. You can cash in on this trend—and save yourself some cash—by picking an attractive piece of furniture and converting it into a vanity for a vessel sink.
Vessel-Sink Lockdown Specs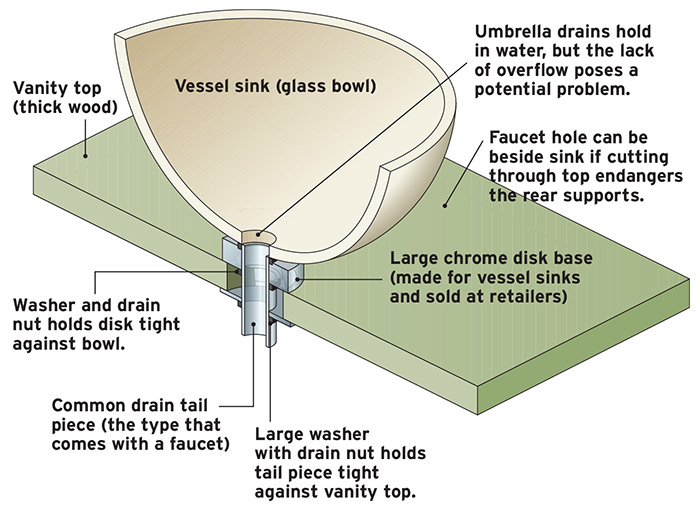 Typical Vanity Rough-In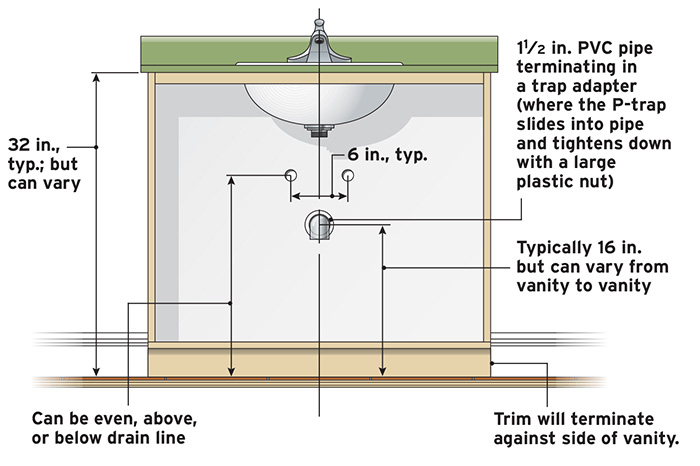 Installing the vanity
Although the shortest vanity will be around 19 in. long, the longest can go on as long as your pocketbook, but installation is the same. First rough in the plumbing if it's not already in place, using either the typical plan shown (at left) or a custom plan from the manufacturer. Then install the faucets and water lines on the sink and glue the sink to the frame. Last, screw the back into the wall and hook up the plumbing.
Sizing the sink recess. Open a hole large enough for the drain assembly. Some sinks will require additional holes for studs.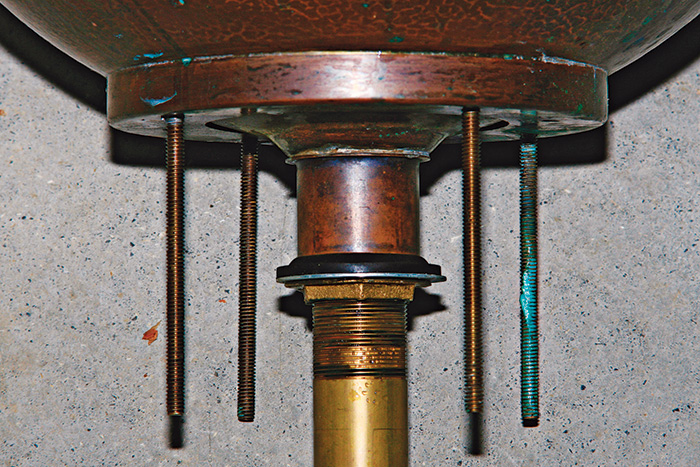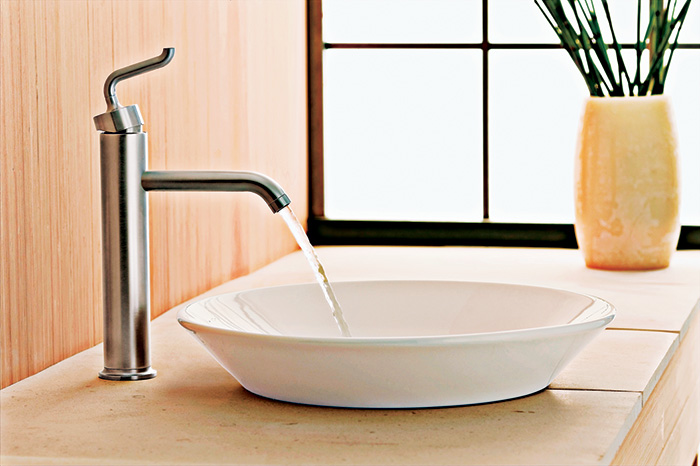 Others will need a large area cut out for the bottom of the sink. Oval glass vessels will need metal bases to give them flat supporting surfaces. Make sure to install a high-tower faucet. They are several inches taller than standard faucets.
Installing the sink
First, find a piece of furniture that matches the decor of the room. Mark the location of the bowl, typically dead center on the top of the piece. Make sure, however, that the bowl does not extend beyond the back of the furniture where it will bump into the wall 1. Using a hole saw, drill a hole large enough to accommodate the tail piece and drain assembly 2. (For large bottom concave sinks, cut the hole with a jigsaw.) Then with a homemade or manufacturer's template, drill holes for studs if your sink requires them. Attach the tail piece to the sink 3. Then set the tail piece into the hole and note any parts of the vanity that will block the drain or water lines 4. Drill through or remove anything that's in the way, but don't weaken the structure unless you can reinforce it later. If you make a drawer inoperable in this process, you can remove the drawer front and glue it back on the cabinet. Guided by the manufacturer's specs, mark the location for the faucet and drill its hole with a hole saw, typically just big enough for the supply tubes and the attachment rod. Insert the faucet and tighten it down 5. Slide your new vanity into position, attach the P-trap and water lines, turn the water on and check for leaks.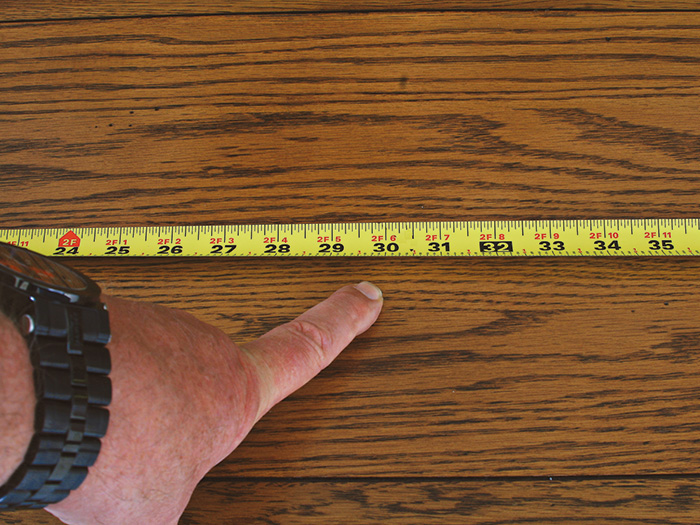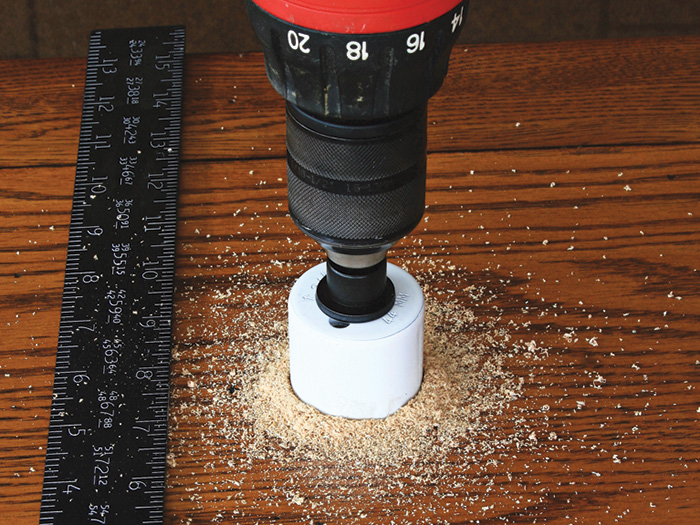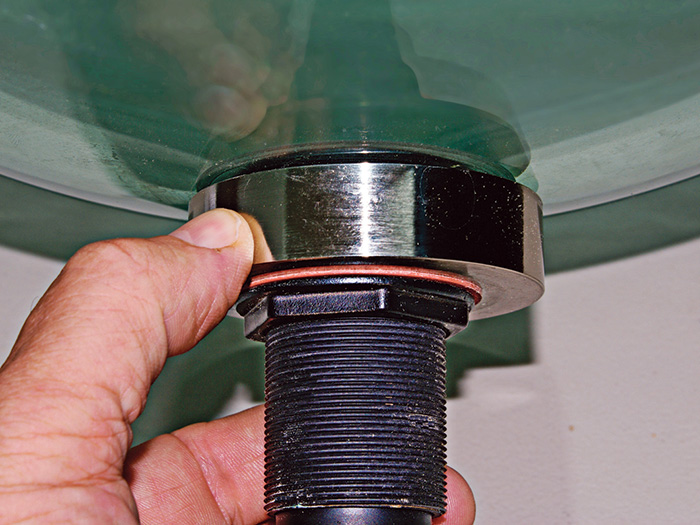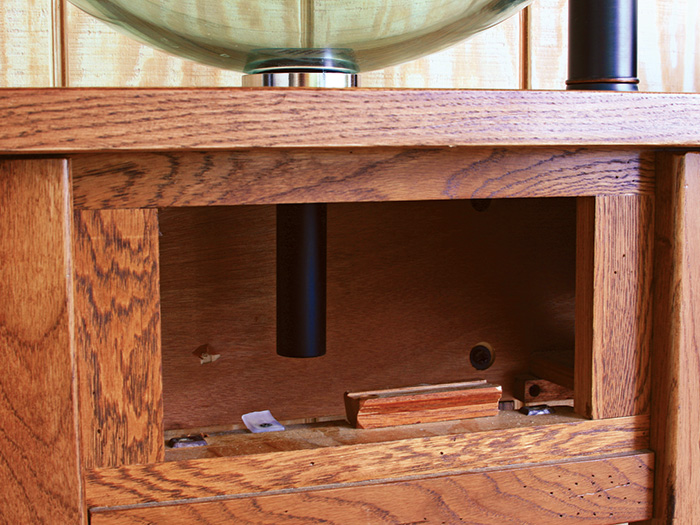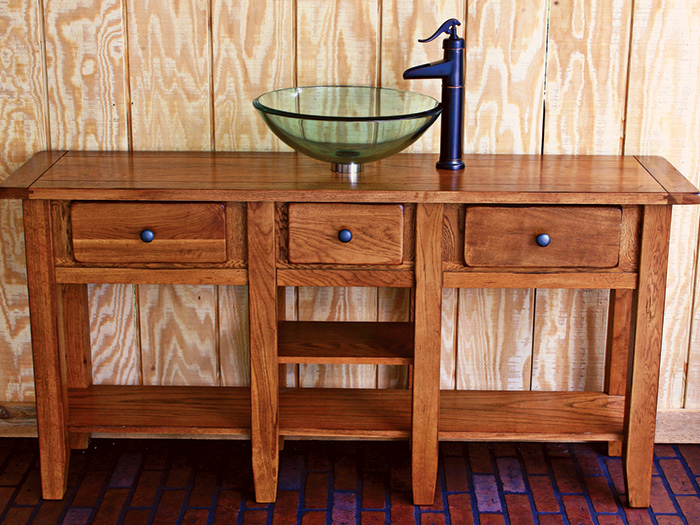 ---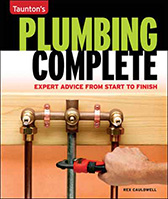 Excerpted from Taunton's Plumbing Complete by Rex Cauldwell.
Available at Amazon.com.
Previous:
How to Remove an Old Bathroom Sink
Next:
Replacing a Bathtub