How-To
Running Pipes through Walls, Ceilings, and Floors
If you can't avoid it, here's how to run pipes through framing members.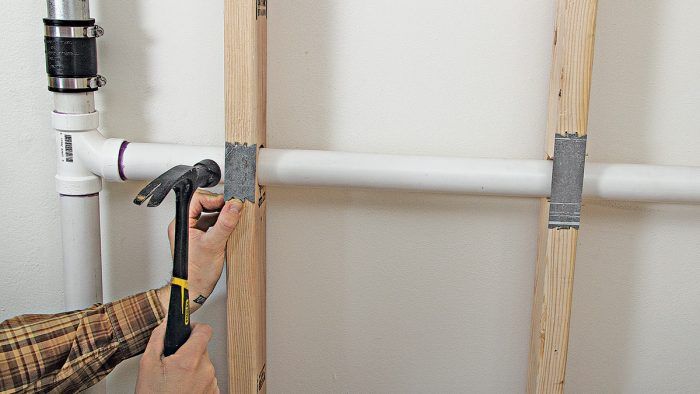 Once you've figured out how to tie into your plumbing system and you've installed Ts or other fittings, you need to run the pipes. It's easiest to run them in a basement or crawlspace, where they can hang below joists or inside walls, so you don't have to cut into framing to make room for them. When you do run pipes in walls and joists, take care to make your holes and notches as small as possible, so you won't seriously compromise your framing's strength. Because the holes are not much larger than the pipes, they must be drilled at precise locations for the pipe to run in a straight line. In many cases, drilling holes in framing members is not a safe option, so check with your local building official if you are unsure. But if you're ready to tackle the project, here are some helpful tips.
TIP: You can also mark for cutting holes using a long square, positioned at the center of the pipe diameters. The method shown on these pages takes more time but is more fail-safe, especially for do-it-yourselfers.
---
Excerpted from Plumbing (The Taunton Press, 2016) by Steve Cory.
Previous:
Tapping into Drain and Supply Lines
Next:
Running pipes through joists