Three Designs for PEX Plumbing Systems
Learn the pros and cons of trunk-and-branch, home-run manifold, and submanifold PEX systems.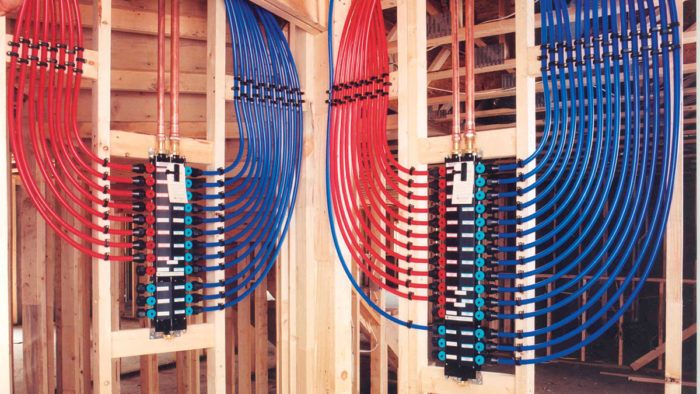 Plumbers are making the transition from copper to PEX plumbing (here's how to literally transition from copper to PEX). Partially, that's because PEX is more affordable and arguably easier to work with. PEX connections don't require soldering and even complicated-looking manifold systems are rather easy to build. Another reason is efficiency. PEX does not make your plumbing system more efficient, things like hot-water recirculation and home-run layouts do. And PEX is well-suited to these types of systems.
Incorporating manifolds into the layout can save water and energy because you eliminate most of the pipe between the water heater and the faucet. Although blue (cold water) lines are shown in these layout examples, hot-water layout would be similar. Three design options for PEX plumbing systems are: trunk-and-branch systems, home-run manifold systems, and sunbmanifold systems.
Trunk-and-branch systems are easy, but waste a lot of water
Traditional systems consist of large-diameter (usually 3/4 in.) trunk lines to distribute water throughout a house. Smaller branch lines (1/2 in. and 3/8 in.) tee off to feed individual fixtures. Trunk-and-branch systems have several disadvantages, notably a large number of fittings, which are costlier, slower to install, and more likely to leak than a single run of pipe. Also, a lot of water goes down the drain before hot water reaches the faucet.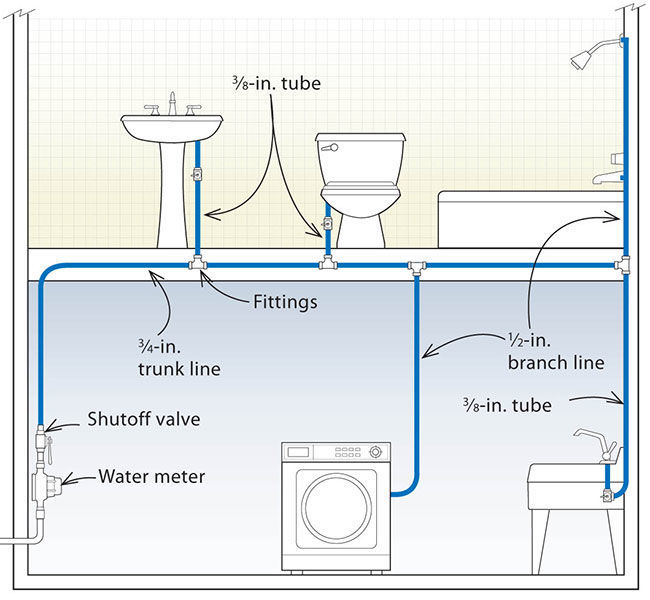 Home-run manifold systems use the least hot water and the most pipe
A large-diameter (3/4 in.) main water line feeds the manifold; smaller lines run from the manifold to each fixture. Any fixture in the house can be shut off at the manifold. And because home-run systems don't rely on a large pipe for distribution, you save both water and energy. Simply put, you don't have to leave the faucet running as long before hot water reaches the sink. This design flexibility has a cost, however. Because a dedicated line is going to each fixture, you use a lot of PEX and drill a lot of holes.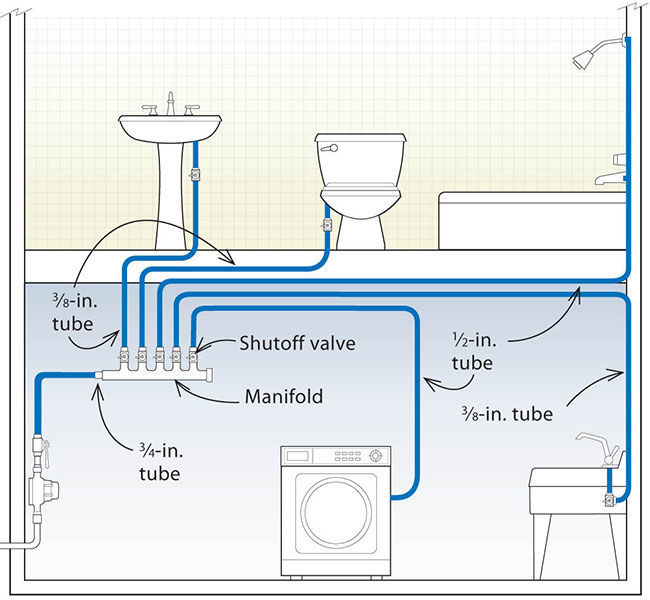 Submanifold systems can be designed to save hot water
There are many ways to design submanifold systems, which require far less pipe and drilling than a home-run system. Rather than one main manifold, each bathroom, laundry, and kitchen gets its own submanifold. The simplest system, pictured here, won't save any water over a trunk-and-branch system, but other submanifold systems can be configured as water and energy savers by incorporating the main manifold and a recirculating pump.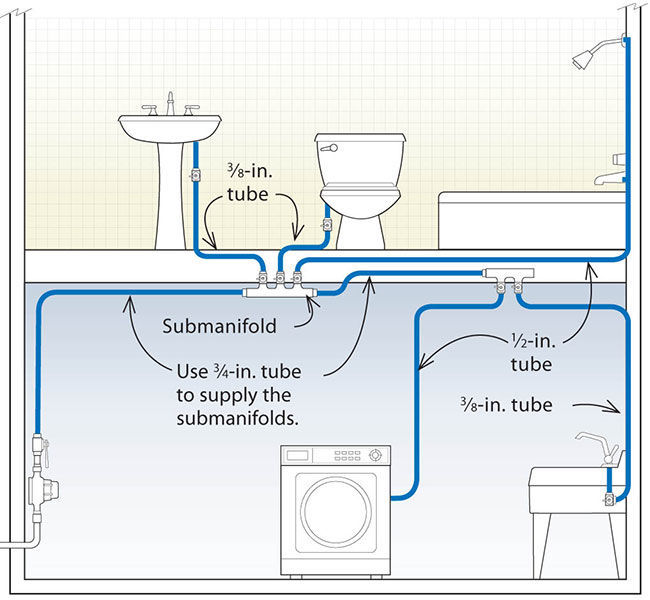 For more on PEX:
Connect PEX With ASTM F2080 Expansion Fittings and Compression Sleeves – With brass fittings and compression sleeves, F2080 is the Rolls-Royce of PEX fitting system.
Connecting PEX Plumbing – A close look at the ever-expanding options for joining PEX plumbing.
Connect PEX With Viega PEX Press Fittings – Viega has developed one of the fastest and easiest methods for joining PEX.
PEX Water Pipe Connections – Leakproof joints are made faster than soldering.
Previous:
Vent Options for Plumbing Drains
Next:
Hot-Water Circulation Loops