Three Common Faucet Valves
Which is best: ball, cartridge, or ceramic-disk valves?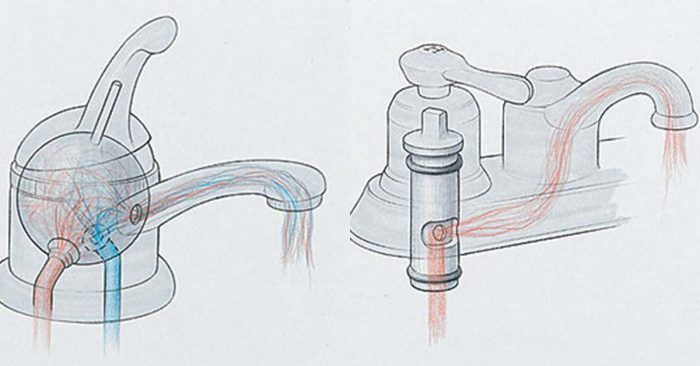 Ball, cartridge, and ceramic-disk valves have all but replaced the old compression-style valve for controlling water flow in modern faucets. Choosing a faucet with the best type of valve can ensure that it rarely if ever, will be in need of repair. Purchase a faucet wisely, though. Just because it's expensive doesn't mean it has the best valve. Style often trumps longevity.
Ball valves
Ball valves are most often found on faucets that have a single handle. When the hot- and cold-water supply lines are aligned with the holes in the hollow ball, water mixes and enter the faucet's spout. This valve has more moving parts than any other type of faucet valve, which means it's more prone to leakage and might require maintenance more often. Rubber seats, springs, and even the ball itself might need to be replaced over time.
Cartridge valves
This valve is composed of a hollow stem—which is connected to a water supply line—that turns inside a metal or plastic sleeve. Both have a hole. When the faucet's handles are turned, the hole in the stem aligns with the hole in the sleeve to allow water to flow. Cartridge valves have few moving parts, so leakage points are minimized. Replacing an O-ring often solves leakage problems, but should the cartridge need replacement, simply pull out the old cartridge and drop in a new one.
Ceramic-disk valves
Of the three, ceramic-disk valves are considered the longest lasting and most leakproof. This type of valve contains two perfectly flat, fire-hardened ceramic disks that have matching holes to control water flow. When the faucet's handle is turned on, the top disk shears against the bottom disk, aligning the holes. Mineral and sediment buildup that can damage other valves and lead to leaks is polished out.
Photos by: Dan Thornton; drawings by: Bob LaPointe
Previous:
Choosing the Right Plumbing Valve
Next:
Pex Tubing 101