How-To
Working with Cast-Iron and Galvanized Pipe
Learn how to cut into cast-iron drainpipe when working on a plumbing remodel.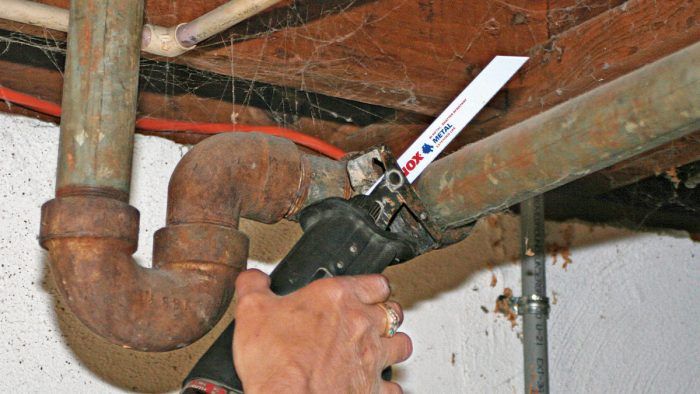 Once the mainstay of drain lines, interior cast iron is installed today only if you want an especially quiet drainpipe, for example in the walls around dining or living rooms. Most of the time you'll be working with cast iron and galvanized drainpipe only when you are cutting it out during a remodel.
WARNING: Always wear safety glasses, especially when sawing or working overhead.
It used to take special tools to cut cast iron, but today we can cut through them with ease using diamond or carbide-tooth blades on a cut-off saw or a circular saw A. These metal-cutting blades are also available for reciprocating saws. Galvanized drainpipe can be cut easily with a fine-tooth bi-metal blade (or diamond blade) on a reciprocating saw B.
To interface plastic pipe with cast iron, use a banded Fernco® or a "no-hub" fitting (a flexible coupling with a stainless band clamp around it) C. Common flexible couplings without any band protection will also do the job when all allowed by code.
When running cast iron horizontally, you'll need to support the pipe every 3 ft. to 4 ft. Because it's so heavy, you'll also need to support it right after any interface with plastic pipe.
---
Excerpted from Taunton's Plumbing Complete by Rex Cauldwell.
Available at Amazon.com.
Previous:
Tankless Water-Heater Maintenance
Next:
A Simple Cure for Water Hammer