How-To
Two Styles of Cornice Return
Framing this classic detail capped with a hip roof or a shed roof is easier than you think.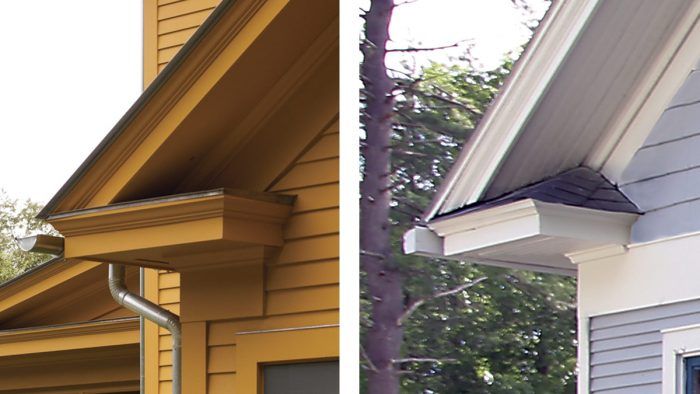 Synopsis: This excerpt from John Carroll's The Complete Visual Guide to Building a House (The Taunton Press, 2014) uses a series of illustrations to detail the process of framing a cornice return with two different styles of roof. Both designs start with structural support, and then the process varies slightly for a shed-capped cornice return vs. a hip-capped return.
---
It's been said that the building of traditional cornice returns is a lost art. Also called an eave return, a cornice return is a graceful way to transition the eave and the main fascia board around the gable end of a house. This can be challenging because the returns are located outside the corner boards, which means they require additional structural support. But there are ways to ensure they are sound. Anchoring the ledger and subfascia several feet into the length of the eave is key. You will also want to make sure the ledger and subfascia extend to the end of the rake; this can be done by installing them long and cutting them in place. It's also smart to build the return before you install the barge rafter.
All of this involves more work than framing a basic rake or a pork chop return, but the results are worth it. Once you get the hang of the underlying cornice structure, you have some options for how to finish it. Here, we'll walk through two different styles.
Both designs start with structural support
Whether you are framing a cornice return capped with a hip roof or a shed roof, the first step is to install the subfascia and the ledger. Run both boards long and cut in place.
Shed-capped cornice return
A shed-capped return starts with both the ledger and the subfascia in place before the rafters. Installing these members level is critical to prevent headaches with trim.
For more on exterior details, check out these articles below:
Mastering Complex Crown — A multiple-piece cornice adds sumptuous details.
Custom Curves — Save time and money by bending PVC trim with a site-made oven.
New Trim for an Old House — A traditional porch project offers lessons in style, proportions, and seamless transitions.
Today's Best Exterior Trim — A veteran carpenter sorts through 10 of the latest engineered options.
From Fine Homebuilding #285

To view the entire article, please click the View PDF button below.
View PDF
Previous:
Boxed-Eave Gable-End Returns
Next:
Designing the Right Roof Rake