Design
13 Ways to Make a Kitchen Island Better
Architect Paul DeGroot offers quick tips on how to get a multitasking island in your kitchen.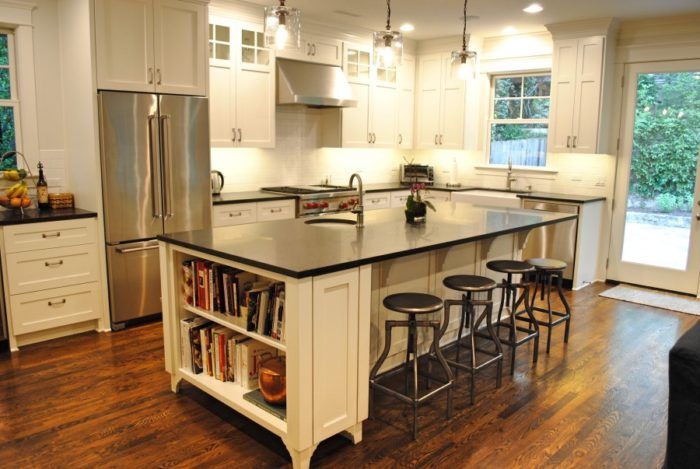 Maybe you're planning a kitchen for a new home. Or perhaps it's a remodel to open the kitchen to the adjoining family room. Either way, you are probably thinking about including an island in the layout. Most of my clients do. They want minimal separation between the kitchen and the adjoining room, followed by a workhorse island that is handy, functional, durable, and beautiful all at once. They want an island that serves as home base for multiple kitchen-as-hub activities: food preparation, cooking, homework, cleanup, casual meals, beverages, and socializing. Sound familiar? Here are some tips on how you can get a multitasking island in your kitchen.
Seating: A recessed area for stools is a must-have.
Cooking vs. Cleanup: If kitchen size requires one activity to happen at the island, cooking wins. My clients want the sink below a window and the dishwasher near some cupboards. And they want to be facing guests while cooking, not while wrestling dirty dishes.
A good view: Guests want to see what's going on in the kitchen. Cooks want to see what's going on around the TV or out on the patio. Pulling a kitchen wall down can make room for an island that opens to an adjoining room.
Extra cabinet storage and counter space: Duh!
Countertop all at one level: Between food prep, homework, and hors d'oeuvres, a generous, continuous workspace rules the day.
Beauty: Folks see the island as a place to show off their style, be it carved furniture legs or modern "waterfall" ends.
Contrast: The cabinetry might be a different wood species or paint color than the rest of the kitchen. And a contrasting counter might provide some visual pop.
Good, fun lighting: This is often the spot that gets the "feature" pendants or track lighting hanging from the ceiling.
Extra prep sink and room for a kitchen helper.
Microwave drawer: Though expensive, this appliance can be a good alternative when kitchen wall space is devoted to cabinets and main appliances.
Below-counter refrigerator for wine and beverages: This can take some of the load off the main fridge and bolster the island's role as an entertainment hub.
End shelves for display, cookbooks etc.
Roll-out shelf below the counter for a heavy mixer: This is one of the few places, other than at sinks, where I use cabinet doors. The goal here is a short lift of the mixer onto the counter directly above.
—Paul DeGroot is an architect in Austin, Texas (degrootarchitect.com). Construction and photo courtesy of Ford Strei Builders (fordstreibuilders.com).
Previous:
The Practical Details of Kitchen Islands
Next:
Getting the Most from a Kitchen Island