Make Smart Choices When Customizing Kitchen Cabinets
Designer Marianne Cusato offers ideas on maximizing space and balancing aesthetic details when installing cabinets, shelves, end panels, and moldings.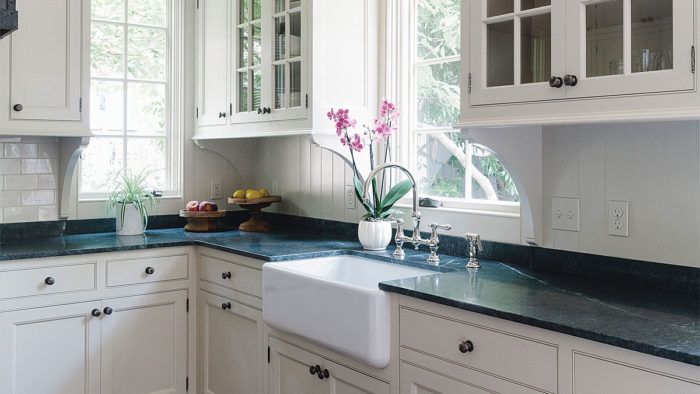 Synopsis: Architectural designer Marianne Cusato describes the current trend of streamlined kitchens, and how this informs design decisions when choosing kitchen cabinets. With detailed drawings, she outlines the use of drawers and pullouts in base cabinets, how to maximize storage in upper cabinets, and what types of crown moldings, toe kicks, and end panels are best.
---
Kitchen-design eras tend to last about 15 years, with early adopters and laggards extending the range to about 25 years. The 2008 recession marked the beginning of a transition from the end of the dark-stained country kitchen to painted Shaker and modern slab-front cabinets. More streamlined kitchens grew fashionable and have been in the mainstream since 2015, which puts us about midway through this design cycle. That's helpful information to have if you're embarking on a kitchen remodel or thinking about upgrading dated cabinetry. Luckily, purchasing well-designed and well-built stock kitchen cabinets has never been easier. As with all architectural elements, there are still a few landmines to avoid, as well as opportunities to look for, when customizing stock cabinets.
Upper cabinets and shelves
Eliminate the basket- and dust collecting shelf above your cabinets, and maximize storage space by adding a second set of 18-in.-tall upper cabinets above the first set. While you most likely won't use them daily, it's nice to have stowaway space for seasonal andinfrequently used items. When using glazed upper cabinets, take care to align muntins with evenly placed shelves. Consider using glazing in central locations only, such as around the range or sink, so that other upper cabinets can have solid doors. It's beneficial to have some cabinets to hide clutter and items you don't want to look at every day.
Base cabinets
Today's base cabinets are all about the drawers. Not only does this maximize storage, but it's also a way to incorporate a universal design element by making it easier to reach deep into cabinets without risking a fall. If full drawers aren't in the budget, consider adding pullout shelves or drawer inserts behind cabinet doors. But bear in mind that it can be cumbersome to open wide double doors to pull out a single shelf. For cabinets over 30 in. wide, add a central division and split the pullout into two sections.

Crown Molding
Avoid anything that is overly curved or includes dentil moldings. A simple cyma (crown molding) or bed mold, which is typically no taller than 21⁄2 in., is ideal for a cabinet that does not reach the ceiling. It's better to go without a crown or top trim than to use an oversize molding. If your design includes a second set of high upper cabinets, wrap the room's crown around the cabinets.

Upper-cabinets brackets
Brackets supporting the upper cabinets add a refined level of detail to a kitchen. Note that this should be a custom detail. Commercially available brackets are typically underscale and have superfluous curves.

End Panels
You have several options for finishing the side of an exposed cabinet at the end of a counter. You can simply purchase an end piece—a flat slab that matches the cabinet finish—or use a panel as an end piece. Avoid panels that are actually cabinet doors applied to the top of a slab panel. This looks like an afterthought. Use either a fully integrated panel, which can be more expensive, or go with the flat slab. When it comes to end panels, less is more— unless you have the budget to go all the way and get the details right.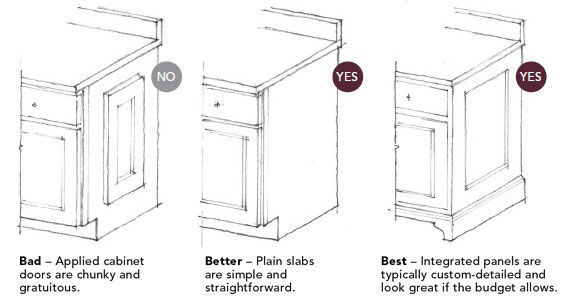 Decorative toe kicks
Stock base cabinets typically come with a 4-in. toe kick. Consider adding a baseboard overlay to the base, making sure it doesn't interfere with the cabinet doors. Set the base height to resolve into the flat of the room's baseboard. To do so, you might need to raise the cabinet up slightly to fit the base, which can result in a more comfortable workstation; many people have started to raise the counter height above the typical 36 in. to make it easier on their backs.

More about Kitchen Design
Marianne Cusato is the author of Get Your House Right. Drawings by the author.
Next:
An Inside Look at Custom Kitchen Cabinets