Design
Design the Perfect Pantry
Hard-working kitchen storage takes less space than you think.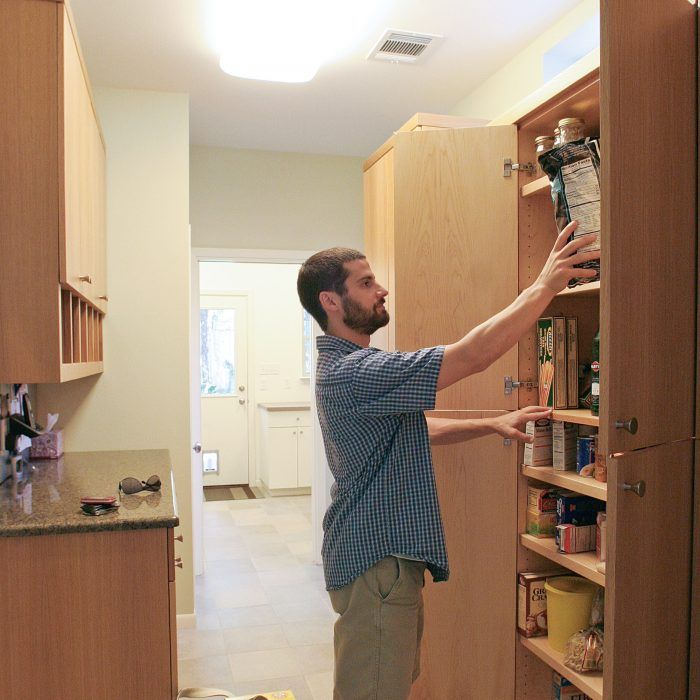 Summary: Architect Paul DeGroot believes that good pantry design means keeping things simple and understanding that location often trumps size. In this article, he describes the three main types of pantries: cabinets, reach-ins, and walk-ins. For each, he provides detailed drawings of pantries that make efficient use of their space, and he includes photos of actual pantries he has designed. In addition to size and location, he discusses other aspects of pantry design such as lighting, shelving, door and drawer design, and hardware. He also describes a pantry/mudroom you pass through from the garage or back porch to the kitchen, and he provides sample drawings of this hybrid design.
---
Ask your neighbors what they dislike about their pantries, and you'll likely get an earful: "It's too small" or "I can't find anything in it." I hear these complaints on cue from clients. Clearly, the way we store our soup and cereal warrants careful planning.
Whether you are building a new kitchen or remodeling what you have, you need to consider what makes a pantry work and which kind is best for your situation. Here, I'll describe the three main types of pantries: cabinets, reach-ins, and walk-ins. I'll also offer a suggestion for a hybrid pantry/mudroom that the homeowners walk through as they enter the house. The drawings are meant to illustrate the basics; the photos show some of my actual projects.
Just keep two things in mind as you read and plan your pantry: Good design means keeping things simple, and the right location often trumps size. Sometimes, a hard-working cabinet is all you need for convenient access to all your kitchen goods.
The basics: location and lighting
Convenience and visibility are the essential attributes of a great pantry. Regardless of size, the pantry should be in a handy location, positioned in the kitchen or immediately next to it. A modest pantry cabinet placed within the kitchen footprint will be more convenient for regular use than an oversize walk-in down the hall. Plus, every pantry's utility will be improved with counter space for sorting and unloading groceries.
Pantries also must have proper lighting so that you can see the contents well. Ceiling-mounted linear fluorescents work well for walk-in pantries. Install the fixtures parallel to the longest shelving runs for best light. Due to the extra cost, most of the cabinet pantries I design don't have internal lighting, so I make sure that there is adequate kitchen lighting directly outside the cabinet. Often, this means that I will locate one or two recessed fixtures about 16 in. from the face of the cabinet. A reach-in closet pantry will benefit from a low-profile fluorescent light mounted inside, especially when a tall header blocks ambient light from the high shelves. I specify slim, no-frills fluorescents with rounded acrylic diffusers for these above-door applications.
Electrical codes are strict about the types and the locations of lights installed in closets. Treat pantry lighting with similar caution. If you must use incandescent fixtures, be sure to place them well away from any open shelves that might be packed with paper goods and combustibles.
A better pantry may not be bigger Cabinet pantries are space efficient, typically occupying just 4 sq. ft. to 8 sq. ft. of floor area. For big families and others who buy in bulk, I sometimes supplement the in-kitchen pantry cabinet with a larger pantry elsewhere.
For more detail and photos, click the View PDF button below.
View PDF
Previous:
Build a Breakfast Booth Bench: Step 14
Next:
Spacious Pantry Behind Barn Doors