Design
Condo Kitchen Reimagined
Traditional meets modern in a hardworking yet social urban kitchen.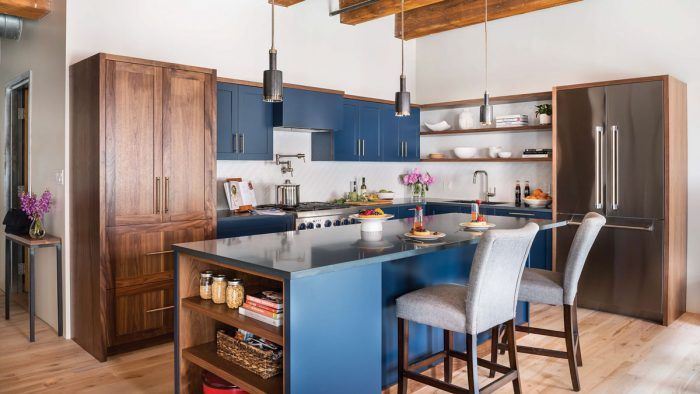 Synopsis: In this urban condo, builder Nick Schiffer struck a balance between a modern look and a traditional aesthetic. Keeping two walls of cabinetry and appliances at the same height, with matching trim for the entire run, creates a cohesive space that ties the kitchen together. Because the home is a small, open loft, storage is particularly important, and Schiffer lists the different ways he went about creating additional space for everything from books to bottles to pots.
---
My company, NS Builders, teamed with Amy Lynn Interiors to revamp this one-bedroom condo in Boston's Fort Point District. The old brick-and-beam building underwent a mediocre renovation in the 1990s, and we were hired to brighten it up and reconfigure the entire home, with the focus on a full kitchen remodel.
The clients asked that we strike a balance between their differing tastes; he likes a modern look, while she prefers a traditional aesthetic. They wanted the island to take center stage, but also had previously bought a nearly 7-ft.-tall Fisher & Paykel refrigerator that needed to be incorporated into the design without drawing focus. Because of its size, the refrigerator dictated many of the design decisions. Along with a full-height pantry, it brackets the space to define the limits of the kitchen.
We did a few things to make the cabinetry read as one big unit and make the space feel cohesive—starting with a walnut enclosure for the refrigerator. We built a pantry to match the height of the fridge enclosure, and aligned the top of the walnut trim above the upper cabinets on the same plane. This small trim detail—essentially a flat piece of walnut—takes the place of crown molding and ties the two sides of the L-shaped kitchen together.
For this to work while keeping the distance between the upper and lower cabinets the standard 18 in., we had to shrink the height of the upper cabinets down accordingly. We also kept the range hood in line with everything else, rather than extending it to the ceiling. This anchors the composition without visual disruption, while supporting the island as the focal point. The open shelving provides additional surface space without cramping the sink, which is not centered on a window or wall where it might stand out—as with the hood, we didn't want it to draw the eye's attention.
From Fine Homebuilding #295
To this article as a PDF, please click the View PDF button below.
View PDF
Next:
Row-House Kitchen Remodel