Tools & Materials
A Designer's Guide to Countertops
Style and use are the keys to choosing the right countertop for your kitchen.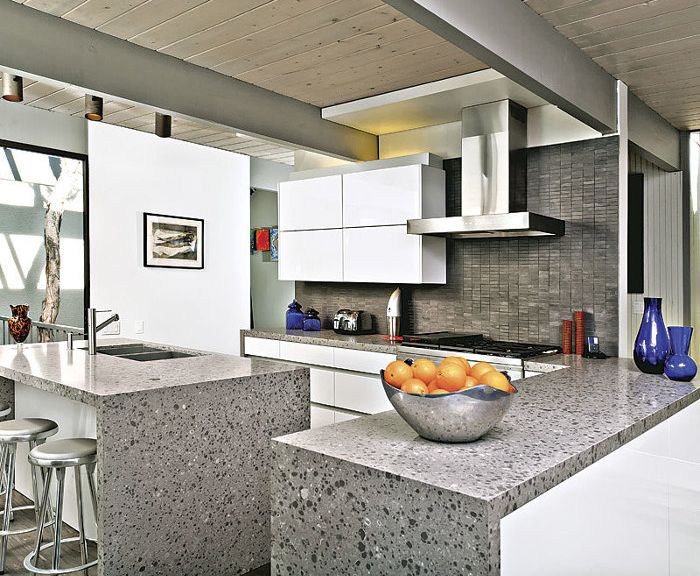 Synopsis: Jamie Gold designs kitchens with an approach she calls "sensible style." Its first principle is that a new kitchen needs to fit how the homeowners actually live. This includes the types of cooking they do, how often they entertain, and whether they use their kitchen for tasks such as folding laundry or helping their children with homework. The second principle of Gold's sensible style is that a new kitchen should honor the home it's being installed in–that is, elements such as countertops should complement the overall style and materials of the kitchen and its surrounding areas. Gold says that most kitchens fall into one of four primary styles–traditional, contemporary or modern, transitional, and eclectic–and that certain materials work best with each style. Throughout this article, Gold shares some of the ways in which she applies her sensible-style principles to her choices of countertop materials. She also describes eight of her favorite countertop materials and provides cost ranges for each: engineered stone, Dekton, wood, solid-surface acrylic and acrylic blends, slab glass, porcelain and ceramic slabs, concrete, and recycled glass.
---
There is no one-size-fits-all countertop for every kitchen, just as there is no one-size-fits-all kitchen for every home. when I began working as a designer close to a decade ago, most clients came to me wanting granite countertops. They ogled the large island covered in granite that we had on display—where no one ever cooked, chopped vegetables, mixed drinks, did homework, worked on art projects, or cleaned up after dinner.
Looking rich and beautiful is easy if you never do a day's work. It's harder for countertops subjected to the rigors of a family's daily living, especially spills, splatters, and flying projectiles. I design kitchens with an approach I call "sensible style." Its first principle is that your kitchen needs to fit how you really live.
The second sensible-style principle is that your new kitchen should honor the home it's being installed in; this means that your new countertops should complement the overall style and materials of the areas that surround the kitchen, as well as those in the kitchen itself. I've seen too many homeowners—and even some industry pros—choose a countertop without considering its maintenance requirements, durability, material properties such as softness or porosity, warranty, or even the way a pattern might play against neighboring surfaces such as kitchen cabinetry and flooring. My goal here is to help you avoid making such design mistakes.
Establish a design process
Kitchen countertops should never be chosen on the basis of looks alone. First, consider the needs and the lifestyle of your family. Take into account habits and any physical limitations. Once you've done that, then you'll be ready to choose the type of material that will top your cabinets for the next 10 or 20 years.
The first elements to consider when choosing the look you want for your tops are the other major surfaces in the kitchen. I often start with the floor, which may extend beyond the kitchen and, in a remodel, may already be in place. Cabinets and appliances are also major aesthetic considerations. what is their color, style, and pattern? Is there just one cabinet finish to coordinate with, or several? (I keep a consistent top if the cabinet finishes vary.) How will the appliances look next to the tops? Is there too much contrast, or not enough?
Regardless of whether you pick color A or pattern B, you need to choose the type of material before the cabinetry design is completed. Your countertops may require special sink accommodations, or supports may need to be factored into the cabinet design and construction.
For more photos and details on kitchen countertops, click the View PDF button below. 
View PDF
Next:
Kitchen Countertop Chemistry