Design
Zones for Small Appliances
Design for small kitchen appliances based on zones for cooking, food prep, and breakfast.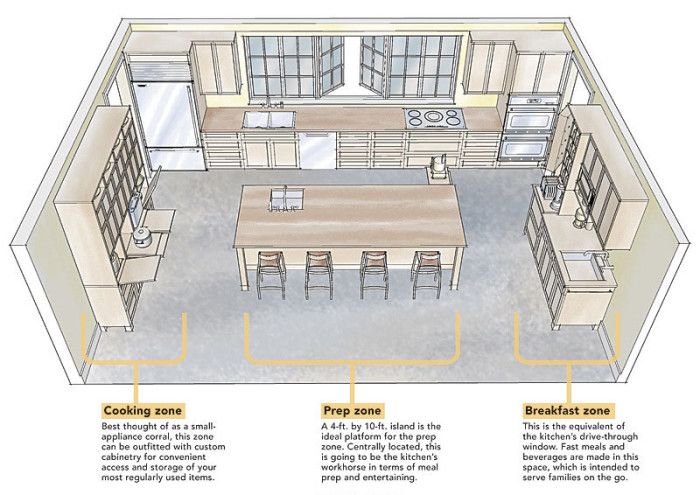 At some point, most of us have been told that to design a kitchen well, we must get the work triangle correct. For me, however, the triangle concept—which is driven largely by the arrangement of the kitchen's major appliances—is a bit antiquated. Sure, it was appropriate for the days when kitchens had to satisfy only three jobs—storage, cooking, and cleanup—but those simple days and those simple kitchens are behind us.
In addition to the major appliances, many modern kitchens are stocked with a handful of small appliances that serve a variety of very specific purposes. Instead of shoehorning these items into kitchen cabinets as an afterthought or simply loading the countertops with them, I anticipate them by proposing kitchen designs that have established zones for small-appliance storage and room for their associated tasks. Here are three such zones to consider for your kitchen design.
The cooking zone
From the rice cooker to the waffle maker to the slow cooker, you should be able to access all of your small cooking appliances easily, use them as needed, clean them up, and store them with the least amount of effort possible. Because this category of appliances can be sizable in many homes, it's important to consider the appliances that are used most frequently and to design this zone to accommodate them. For example, if you use the slow cooker a lot, you'll want to make sure that this appliance is in a place where it can be slid out of its cabinet, turned on, and left to cook.
Small cooking appliances that have only occasional use also need to be stored. The cabinet for them does not need to be deep; 16 in. to 18 in. should be plenty. It doesn't have to be too large, either. A unit of about 6 lin. ft. should accommodate docking stations for three or four appliances.
The prep zone
From the food processor to the mixer, many of us slice, dice, mix, and blend routinely. You can stow all of these appliances in deep base cabinets and lug them out when you need them, or you can allow them and their snaking cords to clutter your countertops; you don't have to, though. Instead, integrate a prep zone close to the refrigerator and the cooking area.
Locating this zone at an island and between the refrigerator and prime cooking area is ideal. The chef then will be able to pivot between tasks and have everything within arm's reach. This means placing these small appliances in the base cabinets that make up the island. The island should be a good size if you wish to accommodate entertaining and food prep at the same time.
The breakfast zone
The days of the big breakfast are long gone. With everyone's hectic work and school schedules, it's a wonder we have time to make a morning meal at all. Dedicating an area to preparing grab-and-go cups of coffee, bowls of cereal, or toast can make a kitchen work more efficiently. A zone like this needs roughly 6 ft. of base cabinets and countertops, with corresponding upper cabinets. This run of cabinets will accommodate a 24-in.-wide undercounter refrigerator as well as a small sink. There should be a deep upper cabinet—say 16 in.—at one end of this area for housing the toaster and a blender or juicer.
This area can be tailored to serve as a beverage zone as well, enabling you to make smoothies in the morning and margaritas in the evening without disrupting the chef in the center of the kitchen.
Drawings: Bud Dietrich
Next:
Refrigerators Can Look Good, Too