Lighting for the Long Term: A Detailed Illustration of Ideal Kitchen Lighting
Lighting designer David Warfel explains how to choose the right lights and lighting controls to create a safe, practical, comfortable, and healthy kitchen.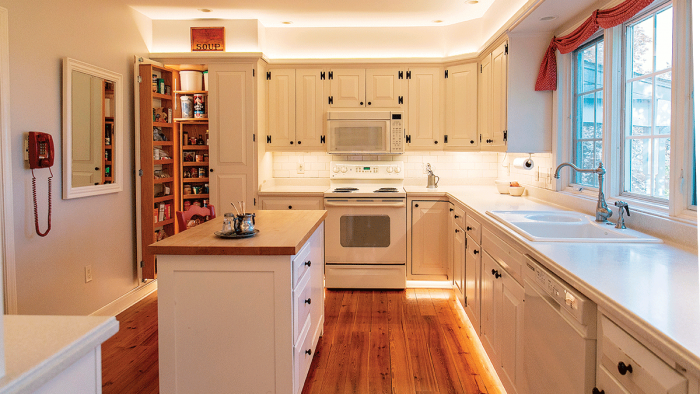 Synopsis: Lighting designer David K. Warfel explains the influence of light on our circadian rhythms, health, and moods. As we age, the right light can help reduce the risk of falls, lessen macular degeneration, and even curtail demential symptoms. In a detailed illustration of ideal kitchen lighting, Warfel enumerates the various types of lighting and its benefits to the occupant, including undercabinet, pendant, toe-kick, window, and shelf lighting. The article includes a description of smart-controlled lighting, and the options from smart switches to smart bulbs to fully integrated systems that are controlled with smart devices.
---
We are in the midst of a lighting design revolution. The convergence of groundbreaking science and emerging technologies is changing our ideas about light's role in our everyday lives. We now understand how it influences our circadian rhythms, health, and mood, which is why regulating the amount and quality of light we are exposed to is important—especially as we age. In time, our lenses become less flexible, begin to discolor, and grow cloudy. This scatters light, increases our perception of glare, and makes distinguishing colors more difficult. Additionally, the muscles that control our pupils begin to lose strength, making them less responsive to changes in ambient lighting. We need to adjust accordingly. It's easy to add another lamp in the living room or put in a brighter bulb at a desk, but kitchen lighting is often fixed, so it's important to get it right the first time.
How light affects us
A few years ago, I heard a presentation by Mariana Figueiro, PhD, of the Lighting Research Center (LRC) at Rensselaer Polytechnic Institute, on the effects of light on human health. The LRC's findings show that the right light can help reduce the risk of falls, lessen macular degeneration and cloudiness, and even curtail dementia symptoms. Research scientists have also discovered that certain cells in our eyes send signals not to our visual cortex but to an entirely different part of our brain responsible for regulating our 24-hour days. This circadian rhythm entrains us to local time, and sequences the release of melatonin at night and cortisol in the morning; it also influences the rise and fall of our core body temperature.
To view the entire article, please click the View PDF button below.
More on lighting:
LEDs Offer Flexibility for Home Lighting Design – Strip tape is revolutionizing the way designers light countertops, built-ins, and architectural details.
Bathroom Lighting With Purpose – Consider style and function when deciding on illumination.
Kitchen Remodel: Chase Away the Shadows – Clever lighting strategies and creative cabinetry energize a contemporary kitchen and bath.
View PDF
Previous:
Choose the Right Kitchen Sink
Next:
Kitchens Illuminated