How-To
A Faster, Easier Approach to Custom Cabinets
Create kitchen cabinets, pantries, and more with a slick hybrid design and problem-solving pocket-screw joinery.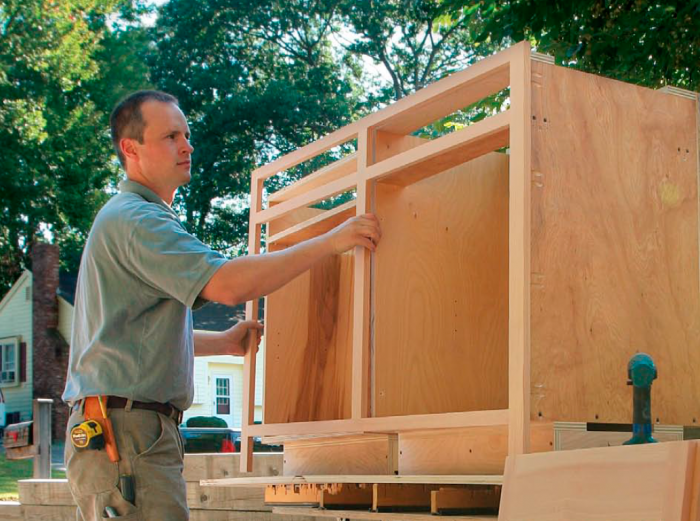 Magazine extra: Watch Mike demonstrate how he uses a pocket-hole jig to make strong hidden joints for cabinet boxes, face frames, and more.
When designed and constructed properly, built-in cabinets can bring both style and storage to many parts of a home. Over the years, I've refined my approach to constructing cabinets to decrease the time and tools it takes to build them while ensuring their strength and good looks. I used my technique to build the Douglas-fir kitchen island featured here for my home, but I've followed the same process to make stain- and paint-grade kitchen cabinets, bookcases, linen cabinets, pantries, desks, bathroom vanities, and storage cubbies.
Your shop is where you make it
The beauty of this system is that the setup is simple and doesn't rely on the space or tools found in big cabinet shops. Being able to set up shop in a driveway, a garage, or a small room has always been helpful in keeping my work on schedule.
The tools you need to construct these cabinets are likely sitting in the back of your truck. For cutting components to size, you need a miter saw, a portable tablesaw, a circular saw, an edge guide to cut sheet goods safely, and a portable thickness planer. To fasten the carcase and face frames together, you need a 16-ga. or 18-ga. finish nailer, a screw gun, a pocket-screw jig (www .kregtool.com; www.pennstateind.com), a bunch of screws, and some glue.
A hybrid design makes face-frame cabinets better
Cabinets are typically designed in one of two ways: frameless or with face frames. Each has its merits. Face-frame cabinets are traditional and strong, and they can be scribed to fit seamlessly against a wall. Frameless cabinets are quicker to put together and can be used in conjunction with adjustable, hidden, and now soft-close hinges.
I've done a lot of historically informed work, and frameless boxes just don't provide the appeal of face-frame cabinets with inset doors. Although frameless cabinets allow a bit more space inside, their end panels tend to look tacked-on, crown molding is hard to detail properly, and filler strips are heavily relied on during installation. I use the benefits of both styles by building a hybrid cabinet. Flushing the inside of the carcase to the inside of the face frame allows me to use hardware designed for frameless cabinets while still providing the traditional look, ease of installation, and strength of faceframe construction.
Screws, glue, and quality hardware hold it together
Traditionally, face-frame cabinets are constructed with dadoes, grooves, dowels, or mortise-and-tenon joinery to lock together each component. These techniques create strong assemblies too, but require much more time.
I assemble face frames with fine-thread, 1 1⁄4-in. square-drive washer-head pocket screws and yellow glue. I tack the carcases together with finish nails and then drive 1 5⁄8-in. drywall screws for strength. I've used drywall screws for years and have never had a cabinet fail, but it's important to use stronger screws when attaching a cabinet to the wall.
For more photos, drawings, and details, click the View PDF button below: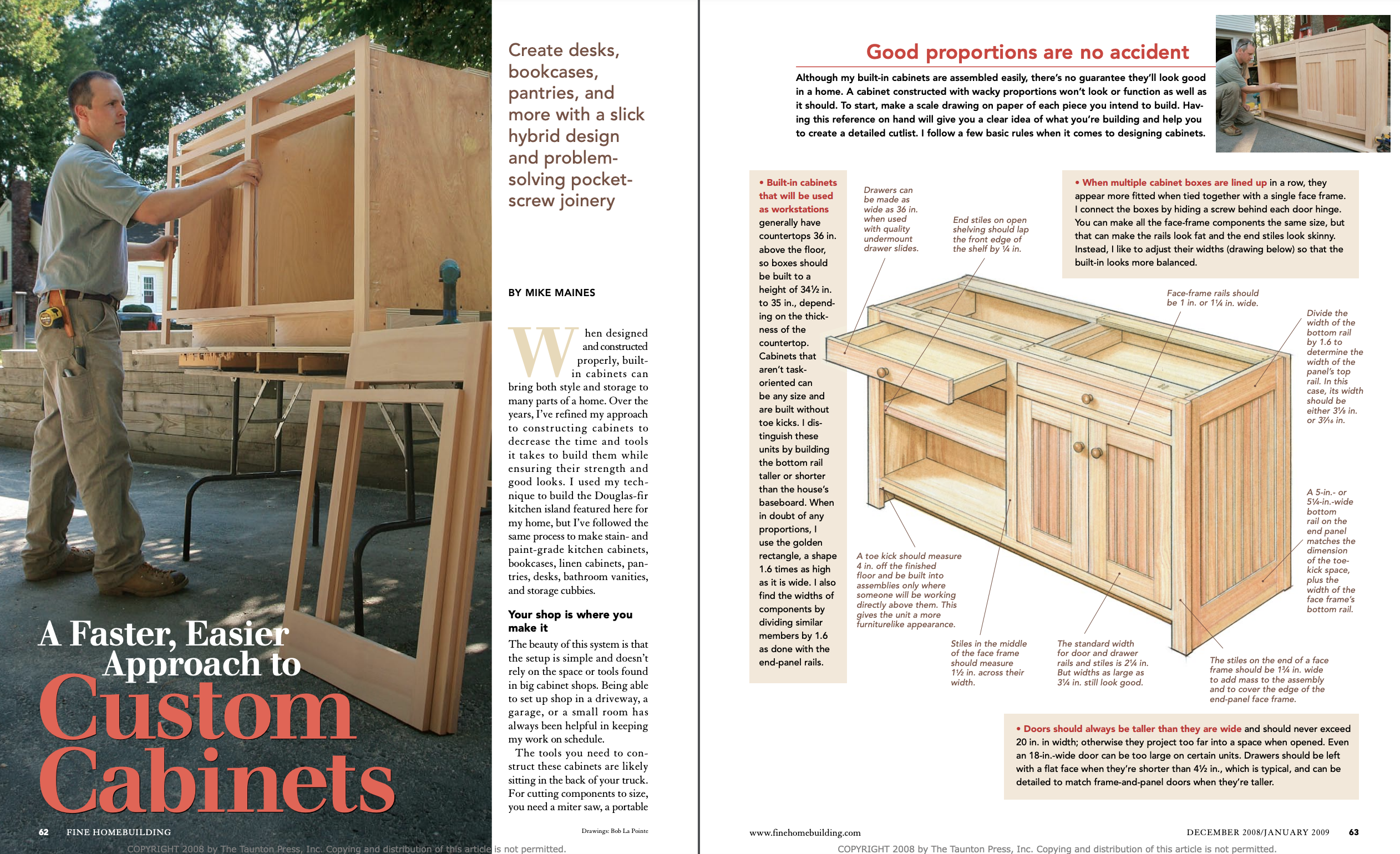 View PDF
Previous:
Installing Frameless Kitchen Cabinets
Next:
How to Install Inset Cabinet Doors