How-To
Build a Custom Range Hood
Add a distinctive detail to your next kitchen with a curved-hood fan cover.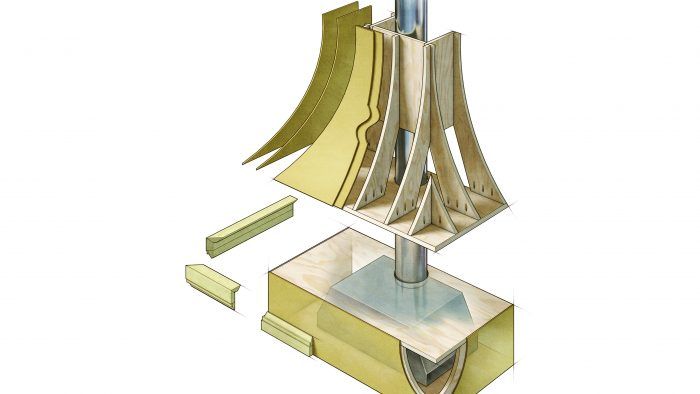 Synopsis: This article describes how to build a custom range hood, from drawing the curve on a plywood template, to building the curved framework with braces and pocket screws, to finishing the chimney with MDF panels and trim. The article includes a detailed drawing of the range-hood elements and their dimensions.
---
As the shop manager at a design/ build firm, my role is more than cabinetmaker. I consult with the design team, manage and mentor the shop crew, purchase tools and materials, and even decide when it's best for us not to build things ourselves. This kitchen is an example of a project where I played all of those roles. The cabinets are supercustom, and, with inset doors and drawers, are among the trickiest cabinets to build. Though we made most of these cabinets in the shop, I knew that we'd need to save some time, so we ordered the drawer boxes and some of the doors. But I decided to build the range hood in-house even though we hadn't built one before. We certainly could have bought a similar range hood, but it wouldn't have matched the rest of our design so nicely. And we could have had it made in a CNC shop, but that would have been costly. Since there are no expensive materials involved—the paint-grade range-hood cover is mostly plywood and MDF—we decided to go for it. We took our time and everything worked out well. Having now built a second version of this hood design, I have some helpful tips to share. In fact, I hope to build a stain-grade version soon, with wood veneer over the curved chimney.
To view the entire article, please click the View PDF button below.
View PDF
Previous:
Installing a Range Hood
Next:
One Sink, Four Configurations