Design
Everything, and the Kitchen Sink
This remodel included one very unusual feature: a kitchen backsplash window.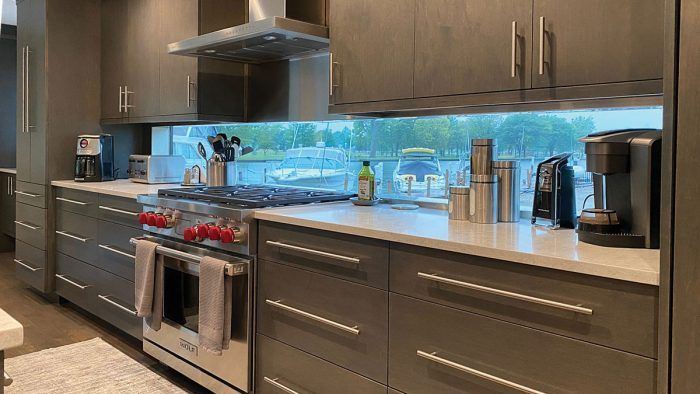 On the list of goals for this kitchen remodel was an open floor plan, storage for appliances, a generous and well-­organized pantry, and a casual dining area—along with one very unusual wish: a backsplash window for enjoying views of the creek behind the house. The homeowners wanted a clean, modern look, so they selected dark-colored cabinets with flat-panel doors and matching appliance panels. Commercial-grade stainless steel was used wherever possible, including to wrap the entire backsplash window. The unique layout of the window necessitated the use of outlets that pop up from the counter (from kitchenpowerpopups.com), which are used throughout the kitchen and dining area. Space for a convenient microwave drawer was found in the kitchen island.
The original plans called for a separate mudroom to house the washer and dryer. When the homeowners decided they'd rather not put up a wall in order to keep the kitchen more open and flexible for entertaining, it was necessary to rethink where the washer and dryer would be located and how they would be hidden from view. The units are housed inside matching cabinets along the back wall, with the water and power lines located behind the adjacent drawers. The counter above the washer and dryer offers a spot for folding laundry, a drop zone for groceries, and an additional serving area when entertaining.
Hidden in plain sight. With the cabinet doors closed, it's impossible to tell that this is the family's laundry room.
Design and Installation  Brandon Jarinski, Jarsway Improvements, Saint Clair Shores, Mich., jarsway.net
Cabinetmaker  LaFata Cabinets, Shelby Township, Mich., lafata.com  
Photos  Courtesy of Brandon Jarinski
Previous:
Opening Up a Family Kitchen
Next:
All for Fun with Family