Design
Floating Shelves on Display Offer Strength and Style
Understand the pros and cons of open shelving in the kitchen.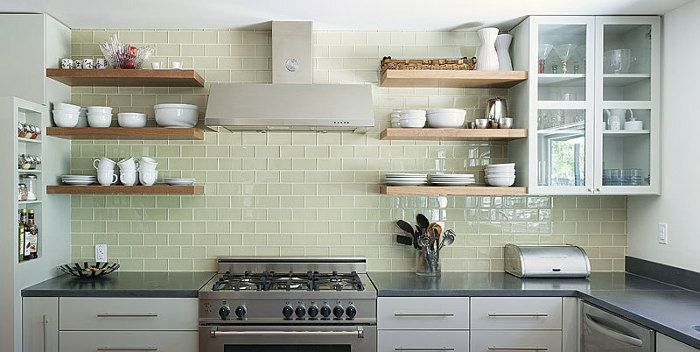 Synopsis: For years, architect Cindy Black has concentrated much of her practice on the kitchen. In this article, she discusses the pros and cons of open shelving in that storage-intensive area. For many of her clients, this storage option adds a sense of space to a bank of cabinets and creates a place to display ornamentals. Three different designs are profiled: (1) a simple shelf that is supported only by a hidden cleat, (2) shelves hung from the ceiling by threaded rods, and (3) a series of shelves wrapped with a welded band of stainless steel. Each design is illustrated with a construction drawing that shows the method and details of the attachment.
---
For the past 14 years, I've been working as a residential architect with my husband in Austin, Texas. In 2009, I opened an offshoot of our firm called Hello Kitchen to offer architectural services focused around that room—the center of a typical house. During several hundred kitchen consultations, I've had a fascinating peek into the way people occupy and use their kitchens. In my design process, I often walk clients through big changes that will alter those familiar patterns. One of the more polarizing subjects is that of open (or floating) versus closed shelving. Because the issue revolves around storage of personal items, it often seems like clients have settled this decision before our discussion begins.
Why open shelves?
I've found that the tidy and meticulous homeowner has no trouble understanding the concept of open shelving in the kitchen. Items are arranged artfully on the shelves within arm's reach, and they require an occasional dusting or cleaning.
But for those who have a looser approach to domestic life, the desire for less maintenance can drive the decision to put everything behind closed doors. Another factor is the hesitation to showcase kitchen items that may not jive with a new aesthetic, such as a dated family heirloom or an indispensable collection of plastic poolside tumblers. It's true that managing so many exposed items in a kitchen requires more time and thought up front. However, there are arguments to be made against closed cupboards, too. A well-worn kitchen can accumulate many things that get shoved into the recesses of cabinets, and eventually those items become inaccessible.
Closed upper cabinets also decrease the sense of space, and depending on the finish, they can bring a feeling of heaviness to the kitchen. There is also the challenge of cabinet placement. For instance, many kitchens built in the 1980s and '90s featured cabinets that stop about a foot short of the ceiling, creating a surface that catches dust.
The design of open shelving can help to balance the design of the kitchen with practicality and sometimes guide a skeptic into appreciating the advantages of open shelving. The first thing to understand is that not all cabinet storage needs to be the same; in fact, a mix of open shelving and doors seems to work best. In our practice, we typically review these concerns up front and try to strike a balance with our cabinet designs.
Design with purpose
As we begin to diagram the cabinetry and the possible locations for open shelves, we take into account what items will be stored on each of the shelves. Our first round of schematics includes a map of these items so that the client can understand both the quantity of storage and the function of certain areas of the kitchen. Interestingly, I've been able to convince people to build smaller kitchens with less cabinetry by placing each of their items in the floor-plan and elevation drawings.
For a breakdown of the three different types of open shelving with photos, click the View PDF button below. 
View PDF
Previous:
A Pantry That Blends into the Cabinetry