Outdoor-Kitchen Modular Kits
Modular cabinet kits offer a way to build an outdoor kitchen on your deck or patio at a fraction of the cost of a custom-designed and custom-built kitchen.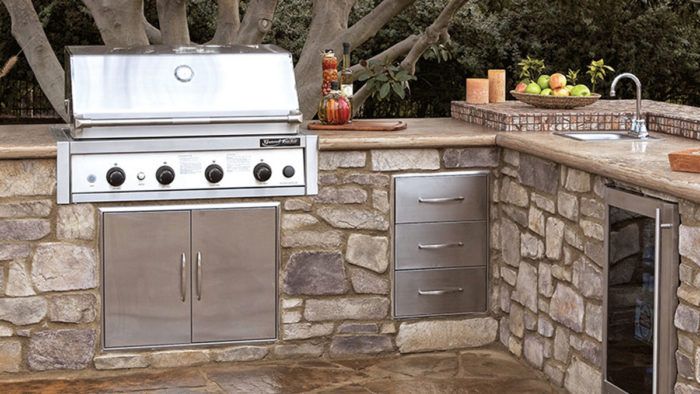 Outdoor kitchens offer a way to serve food and drinks on a deck or patio without having to make regular trips between inside and outside. Outfitting this space with a sink and with appliances such as a mini-fridge and a grill means that you and your guests can stay put for hours at a time.
Outdoor kitchens, though, can be expensive. You may need to run new electrical, gas, and plumbing lines. The appliances, the cabinets, and any countertops need to be tough enough to withstand all sorts of weather in addition to normal use. Finally, if you hire a mason to install the concrete-block base and to apply a stucco or stone finish, you'll be paying for hours of labor.
If your budget is limited and you feel up for tackling at least some of the work yourself, consider a modular kit, which can reduce the cost of an outdoor kitchen by a significant amount.
Most kits start with a galvanized-steel frame made from steel studs that can be cut to custom lengths with a circular saw equipped with a diamond blade. With the frame complete, a backerboard suitable for exterior use, such as HardieBacker or PermaBase, is applied. This is the substrate for the finish material, which is usually stucco or stone.
You can buy kits that are as basic as a set of steel studs–to which you add fasteners, backerboard, finish materials, and appliances. If your time is limited, you can buy kits with certain parts already assembled. Typically, kits are not priced with appliances and finish materials included, but most dealers offer a variety of stone finishes and appliances from several manufacturers that you can order with your kit.
An alternative to steel-frame designs is offered by Eldorado Outdoor, whose Signature Kitchens line includes five basic kits that include cabinets made of glass-fiber reinforced concrete and connected to each other with bolts and construction adhesive. To make the necessary cut-outs in this material, you need a grinder with a diamond blade.
For the ultimate in simplicity, OxBox offers a kit for building 7-ft. modular kitchen island that the company claims can be fully assembled in an hour, including the grill and mini-fridge installation. Its steel frame is sheathed with HardieBacker or PermaBase, covered in stucco panels, and topped with a porcelain-tile counter.
For more on outdoor kitchens, click here.
Previous:
Built-In Cabinets Do Double Duty in a Laundry Alcove
Next:
Installing Semicustom Kitchen Cabinets