What's the Difference: Paintbrushes
Choose the right bristle shape, ferrule type, and handle style to match the demands of your paint job.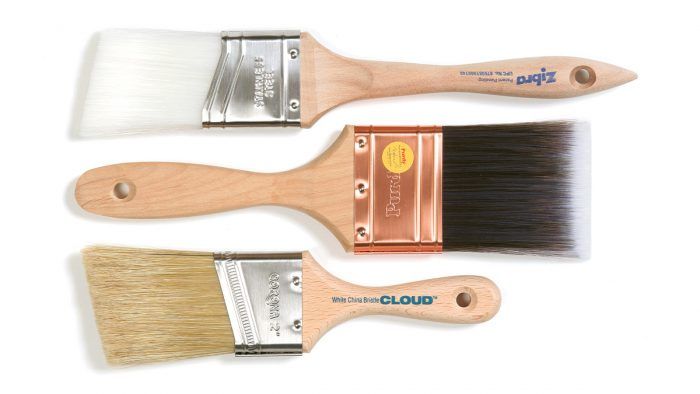 So you've got a painting project to tackle. If you'll be using latex paint, you'll want a brush with synthetic bristles. If you'll be using oil-based paint, you can use a brush with either synthetic or natural bristles. Sounds simple enough—until you go to the paint store and see just how many variations there are for a simple design. To make your decision a little easier, look at these three things when purchasing a paintbrush.
Bristle Shape
Paintbrush tips can be angled or flat. A flat-tipped brush is good for flat surfaces with no obstructions, such as horizontal siding. Although many pros use angled brushes for painting flat surfaces, they are more often used for cutting in and for covering areas, such as window muntins, that require precision. The best brushes have tapered filaments of various lengths that hold paint throughout the brush and release it smoothly. Look at the brush from the side. If it comes to a point at the end, it is tapered. If the thickness is the same from base to tip, it is not tapered and will not apply paint evenly and cleanly. Quality brushes also have flagged, or split, ends, which create more surface area for holding paint and leave fewer brush marks.
Ferrule
The ferrule is the metal band that protects the base of a paintbrush. Ferrules on most professional-grade brushes are made from stainless steel, nickel-plated steel, or copper-plated steel. Cheap brushes often have ferrules made of tin-plated and brass-plated steel, which are not as corrosion resistant. The rust that develops after repeated cleanings could end up staining the paint. If you need to cover a large area by brush, you may want to consider a brush with a semioval ferrule. Its larger bristle capacity makes it able to hold more paint. Regardless of the metal it's made of, a ferrule should hold the shape of the bristles.
Handle
The handles on most professional-grade brushes are made from unfinished wood, although handles made of finished wood, plastic, and other materials are available. Unfinished wood absorbs perspiration, which means the brush won't slip out of your hand. You also should consider shape: rattail, beaver tail, fluted, flowing, Shasta, block, round. The choice comes down to three related factors: comfort, balance, and size. Comfort is in the hand of the painter. Someone with a small hand might prefer a thin, light brush, while someone with a large hand might choose a wide, heavy brush. Manufacturers match handles to brushes in part to provide balance between the handles and the bristles. Better balance means more control. At times, however, size may outweigh balance. A brush with an extrashort handle, for example, may not feel balanced, but it might be just the right tool to reach a narrow corner.
Photos: Rodney Diaz
Previous:
Choosing, Using, and Maintaining Paintbrushes
Next:
Shur-line Applicators for Combined Paint and Primer