Tools & Materials
What's the Difference: Painting Drop Cloths
Plastic, canvas, and alternative materials all have pros and cons when it comes to protecting your job site while painting.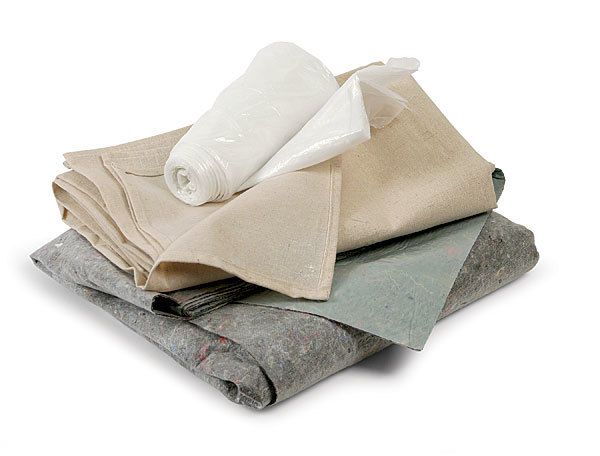 When painting, the most important and effective measure of protection from splatters and spills is a drop cloth. The two most common types of drop cloths are plastic and canvas. However, other products like rosin paper, cardboard, and natural and synthetic recycled fibers are available. While each type serves the same essential purpose, each functions differently.
Plastic is cheap
Plastic drop cloths are useful, but serve a more limited purpose. They are lightweight, disposable, and inexpensive.
Pros: Lightweight, so they can be hung and draped easily. Impermeable.
Cons: Dangerously slippery on hardwood and carpeted floors. Easily ripped or torn. Must be taped to be kept in place.
Best use: Plastic can be hung with painter's tape, making it the best drop cloth for covering upper cabinets, light fixtures, and tall furniture.
Cost: $1 (9-ft. by 12-ft. roll)
Canvas is the standard
Next to a paintbrush, the most universal item in any painter's possession is the canvas drop cloth. A heavy-duty 12-oz. drop cloth is best because paint is less likely to seep through it.
Pros: Durable, long lasting, and reusable. Rubber-backed versions are impermeable.
Cons: Can be slippery on hardwood floors. Won't lie dead flat, which can create a tripping hazard.
Best use: General flooring coverage, tool and material staging, countertop and furniture coverage, exterior applications (like deck or walkway protection).
Cost: $40 (12 ft. by 15 ft.)
Alternative materials vary in effectiveness
While some people use rosin paper and cardboard as drop-cloth material, I don't. They just don't offer the performance and ease of "installation" of other products. However, a fibrous drop cloth, like Clean & Safe (www.dropcloth.com), is a good option in some situations.
Pros: Lies flat, skid resistant, impermeable, reusable, easier to detail around transitions and stairs than other drop cloths.
Cons: Difficult to drape or hang. Distribution is limited, and online orders offer only larger quantities.
Best use: As floor protection over hardwood and carpet. Performs particularly well on stairs because it's less likely to bunch up.
Cost: $144 (80-in. by 15-ft. 100-sq.-ft. roll, box of four)
Previous:
Torture Test: Paint Strippers
Next:
Clean Oil-Based Finish From a Brush