How to Clean Fuzz Off of a New Paint Roller
Use painter's tape in an ingenious way to make any roller lint-free.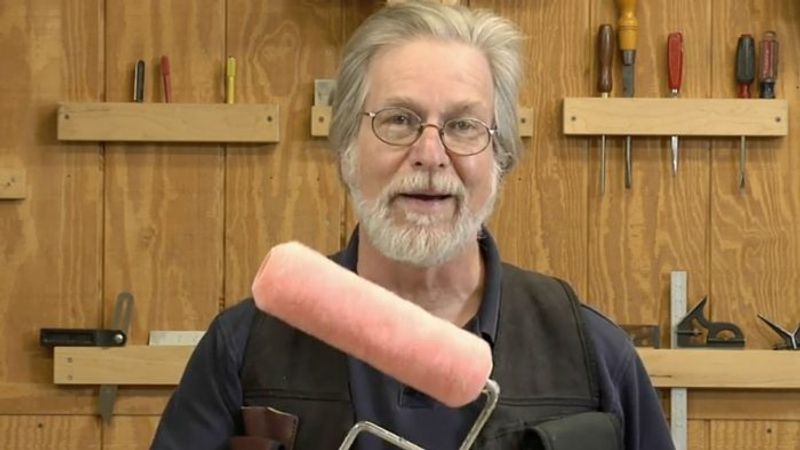 If you're rolling a nice, smooth finish onto a painted surface, you could take your chances that the fuzz from your brand-new roller doesn't end up in your paint, but there's a better way.
David Hasenstab from Seattle, Wash., makes a preemptive strike on that pesky fuzz by removing it before he even dips the roller in the tray. Here's the key: David uses a roll of good old duct tape to get that fuzz off of the roller. Now you could use packing tape or masking tape; the important thing is that it is a wide roll of tape. What he does is pull a couple of feet off, hold the end of the tape between his fingers and the tape roll between his legs, and then he just takes the roller by it's handle and rolls it up and down the tape. You'll be amazed at how much fuzz comes off on this thing.
Incidentally, this same idea will work for throw-away, inexpensive brushes. Some of those bristles are loose too, and you can use this method to get rid of them as well.
Let's take a look at this piece of tape and see what we've done to it. Oh man! Look at all that fuzz!
That's a great tip, David. Thank you.
_________________________________________________
Attention all tipsters!
We're looking for any smart idea that would make a great There's a Better Way Video or that could be featured in the Tips & Techniques department in Fine Homebuilding magazine.
We pay for any tips that get published
You can post tips in our submit a tip blog, or just email them to Fine Homebuilding care of Chuck Miller. Thanks!
Plus, browse 30 years of great ideas in our Reader Tips department.
Previous:
How to Make a Paint Cut Bucket
Next:
Making Sense of Caulks and Sealants