How To Stop Paint From Bleeding Under Masking Tape
A super-thin bead of caulk is the secret to a clean edge beween a painted surface and a varnished surface.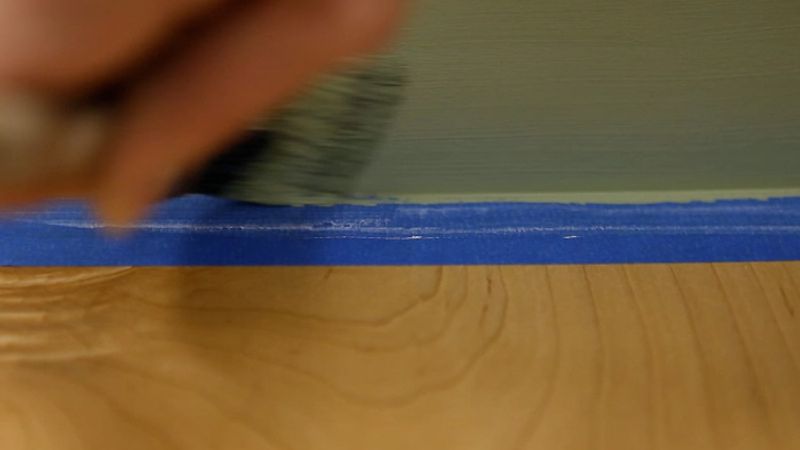 If you need to keep a straight, clean line between a painted surface and a varnished surface, you could try free-handing it the way the great painters do, or you could put down some masking tape and hope it doesn't bleed, but there's a better way.
This is a tip from Chuck Green from Ashland Massachusetts. And Chuck uses masking tape as well, but he goes one step further to make sure that the masking tape doesn't bleed through. We're going to make a mock-up here to show you how it works.
The first thing we do is lay down the masking tape along the edge that we want. Get it in as tight as possible. Then we take this tool that I've made up. I usually make a half a dozen of these things whenever I'm on a painting project. They're wooden chisels with an acute angle on one end that I make out of scraps of hardwood. These things make really great scrapers and putty fillers, but in this case I'm going to use it to press the masking tape down. Having the edge of the masking tape pressed tight to the edge is the really important part. This is going to help keep the paint out, but there's one more step. So now, the secret sauce is a thin bead of caulk along the edge of the tape where it meets the surface that we're about to paint. Use the little chisel tool again to force that caulk into the intersection, and to scrape away all of the excess, both on the masking tape and the surface to be painted. The important thing to remember is: don't use your finger to get a coved layer of caulk in there, because that will make a mess when you go to pull the tape off.
Now you can go ahead and paint. Ordinarily, I would let this dry for a little while, but we're just going to go ahead and take the tape off now. The caulk hasn't set up, the paint hasn't set up, and it will give you a sense of just how clean this edge is.
That's clean folks. It's a great tip. Thanks, Chuck. I've got to tell you, I just painted my staircase using this method, and it worked to perfection. I appreciate it.
Previous:
Easy-Peel Masking Tape