Why I Build: Tom Cardillo, Plumber
Watch a residential plumber install a PVC drainage manifold as he explains why he takes pride in the craft of plumbing.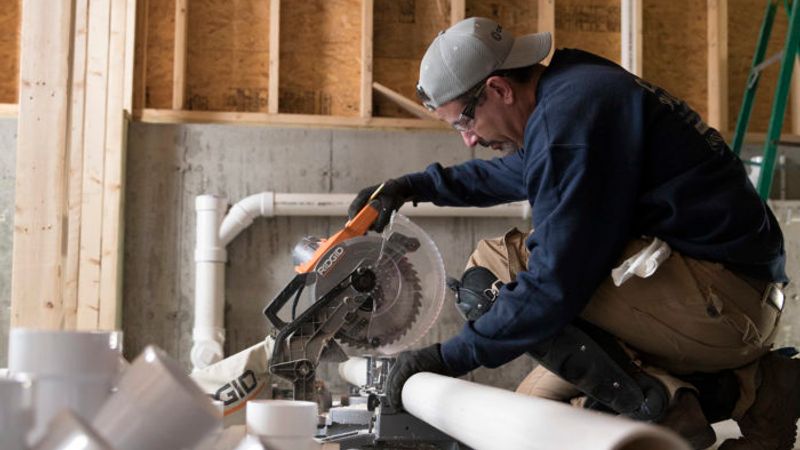 Tom Cardillo, a residential plumber who works in and around central Rhode Island, is a tradesman of the traditional sort. He is careful in his work and takes great pride in its execution. Tom is in a trade where much of his work will be hidden and no one will ever see the result of his efforts—the care he takes to ensures that every joint is free of glue and primer drips, that his pipe markings are aligned and facing the same direction, that his supply lines and drain lines as symmetrical as possible. He needs no applause or celebration for his attention to detail. It's just a part of who he is.
In his now renowned book, "Shop Class as Soulcraft," Matthew Crawford describes this type of tradesman. He writes, "The satisfactions of manifesting oneself concretely in the world through manual competence have been known to make a man quiet and easy. They seem to relieve him of the felt need to offer chattering interpretations of himself to vindicate his worth. He can simply point: the building stands, the car now runs, the lights are on … the tradesman must reckon with the infallible judgement of reality, where one's failures or shortcomings cannot be interpreted away."
When Tom leaves a job, he can state plainly that the plumbing works, and only those who know the complexity behind such a statement can offer recognition and true appreciation. When we sat down with Tom one afternoon to talk to him about his work and his motivations, he was roughing in a drain-waste-vent system on a new build in East Greenwich.
Exclusive to Fine Homebuilding members, check out more great plumbing content:
Fine Homebuilding has long supported those who share a commitment for quality building and craftsmanship. Continuing in that tradition, our Why I Build series tells the stories of men and women who have sought out careers in the building trades. Follow along as we celebrate the spirit of building, and be sure to share your story for a chance to be featured in an episode of your own.
Previous:
Roughing-in Drain-Waste-Vent Pipes
Next:
How to Cut Copper Pipe