Easy Solo Toilet Installation
Use scrap wood and position both the bolts and wax seal correctly when installing a toilet alone.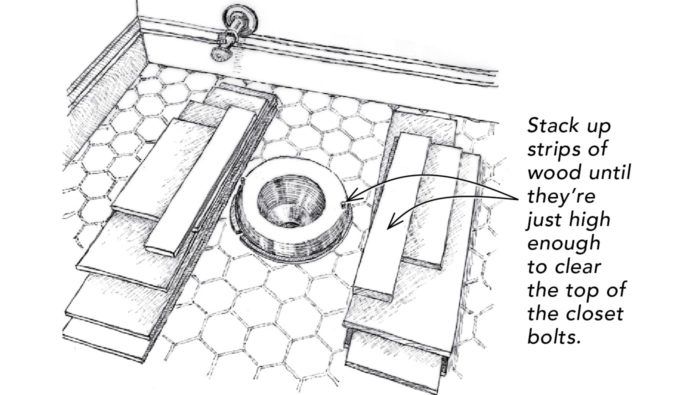 When you're installing a toilet alone, it can be difficult to get the closet bolts lined up without trashing the wax ring. So I stack up thin pieces of scrap wood on the floor so they're high enough to clear the top of the bolts. Then I set the toilet down on the scrap wood and line up the bolts. A pair of drinking straws cut at slightly different lengths and slipped over the bolts (not pictured) makes this process easier.
Once the bolt holes and bolts are aligned, I remove the wood, one piece at a time (alternating sides), making sure the wax ring is centered on the toilet flange. Once the scrap wood is removed, I can confidently tighten the closet bolts, knowing that both the bolts and wax seal are correctly positioned.
— Ken Pizzuco, West Chester, Ohio
Edited and illustrated by Charles Miller
From Fine Homebuilding #274
Previous:
Should You Seal the Joint Where a Toilet Meets the Floor?
Next:
Installing a Wall-Hung Toilet