How-To
Install a Whole-House Sediment Filter
Sturdy mounts and a sediment-filter bypass prevent problems down the road.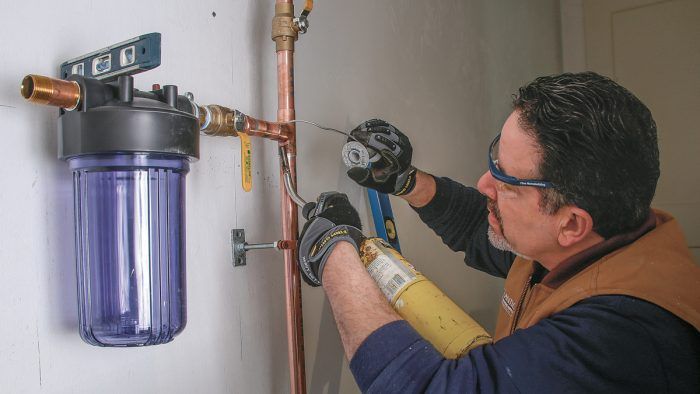 Synopsis: The sediment filter prevents particles in water from reaching appliances and fixtures, and is an important part of a home's plumbing system. Plumber Tom Cardillo has seen many inadequate installations. In this article, he describes the importance of solid mounting, and details the process of installing the filter and building the loop and bypass system. A sidebar explains the different types of water filters pleated, string-wound and string-spun, and carbon their pros and cons, and where they are best used.
---
One of the most important parts of a home's plumbing system is also one of its most under appreciated: the sediment filter. Optimally placed near the point the water service line enters the house, the filter prevents particles suspended in the water from reaching downstream appliances and fixtures, where sediment can clog and damage everything from shower heads and faucets to boilers and water heaters.
Unfortunately, many well drillers and plumbers skimp on sediment filters and their installation—if they install one at all. Putting a filter in a spot where it's hard to service, or using a flimsy mounting system that flexes during filter changes, can lead to leaks. I've seen all of these problems in my service work, so I take extra care to make sure my whole house filter installations are rock solid. I'm careful to match the filter system to the diameter of the main line so there's minimal loss of pressure and water volume, and I mount the filter at a convenient height so it's easier to maintain. Finally, I include a bypass so the water can be temporarily routed around the filter during maintenance and if the filter housing starts leaking. A leaky housing is surprisingly common because the O-ring that seals the filter basket to the housing can be damaged when the cartridge is changed.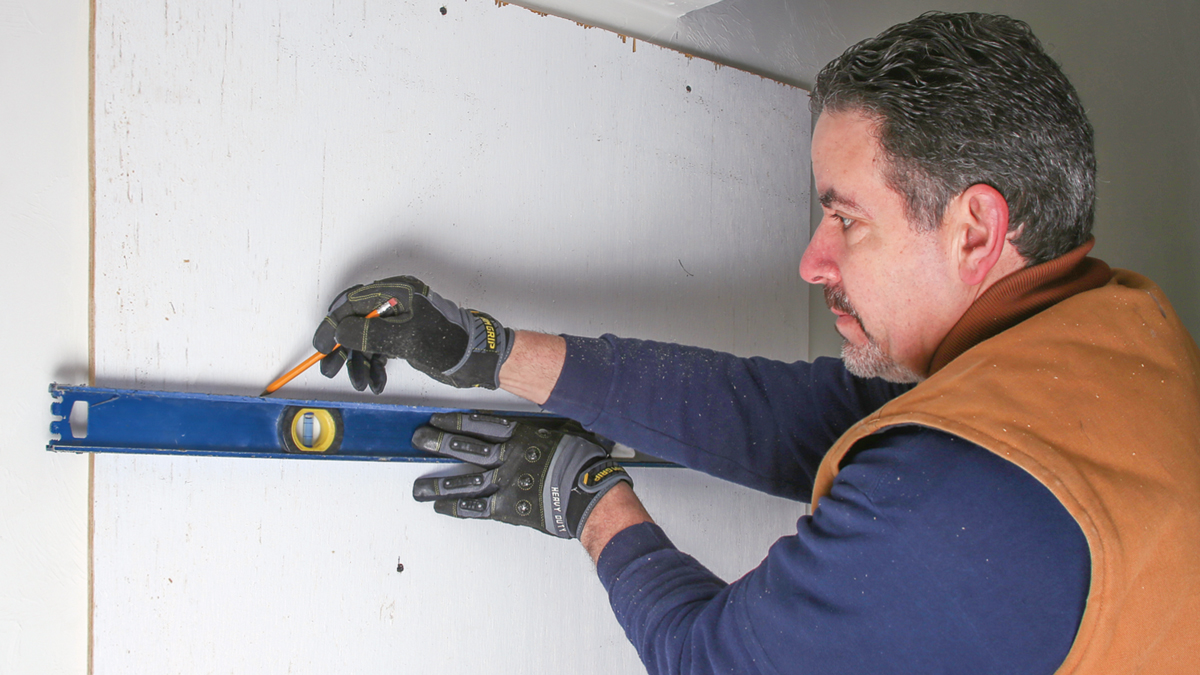 What kind of housing and filter?
Here I'm installing a Sterling HJ10-Clear filter housing. Its translucent basket allows homeowners to see a buildup of trapped sediment, indicating it's time to change the filter. I've found them to be very reliable, and local plumbing suppliers stock matching filters and O-rings. There are also multistage filters for capturing multiple particle sizes and for reverse-osmosis, as well as other types of filters for water with hard-to-remove contaminants.
The only way to know exactly what you need is to have the water tested. Your local health department can usually offer suggestions for nearby environmental labs that test drinking water. You can also experiment with different micron ratings.
More about plumbing fixtures:
Drain-Waste-Vent Systems – Although hidden behind walls and in floors and ceilings, the pipes that make up a house's drain-waste vent system are the balance of the plumbing equation.
A New Old Way to Vent a Kitchen Island – The combination waste and vent system is a simpler alternative to island fixture vents and air-admittance valves, and a recent code change may make it more popular.
Three Designs for PEX Plumbing Systems – The pros and cons of trunk-and-branch, home-run manifold, and submanifold systems.
---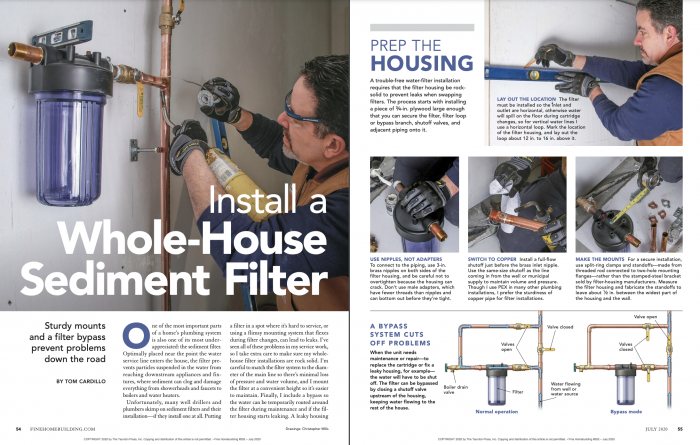 From FineHomebuilding #292
To view the entire article, please click the View PDF button below.
View PDF
Previous:
Whole-House Water Filters and Softeners
Next:
Smart Home Water-Line Leak Prevention