How-To
Installing a Claw-Foot Tub with Curtain Surround
Follow this step-by-step guide to upgrade your bathroom with a retro-look claw-foot tub.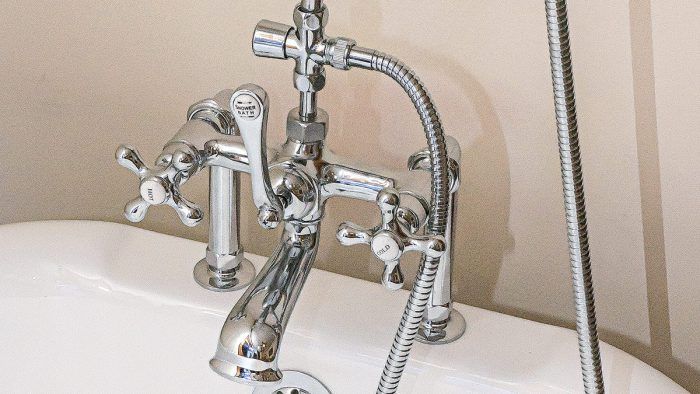 A retro-look claw-foot bathtub can be an elegant solution for a tub and shower combo in a traditional-style bathroom. They look great, as long as all the exposed plumbing (and there is a lot of that) is made of attractive materials—in this case, a gleaming chrome finish. If you are replacing an existing claw-foot tub, measure to see that the plumbing parts—the supply risers and the drain—will match. Otherwise, or if you are installing a claw-foot tub where there was none, you will need to move the plumbing under the floor.
TIP: If your tub is cast iron, have a helper or two on hand to move the tub around. When you turn it upside down, set one end on a thick book or block of wood, so you don't trap your fingers. An acrylic tub is much lighter and easier to maneuver.
Claw-Foot Plumbing
If plumbing does not already exist in the floor, cut an access hole and run a drain and supply lines positioned so the tub's plumbing can be inserted straight down into them. Here, we show supplies of PEX tubing and drop-ear elbows; you can screw the supply tubes directly into the elbows. Install the supply risers and the trap arm so they rise out of the floor, then install the subflooring and the finished floor around the pipes.
---
Excerpted from Plumbing (The Taunton Press, 2016) by Steve Cory.
Previous:
Installing a Tub Faucet
Next:
Wet-Room Drainage