Tankless Water Heater Installation Quirks and Tips
Consider codes and appliance requirements when installing tankless natural gas and propane water heaters.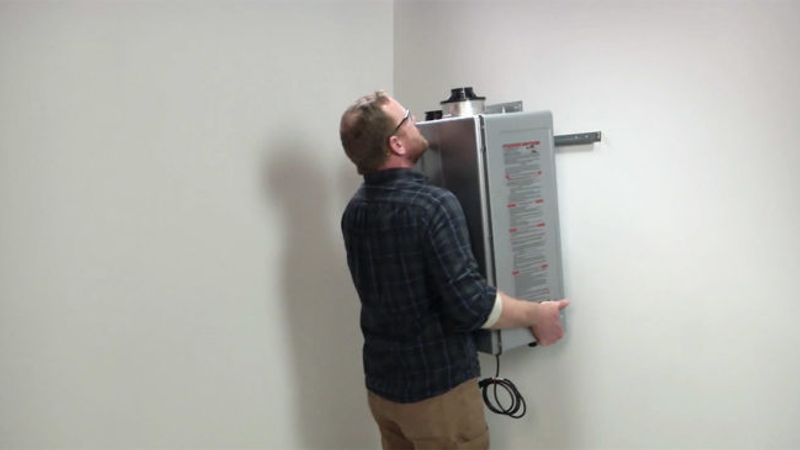 Video Transcript: Tankless water heaters have some unique installation requirements that differ from standard water heaters. Here's an overview.
When choosing a location, consider required clearances such as the space above, below, on each side, and in front of the unit. This information is available from every manufacturer.
The vent pipes can run either up through a roof or straight through a wall, and their lengths are limited by the manufacturer.
Other vent-clearance requirements include vent distance to windows, doors, eaves, other vent pipes, and the exterior grade level, which can vary by local code.
Tankless water heaters typically come with mounting hardware; in this case we're using a supplied bracket that attaches directly to studs spaced 16 in. on center. If you can't find solid backing, install a 3/4-in. plywood backer to ensure solid support.
Some models are designed to function with a 1/2-in. gas line in certain conditions, but many units require a 3/4-in. line to supply enough fuel to meet the heater's demand, especially when it's used in conjunction with other gas or propane appliances.
To provide enough water flow for multiple fixtures running at the same time, incoming cold and outgoing hot water lines need to be 3/4 in.
For power, gas-fed units only require a standard 120v electrical connection, and can be plugged into a standard, grounded outlet.
For more information, check out this article and PDF on How to Install a Tankless Water Heater.
Previous:
How to Install a Tankless Water Heater
Next:
Top 10 Water-Heater Code Violations