A Rundown of PEX-Connection Fitting Systems
There are a lot of different methods for making connections when plumbing with PEX tubing, but some of the most appealing may be out of reach.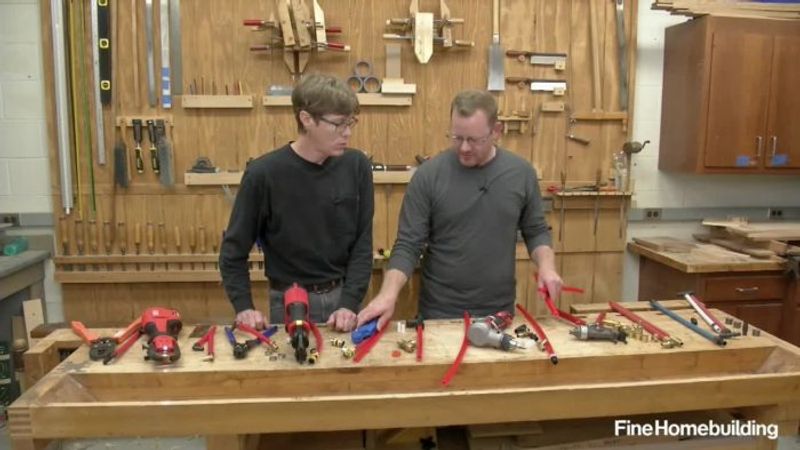 PEX has largely replaced copper for supply lines in new American homes, and that growth has spawned an ever-expanding range of options for connecting PEX, both in terms of tools and fittings. Some are available at your local home center, but most aren't. Some are hard–near impossible, even–to find online, because they're distributed exclusively through plumbing supply houses to professional plumbers. Still, it's nice to know what's out there, so we dove into the subject for a Fine Homebuilding feature on PEX connections in issue #272.
For more videos about Connecting PEX fittings, check out:
There are four major categories of PEX fittings for potable-water supply lines: push, press, expansion, and crimp (sometimes also referred to as clamp). Push and crimp/clamp fittings are generally available at home centers, making them accessible to the DIY crowd. Push fittings require no tools (unless you want to disconnect them), while the manual tools for crimp and clamp connections are on the low end of the PEX-tool cost spectrum (about $70 each). But these tools can be difficult to use in tight spaces. For a plumber who does a lot of crimping, Ridgid's PEX-One tool kit with ASTM jaws, which runs about $700, is a worthwhile investment that will take most of the hassle out of the job.
While crimp and clamp connections can be a bit fussy, press and expansion connections are not. They tend to go together quickly, and with less worry about whether the connection was done right. Viega's PEX Press system (the only true "press" fittings), come with stainless-steel connection sleeves attached right to the fitting. They slide onto the PEX tubing, and the sleeve is pressed to secure the connection. We got our hands on Milwaukee's M18 Short Throw Press Tool with Viega PureFlow PEX Press Jaws (about $700 for the kit, which is easy to find for purchase) to make these connections. Among the systems that require tools (which is all of them except for push fittings), this is hands down the fastest.
But if high flow is really important, expansion fittings might be a better option. These are often called "full-flow," because the interior diameter of the fittings is about the same as that of the PEX tubing. We checked out three different expansion systems: ASTM F1960 (commonly called ProPEX expansion), ASTM F2080, and Rehau's EVERLOC+. With these systems, the tubing is expanded to accommodate the large-diameter fittings. Each has its own method of reinforcing the connections. F1960 uses PEX-a rings for reinforcement; F2080 uses brass compression sleeves; and EVERLOC+ is a hybrid of the others, using PEX-a compression sleeves to bolster the connection. The power tool for the EVERLOC+ system is well designed, adaptable to tight spaces, and a lot of fun to use, but also expensive and unavailable to the general public (pricing varies by distributor, and it's only available through plumbing supply houses). The manual Comboloc tool for F2080 connections is a little slower to use and similarly hard to get unless you're a plumber, but the connections themselves look and feel like they won't ever spring a leak. The Milwaukee M12 ProPEX Expansion Tool we used for the F1960 connections, meanwhile, is widely available and relatively inexpensive as far as PEX tools go—about $400 for the kit—and works like a dream.
Plus, check out Matt's full article about connecting PEX in FHB #272.
Senior editor Patrick McCombe has been testing power tools on behalf of national publications for more than 15 years, and he regularly meets with product manufacturers to try out new introductions. In the Tool Tech series, Patrick reviews the latest tools and materials, discusses building technology, and shows time-tested techniques for better, more-efficient home building. Consider becoming an online member to watch other Tool Tech videos.
Previous:
Which PEX to Use?
Next:
Which Pipe Fitting Do You Need?