Drain/Overflow Assemblies
Learn the difference between the three basic styles of drain/overflow assemblies.
The hardware that allows water to leave a bathtub doesn't receive the same aesthetic attention as the hardware that brings the water into the bathtub, but the drain/overflow assembly is as necessary to the full functioning of the tub as the faucet. After all, the water that enters the tub must eventually leave it. Although some assemblies are designed to fit only a single line of bathtubs, there are several basic styles that can be installed in any standard tub.
Drain/overflow assemblies fall into two basic categories: those controlled from above the water line and those controlled from below it. The latter are simple in design, typically nothing more than a rubber stopper, or a stopper that opens and closes with a twist, lift, or foot tap. But the mechanisms that are operated from above the waterline are controlled either by a trip lever attached to the overflow plate or a knob that replaces the overflow plate. They have more moving parts and may require more finesse during setup.
Trip Lever with Pop-Up Stopper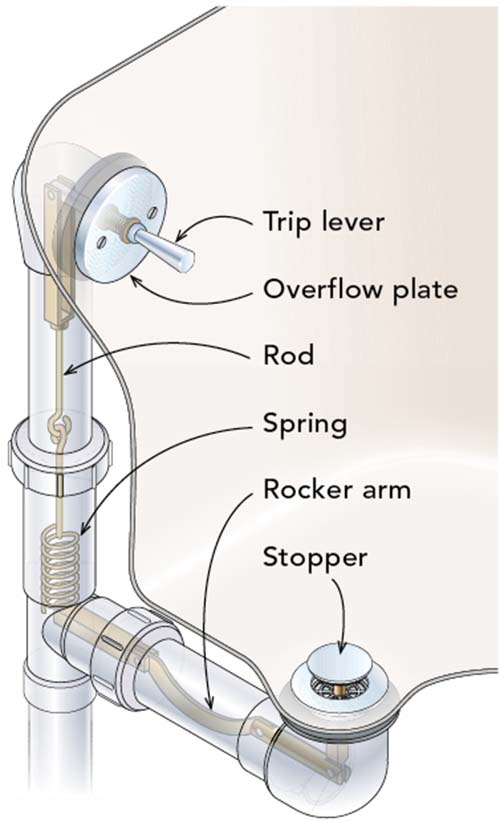 With pieces of metal running through both the waste and overflow pipes, this assembly is the most complicated. A trip lever on the outside of the overflow plate raises and lowers a metal rod connected to a rocker arm in the waste pipe. When the lever is raised, the spring pushes down one end of the rocker arm. This causes the other end, which is connected to a pop-up stopper, to be raised. When the trip lever is pushed down, the stopper drops and seals the drain. All that metal inside the pipes can capture lots of hair and other debris, so periodic cleaning is necessary. Many plumbers and DIYers are used to this assembly, but its popularity is waning.
Trip Lever with Plunger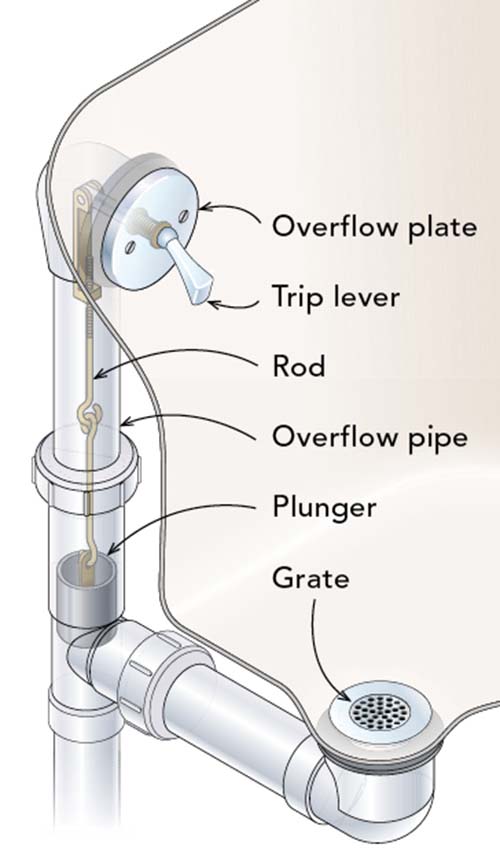 This assembly simplifies things by getting rid of the metal inside the waste pipe altogether. The trip lever controls a plunger. When the lever is raised, the plunger drops to block the flow of water from the waste pipe into the drainpipe. Instead of a pop-up stopper at the tub drain, there's a grate. Even though it's less complicated than the pop-up stopper assembly, the plunger assembly can be fussy. If the plunger is adjusted too low, water will not drain efficiently; if it's adjusted too high, the tub won't hold water.
Cable Drain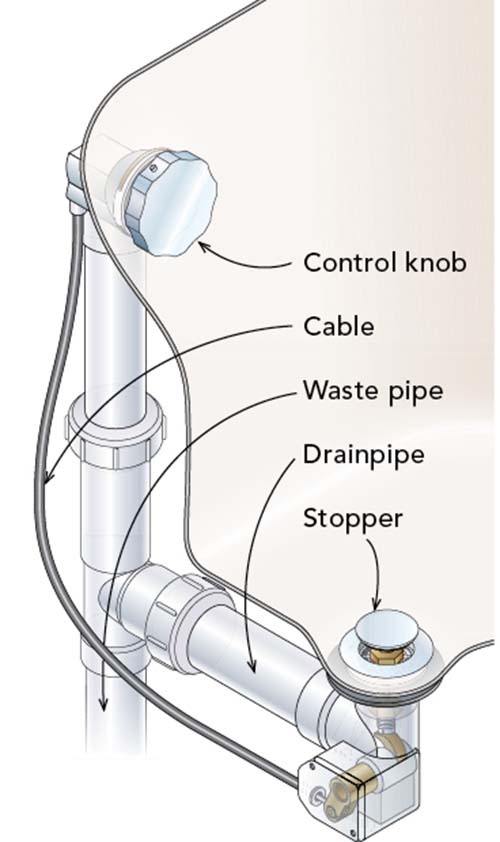 A variation on the pop-up drain is an assembly that replaces the hardware inside the pipes with a metal cable that connects a knob at the overflow drain to the pop-up stopper. This cable runs on the outside of the pipes, and turning the knob opens and closes the stopper. Cabledrain models are carried by several manufacturers. According to Kevin Gannon, product manager for Kohler Bathing, his company is shifting toward this assembly and away from the trip-lever models
Drawings: Trevor Johnston
Previous:
How to Remove an Old Bathtub
Next:
Enhance Your Life With an Outdoor Shower