5 Tips for People New to a Home-Building Job Site
Getting out in the field is your best bet for learning the skills of the trade.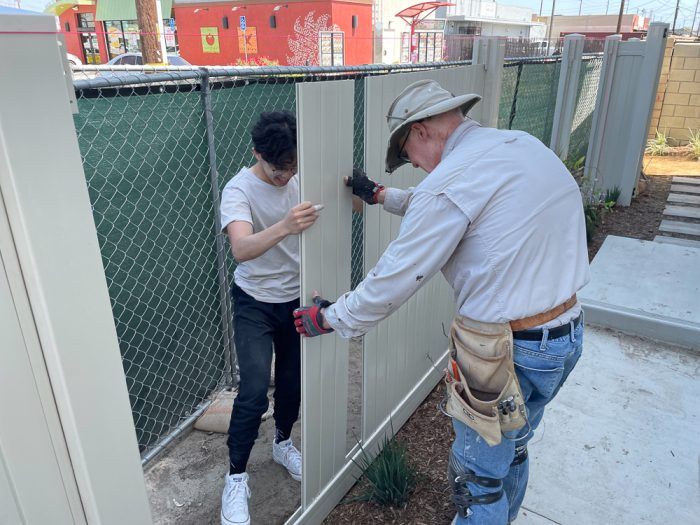 I've been working with Fine Homebuilding for about a year, and much of what I know about the building trades comes from reading the pages of our magazine and website. I'd be lying if I said I was the expert you'd turn to or the sole mind behind any of our articles in each issue. But what better way to get immersed in the trade than to get out in the field and onto a home-building job site? That's why I took advantage of an opportunity to volunteer for the local Habitat for Humanity here in Orange County, Calif. 
Habitat for Humanity is a nonprofit housing organization that has operations across all 50 states. The idea is to provide housing at an affordable price to families in need. Each family goes through an extensive application process to determine whether they'd be a fit for these homes. Every Habitat project is built with the help of volunteers, many of whom, like myself, have minimal hands-on experience building homes.  
Luckily, I was able to put in three days of volunteering for a community of three duplexes in Stanton, Calif. While I was only able to help with the final phase of the project, I still learned quite a bit. And the best part was the feeling I received of giving back to the community where I've lived for virtually my entire life (these homes were a five-minute drive from my home). 
Here are five things I learned out in the field for the first time while volunteering for Habitat for Humanity Orange County (OC). 
1. Crew and job-site safety is a must
A major emphasis upon signing up and arriving on the job site was safety. This might be an obvious one for the experienced builders out there, but for somebody starting at square one, it's a topic that can be overlooked. Although we're volunteering, we have to remember that we're at a real job site using real tools and working in hazardous situations (e.g., having to get up on ladders or carry heavy materials around without harming anybody). 
Closed-toe shoes are always a must on job sites, and work gloves will always come in handy to prevent any cuts or splinters when handling materials. In some cases, especially when using saws, safety goggles and ear plugs are also essential for any job site at any point in the building phase. 
Safety also applies to protecting the project itself. I came in at a point where the homes were nearly finished, and the site supervisor had made it clear during the morning huddle that we didn't need any more nicks or damage to any of the homes. Basically, his message was to think before acting. Yes, it's a very simple statement, but it goes a long way toward making sure that all the volunteers are safe and that damage can be kept to a minimum. 
2. Maximize materials and supplies
It's no secret that lumber and other materials have become more expensive, and you want to make sure you don't waste anything to bad planning or mistakes. As a nonprofit organization, Habitat for Humanity makes fantastic use of any extra materials they have, especially lumber. Throughout my days volunteering, the organization's truck would make an occasional pit stop to the job site to do two things: transport trash to the local dump and take any unused materials back to its headquarters for future use.
This didn't apply just to lumber—other extra materials and supplies such as concrete, paint, fencing, and more were taken back to the headquarters. Material shortages are a reality for the home-building industry and it's important to return everything at the end that was not used. 
3. Measure twice, cut once
On the first day of volunteering, I had the opportunity to work on building a fence. This included setting the posts, making sure they were all aligned, and cutting and fastening vinyl panels. The trickiest part of this job was inserting the final panel to complete the fence. This meant using a tablesaw (which I'd never used before) to trim the panel so it would fit just right. Not only did we have to measure accurately (something I've always struggled with), but we also had to pay attention to marks and remember which side of the line we wanted to cut on.
Kirin, a volunteer with many years of home-building experience under his belt, told me a well-known saying that perfectly describes the diligence it takes to build a home: "Measure twice, cut once." He also chuckled that if this wasn't done this way, it would end up being, "Measure once, cut once, swear, measure again, cut again." 
Errors are bound to happen on any job site, but if you have the patience to make sure your measurements are correct the first time, you'll increase the efficiency of your work and also decrease the possibility of having to scrap materials that were incorrectly cut. A little extra time spent thinking and planning saves way more time than going quickly and having to redo things. 
The bigger message here is to make sure you're doing a job as best as you can, and that you put forth the effort to make sure it's done right.  
The next volunteer day, I was off and running with this motto in mind and placed in charge of building the rest of the fence. It felt good to go from never using a power tool in my life to "training" other volunteers on using measuring tape and safely operating the miter and circular saws. 
4. You won't get answers if you don't ask questions
I try to know my limits when it comes to certain home-building topics. We aren't naturally born with the knowledge to do the work we do correctly. That being said, especially if you're new to the trade, it's important to ask questions and to ask them often. 
I can be hesitant to ask questions because I'm ashamed of how it will make me look to others who are more seasoned in the industry. I think this is probably true of a lot of people, and while gender dynamics may introduce further complications here, I realized that I needed to ask questions to do my job and be successful. Whether it's understanding the functions of an impact driver or figuring out where exactly to cut vinyl using a miter saw, it's better to be sure of what you're doing and ask questions if there's ever any uncertainty. More experienced builders also don't expect that those new to the field will have all the answers.
There are no stupid questions when it comes to home building, so don't hesitate to put those questions out there. FHB has a department named "Ask the Experts" for a reason. 
5. Reflection on the work accomplished is an unmatched feeling
As I mentioned earlier, I experienced a sense of self-fulfillment throughout my time volunteering on a project for a great cause out under the warm California sun. I spent hours on my feet for the first time in a while and sweat like I hadn't in months. This phrase from former FHB editor Kevin Ireton really hit me in his article "Why I Love Carpentry" from issue #309:
"…it's hard to explain to anyone who has never framed a roof on a fall afternoon and peacefully taken in the view while the cut man trims a piece of plywood to the dimensions you just shouted down. I do this work because I love it, and I love it for lots of reasons—some big, and others as small and fleeting as a moment on a roof." 

I read this column after volunteering for the first time, and the same reasons he loves being a carpenter are the same reasons I enjoyed being on the job site. As somebody who spends much of my time in front of a computer, being on a job site and contributing to something bigger than myself and for somebody else is a feeling that can't really be described. 
Yes, I only worked on building out the rest of a fence, but this fence is part of somebody's home, and in my own community where I've spent my entire life. It made me so proud that I even took a photo with some portions of the fence. Is it perfect? Maybe, or maybe not, but the feeling of a job well done and a house made better is something I wish everyone could experience. 
Photos by Brian Alvarado
---
Related stories: