How to Hang Drywall Solo
Using a "wall lift" can save time and energy all while getting a perfect fit.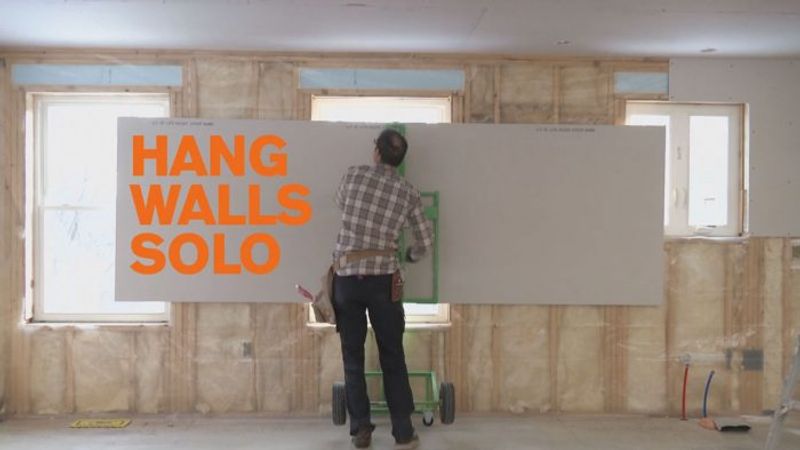 On-site at a Habitat for Humanity build, construction manager Myron Ferguson demonstrates how to  use a HangPro Drywall Lift for walls, which is especially useful when working solo. 
Whenever I hang drywall, I like to use the longest length possible. Here, I have 12-footers, but quite often I'll be using 14-ft.- and 16-ft.-long panels. And I'm often working alone.
What I have here is a HangPro Drywall Lift for walls. It allows me to easily handle these long pieces of drywall—lift and hold them up against the ceiling. Let me show you how easy it is to work.
Simply bring a lift up to the center of the pile and lower the cradle to the floor. The good face of the drywall needs to be against the lift.
Set the drywall sheet on the cradle.
Move this sheet to the wall by using the lift as a handcart. (When you want to move side to side, you have the front wheels that allow you to make that movement very easily. And that's really going to be important when you get up next to the wall.)
Bring the lift up to the wall so the front wheels are about 8 in. to 10 in. from the wall.
Lean the whole panel and the lift against the wall.
Crank the lift up with the auto-lock winch. When you let go of it, the winch prevents the drywall from sliding back down.
As you get close to the ceiling, check to make sure you're tight against the other sheet, and crank it up a little bit more if needed.
Once you get it where you want it, you're free to fasten the top edge.
The HangPro Lift works great for hanging the lower panels as well as the top, and this is a perfect example of where it works so well. This is a kitchen wall, so there's going to be cabinets and some electrical outlets really close to the scene. If you were using your foot lift, it would be hard for you to position it perfectly without sliding up too far. Instead, use the HangPro Drywall lift to:
Crank the drywall sheet up, so it's a little higher above the seam.
Push the sheet into the corner by rolling the cart, and lower it. Once you get it where you want it, stand back and take a look. It's just so easy to get it in place.
Fasten loosely, then cut out your electrical boxes before adding the rest of the screws.
Related links:
Previous:
Drywall Spanning a Band Joist
Next:
Airtight Drywall