Modifying the Framing in Lath-and-Plaster Walls
When making changes to walls during remodeling projects, use these tips for removing framing without damaging old plaster.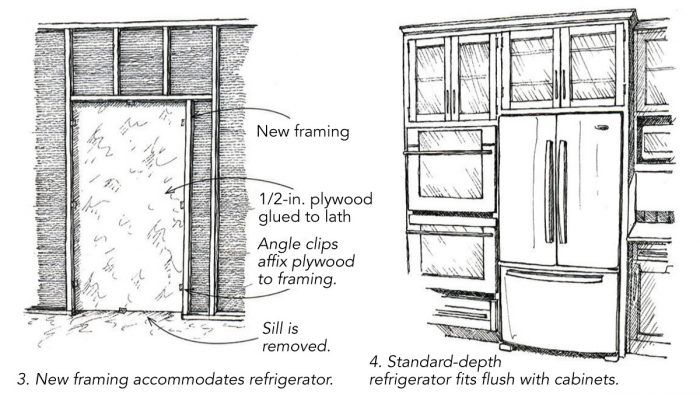 On my past two kitchen-remodel projects, my clients wanted counter-depth refrigerators but didn't want to give up the extra storage capacity and pay the high price of most counter-depth refrigerators. In both cases, I ended up pocketing the refrigerators into the wall to gain a good 3-in. to 4-in. of depth.
The job illustrated here was a down-to-the-studs remodel on the kitchen side of the partition walls. The lath-and-plaster walls of the adjacent rooms were to remain intact. The challenge was how to remove the studs to make a pocket for the fridge without damaging the lath and plaster, and then how to reinforce the plaster in the affected area.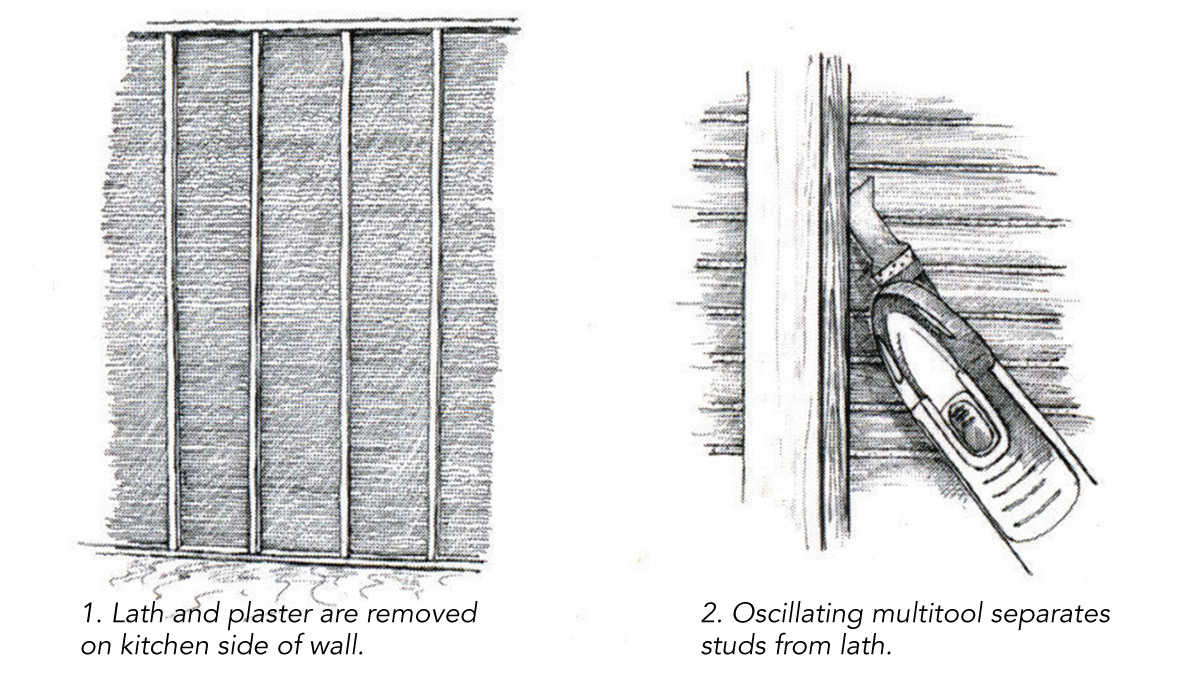 I started by carefully breaking all the plaster keys off the back side of the lath in the area where I was going to be cutting out studs. I did this with a light touch so that I wouldn't crack the plaster on the other side. As shown in drawing #2, I used my oscillating multitool to cut all the nails holding the lath to the studs that I needed out of the way. Then I cut the studs with my circular saw at full depth (2-1/4-in.) and finished the cuts with the multitool. Don't use a reciprocating saw for this; it will shake the plaster loose.
After gently prying the studs and plate out of the wall, I was left with a wide opening and the wall on the other side held together only by the lath and plaster. I vacuumed the plaster dust off the wall and cut a sheet of 1/2-in. plywood to fit the opening. Then I applied a couple of tubes' worth of Loctite all-purpose construction adhesive to the back side of the lath. Unlike most construction adhesives, Loctite has a spreadable, mayonnaise-like consistency.
I pushed the plywood into the opening, smooshing the Loctite into all the crevices but without pushing out the plaster on the other side. As shown in drawing #3, I screwed angle clips to the sides of the studs to give the plywood some backing. This technique gained a precious 4 in.—just enough room for my client's fridge to stand flush with the surrounding cabinetry.
Paul Johnson, Portland, OR
Edited and Illustrated by Charles Miller
From Fine Homebuilding #229
Previous:
How to Secure Old Plaster in a Pinch
Next:
Modern Approach to a Plaster Cornice