Design
From Kitchen Refresh to Extensive Renovation
When a kitchen remodel grew in scope, the entire first floor was reconfigured for graceful aging in place and hosting visiting relatives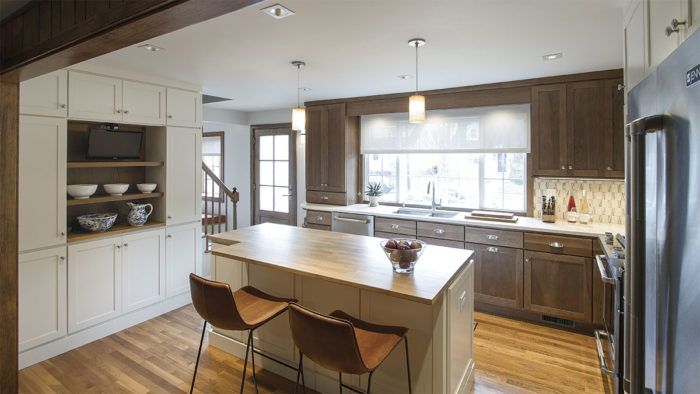 Synopsis: Architect John T. Conroy describes a kitchen remodel that evolved to include the entire first floor. By relocating the kitchen and dining room, overhauling the bath, and creating a new master bedroom and new laundry/mudroom, the homeowners now have the option of living only on the first floor as they age in place. The existing living room became the new kitchen with the removal of a wall, which created a big, open connection between the social spaces. The bathroom was also expanded and completely redesigned with a curbless shower with bench seat, and the cabinets and counters tie the new bath to the style of the rest of the first floor. The kitchen is outfitted in clear-finished hickory cabinets, white-quartz counters, and painted white island and fridge cabinets.
---
The couple who owns this Cape-style home are avid do-it-yourselfers and have completed a number of impressive remodeling projects on their own, with just enough help to make sure they're doing the work right. When they were looking for more outdoor space, they added a three-season porch. Later, when they desired more interior space, they appropriated that porch to expand their family room. They built the brick fireplace in their dining room. They even added two bedrooms and a bathroom to finish the second floor. Suffice it to say, this house has already been through a number of transformations.
Now heading into retirement, the homeowners decided it was time to tackle their outdated kitchen. Respecting their own design limitations and the complexities of a worthwhile kitchen remodel, they reached out to our firm, Princeton Design Collaborative. As our initial conversations progressed, it became clear that it wasn't just their kitchen that was in need of attention; much more of the first floor could be improved. Before the project was done, we had reconfigured nearly all of the first floor with a relocated kitchen and dining room, a completely overhauled bath, a new bedroom, a new laundry/mudroom, and more. Here's a look at how the project evolved to include a single-floor living arrangement.
More from FineHomebuilding.com:
---
To view the entire article, please click the View PDF button below.
View PDF
Previous:
Hyde Park Kitchen Remodel
Next:
An Elegant New Kitchen in a Narrow Old Space