An Elegant New Kitchen in a Narrow Old Space
Designers Hendricks Churchill and builder Seth Churchill skillfully expanded an existing ell addition to make room for new cabinets, a kitchen island, and a casual dining space.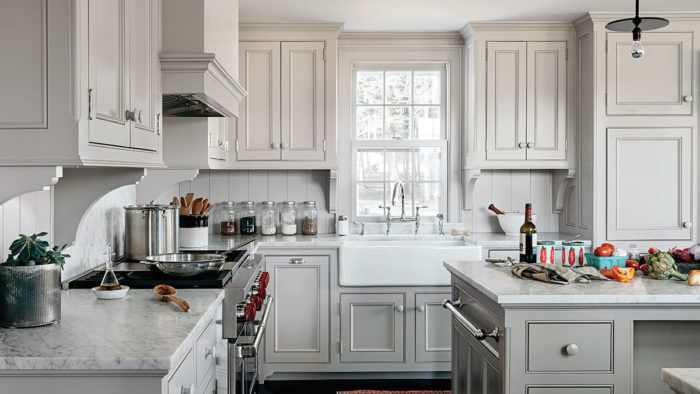 The goal of this remodel was to accommodate a full kitchen with 36-in. appliances, a coffee station, a three-seat island, and a generous breakfast table—all in a narrow 14-ft. by 23-ft. space, an existing low-ceiling ell addition to an 1820s house. Hendricks Churchill, LLC, raised the ceiling by 10 in. in order to increase headroom, add windows, and optimize views. To do this, they removed the existing second-floor framing, cross-braced the side walls for stability, and framed the new floor system, which was built using LVLs in place of conventional joists; the stronger LVLs allow for a more compact assembly. The joists were hung from an LVL ledger board that was through-bolted to the existing timber-frame structure.
To work within the room's narrow rectangular shape, the kitchen and breakfast area were designed as separate spaces at opposite ends of the open floor plan. Because the breakfast table is the primary dining table, it needed to have plenty of room around it for everyday use. Therefore, the island was reduced in size, which also allowed for an additional lower cabinet behind the stools.
" The finished kitchen relates nicely to the existing historic details of the house, while providing an efficient use of space for modern living."—Rafe Churchill, Hendricks Churchill, LLC
Previous:
From Kitchen Refresh to Extensive Renovation
Next:
Old-World Honesty: Modern Remodel of a French-Tudor Home