High-Style Column Refrigerator
This narrow, hard-working refrigerator raises the bar for precision cooling.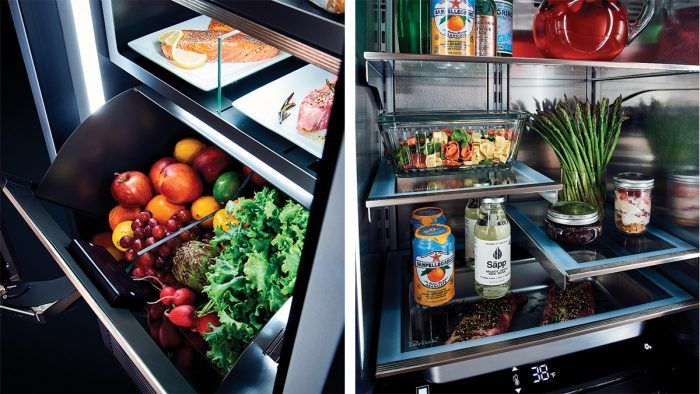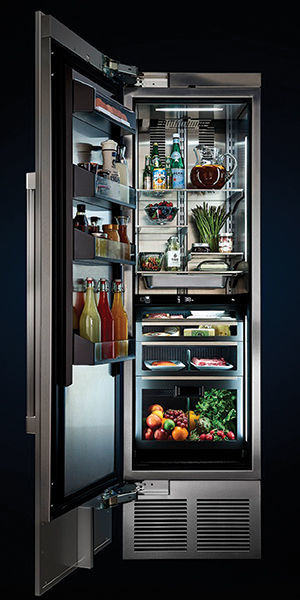 Aptly named, Perlick's new 24-in. Column Refrigerator features the company's trademark QuatroCool preservation system with four separate zones—deli, meat/fish, produce, and beverages—for precision cooling. Inspired by the refrigerated cases at delicatessens, the unit houses large glass windows and a two-tiered deli display to showcase enticing specialty items. Foodies will value the slide-in marinating pan, and all will appreciate the white theater lighting that makes colors vivid and labels easy to read. Humidity control has been integrated into the produce bin, which automatically adds moisture into the air stream to maintain the desired level. The compartment is also fitted with a filtration system that helps prevent premature wilting of fruits and veggies by removing the gasses they emit. Leafy greens can even be stored upright—another trick for keeping them fresher longer.
Temperatures maintained within 1°F of set point
Smart touch-screen control
23-3⁄4 in. wide by 24 in. deep by 83-11⁄16 in. tall
Interior is all stainless steel and glass
$6850 perlick.com
—Kiley Jacques, design editor
From Fine Homebuilding #285
Previous:
Refrigerators Can Look Good, Too
Next:
Satin Black Appliances Are Dressed to Impress