The Boomers and Their Kitchens
Carpenter and longtime Fine Homebuilding contributor Scott McBride takes a look at the evolution of the American kitchen through the 1960s, 70s, 80s, and 90s.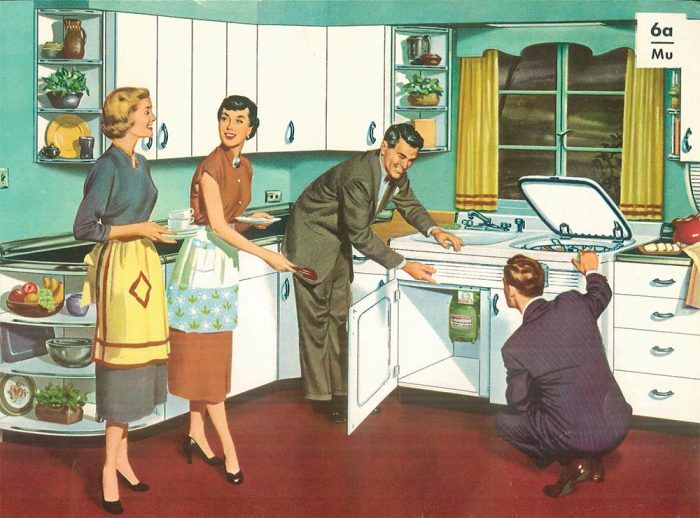 Synopsis: Scott McBride looks back at the developments in kitchen design since his birth in 1955, from the basic kitchens of the early '60s to the color explosion later in the decade, through the "boxy" 1970s kitchen, the hardware-less cabinet doors of the early '80s, and the 1990s farmhouse style.
---
My 1955 birth date puts me squarely among the baby boomers, the demographic most coveted by purveyors of all things "New and Improved!" Whereas our parents' generation is lauded for its self-denial, we boomers are known for our prodigious consumption; our endless clamoring for a succession of must-have toys from hula hoops to latte-makers. As we now look over life's precipice and prepare to leave our credit cards behind, it seems worthwhile to track the arc of our acquisitiveness against a backdrop that is part workspace, part trophy room, and part theater set: the postwar American kitchen.
The story begins on the floor of a small Cape in the suburbs. I am one year old, pondering the subtle shades of crimson and burnt umber in the brick-patterned linoleum upon which I crawl. Towering above me is a dimly lit galley kitchen, which I observe as a pedestrian might take in tall buildings from a Manhattan sidewalk. The plain cabinets are knotty pine with a coat of orange shellac that was brushed on, I suppose, by a fellow in bib overalls and a newsboy cap a decade or two earlier. The rabbeted doors are hung with surface-mounted hinges that simulate hand-beaten copper. The refrigerator has friendly curves that match the enormous sedan that sleeps safely each night in our detached garage.
Life seemed good to me for the next nine years, and I never really understood why we had to move to a bigger house on a bigger lot where the neighbors were farther apart. But that was the plan, so my brother and I climbed into the station wagon and waved goodbye to Shangri-La through the rear window. I remember a New Year's greeting card on the coffee table of our new home, which announced, "Man Alive, it's '65!" My folks were ready to roll: Dad had a new convertible and Mom was planning her kitchen remodel. The centerpiece would be a fire-engine-red ceramic sink, set off by a snow-white laminate countertop. Mom was currently infatuated with the color "school bus yellow," the latest in a string of loves that included magenta and apple green. Now she was integrating her palette du jour into the new kitchen. If the Beatles ever showed up for dinner in their Sergeant Pepper outfits, they would fit right in.
The sunny optimism of the '60s grew clouded by Vietnam and Watergate, and it was time for me to fly the coop. I concluded that college was for preppies and slaves of the military-industrial complex; a Thoreau-ian return to basics seemed to be in order, the yeoman carpenter thumbing his nose at convention between strokes of his broadaxe.
The reality of this bold new direction turned out to be something other than what I'd expected. The kitchen remodeler who hired me handed over a small brush and a large pail of contact cement. My job was to coax this sticky yellow mucous over acres of plywood in preparation for its conversion into laminated countertops. "So this is my first step to becoming a master craftsman," I thought, my reveries made even giddier by the intoxicating cloud of VOCs that billowed up from my labors.
I finally got to do some actual carpentry when the cabinetry was installed. It was common during this period for a kitchen remodel to include enlarging the space, either by bumping out a bay window or by opening up between the old kitchen and dining room. When these houses originally were built, the kitchen was regarded as a working room with little concern for aesthetics. There was usually a swinging door between the kitchen and dining room so that servants—the hired kind or the "wifely" kind—could be kept where they belonged. But now the lady of the house wanted a bright, roomy kitchen even if she had to smash plaster to get it. Hear her roar!
The 1970s kitchen could be best described as boxy. Sharp-edged laminate was the undisputed king of countertop options, and the cabinets, though made of wood, had a plastic look imparted to them by heavy stains and lacquers. Ornament was sparse unless the client opted for a "gallery rail." This was a little balustrade of mini spindles atop the wall cabinets used for displaying homey items of dubious utility so that the first step in repainting any kitchen was to haul down these tchotchkes and scrub off the dust and atomized chicken grease that had accumulated since the previous paint job.
The early '80s were ruled by flush melamine cabinetry. This matched the RTA furniture that boomers had left over in their apartments and condos from their college days. The sterile space-age look had a certain appeal to a generation weaned on "The Jetsons" and "Star Trek." It also had another important attribute: It was cheap. Not only was the stuff made of particleboard, but it could be fabricated at warp speed using the "32-mm system," a grid system that was the brainchild of German industrial designers afflicted with OCD.
These "Euro cabinets" were also touted for their use of concealed cup hinges. This was a watershed moment for architects who had been longing since the dawn of time for wide expanses of cabinet doors unblemished by hardware. The weaker-willed devotees of this holy grail sometimes permitted slender wire pulls, but true believers insisted on esthetic purity; they eschewed pulls altogether in favor of touch latches, the kind that pop open when the door is pushed. At last it was possible to not only not know which door concealed the mayonnaise, but also to not know which side of the door to push to make it open!
When cabinetmakers were informed that the exposed hinge barrel was now Public Enemy No. 1, they had some serious homework to do. There wasn't just one kind of cup hinge—there were hundreds. Italian or German; 90° swing, or 110°, or 135°; with or without mounting plates—the options grew exponentially in every direction. No wonder the apprenticeship for a German cabinetmaker is eight years.
So it was with great relief that I witnessed in the mid-'80s a sudden about-face in the world of kitchen design. Smallbone, a British cabinetry company, introduced the idea of the "unfitted kitchen," in which cabinetry would feel like heirloom furniture instead of plastic packing crates. This coincided with the postmodern movement in architecture, and it meant that not only were exposed hinges allowed, but so were moldings, worn painted finishes, and recycled lumber. This cost more—a lot more— but Wall Street was humming and the boomers were starting to make obscene amounts of money in a new field called "information technology."
The return to traditional styling remained in an Anglophile mode for several chintz-soaked years after being transplanted from the mother country. But in the '90s it evolved into a distinct American offshoot: the farmhouse kitchen. The percentage of boomers who actually lived on farms was of course minuscule, but the idea of parking the old John Deere under a spreading oak tree and entering your dream kitchen was a winner. The focal points of this dreamscape were a farm table and a farm sink. For cabinetmakers, the farm table was the easy part. It could be almost anything as long as it was big. A friend of mine operated under the tagline "Antique Tables Made Daily," and his product sold like hotcakes.
The farm sink was a different story. Here was this strange ceramic hippopotamus that was somehow supposed to interface with square cabinetry. That meant carving into spray-finished face-frames and $5000 stone countertops to conform to the idiosyncratic curves of the sink—a painstaking process that I doubt many real farmers would actually be willing to pay for.
A new century dawned, and as the housing bubble began to inflate, so too did the boomer kitchen. The farm theme morphed into a mishmash of corbels, columns, and keystones suggesting an ersatz baronial castle. Islands too wide to reach across sported 3-in.-thick travertine tops, and cabinets soared all the way up to 10-ft. ceilings, surmounted by waves of crown molding. All manner of strange appliances became de rigeur, from wine coolers to pop-up microwaves. A generation of latter-day Gatsbys gloried in its embarrassment of riches until one day the party was over and somebody said, "Hey, it's just a kitchen, man."
From Fine Homebuilding #287
Previous:
Out-of-the-Box Kitchen Design
Next:
When Purposeful Kitchen Design Trumps Style