Tools & Materials
Undercabinet Lighting Is Better Than Ever
LEDs set a high bar for kitchen-workspace illumination.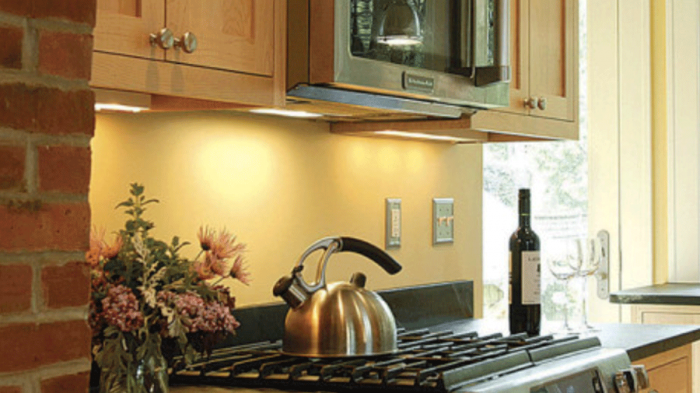 Synopsis: Light-emitting diodes (LEDs) are setting a high bar for kitchen-workspace illumination. Available in different color temperatures, LEDs have conquered the stigma attached to their cold, blue light with phosphor coatings that cast a warm, pleasant light. Managing editor, Debra Judge Silber, takes us inside the various lighting technologies in "Undercabinet Lighting Is Better Than Ever." By showing what makes the new breed of tape- and puck-style LED technologies more versatile and practical for illuminating the undercabinet workspaces than fluorescent, halogen, and xenon fixtures, lowering cost and development cost-effective replacements will be manufacturer's greatest challenge.
---
There may be no place where advances in home lighting are more apparent than under kitchen cabinets. White-hot halogens and temperamental fluorescents are making way for a new crop of LEDs that are not just superefficient — they're as aesthetically pleasing as the long-dominant incandescent. "Undercabinet lighting is one of the areas where LED is really ideal," says Joe Rey-Barreau, an architect and spokesman for the American Lighting Association who teaches at the University of Kentucky's College of Design. "There's nothing else I would even vaguely recommend." Improvements in color rendering, color temperature, and longevity are behind LEDs' seemingly universal acceptance by lighting designers. Their energy efficiency is remarkable, and they provide more lumens per watt than incandescent bulbs (or lamps, as they're called in the industry). Their life of 50,000 or more hours makes lamp replacement obsolete. Instead, in the case of many LED products, the presumption is that the fixture itself will be replaced after 15 to 20 years with a better and presumably less expensive version.
For all their benefits, high-quality LEDs remain expensive, in part due to the phosphor coatings used to enhance the quality of their light. Until that changes, alternatives such as xenon, halogen, and even fluorescent lamps will continue to be used in undercabinet fixtures.
This emphasis on the light source has overshadowed what used to be the decision in choosing undercabinet lighting: the fixture. Still, this choice remains important. Different types of fixtures not only install differently, but they cast light differently and create different architectural effects. This combination of light source and fixture has complicated the undercabinet-lighting decision.
Remember what it's there for
Make no mistake when specifying undercabinet fixtures: The primary reason to have light shining on your countertop is to aid in food preparation. In the practice known as light layering — that is, illuminating a space using different types of light with different functions — this is called task lighting. Because undercabinet lighting often plays a secondary role in accenting a backsplash or providing subtle illumination after hours (especially when dimmed), it's often regarded as accent lighting. This misconception can lead to choosing undercabinet lighting that does not provide enough illumination for countertop work.
With that understanding, the next step is to consider how the kitchen is used and who its occupants are. Jeffrey R. Dross, director for education and industry trends at Kichler Lighting, points out that older occupants want more illumination in the task area, as do avid cooks. "If you do a lot of home cooking, you're going to want more light than someone who uses the countertop to look at the Yellow Pages for carryout," he says.
For more photos and details, click the View PDF button below.
From Fine Homebuilding #241
View PDF
Previous:
Recessed-can to pendant-light conversion
Next:
Mounting Light Fixtures