How-To
Upgrade Your Kitchen with a Pull-Out Trash Drawer
Installed in an existing kitchen cabinet, this drawer is simple and sturdy, and it hides disposables only a slide away.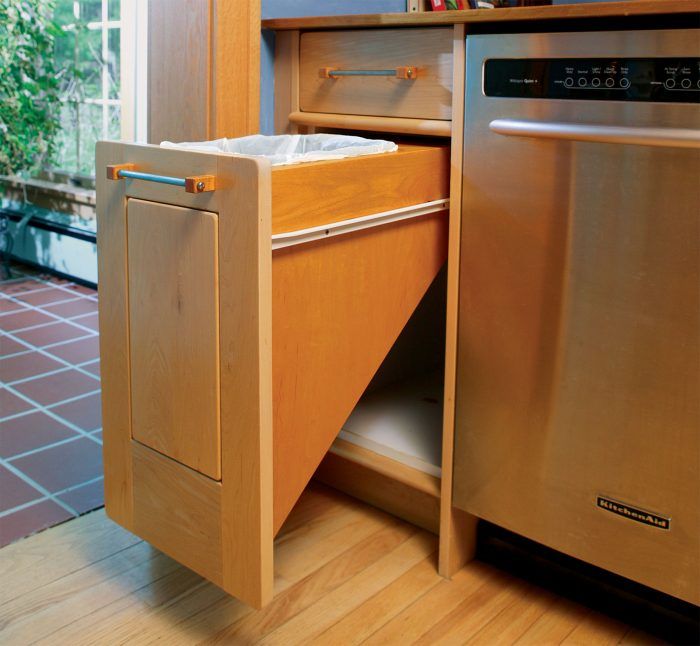 Synopsis: Cabinetmaker Rex Alexander has discovered that he can spend lots of time fussing over the details to create a beautiful kitchen, but in the end, he gets the most praise for the pullout trash drawers he builds. A trash drawer can be designed as part of a new kitchen, but it's also an easy upgrade for an existing cabinet space, preferably one near the sink. The materials for this project are easy to find: drawer slides (rated for 100 lb.), birch plywood, medium-density fiberboard (MDF), veneer tape, and some screws.
---
After I've built and installed a custom kitchen, the feature that gets the most praise isn't the finish, the way I've carefully aligned the grain patterns, or the consistent reveals around the doors and drawers. It's always the pull out trash drawer, and for good reason. Not only does the trash drawer hide refuse and recyclables, but it also helps to contain the odor that can come from an empty cat-food can or the grease from last night's dinner.
The best aspect of this design is that it can be an easy upgrade to integrate a drawer into an existing cabinet, preferably in or near the sink base. Once you've built the drawer, it's only a matter of removing the cabinet door and installing new drawer slides. Commercially produced versions are available, but why spend the money when you can do it yourself for a few bucks?
The materials are easy to find in any home center or lumberyard. I've found that a good size for the plastic wastebasket is about 10 in. wide, 14 in. deep, and 16 in. tall, which leaves enough room for a drawer above. For drawer slides, I use simple epoxy-coated, side mount models from Blum (www.blum.com). They are inexpensive, but they're rated for 100 lb. If you choose a different type of slide, be sure to determine the necessary clearance before building the trash drawer.
To view the above illustration full size, click the View PDF button below:
View PDF
Previous:
Build a Custom Rollout Cabinet
Next:
Off-the-Shelf Kitchen Storage, with Some Twists