Design
Off-the-Shelf Kitchen Storage, with Some Twists
Architect Sophie Piesse uses a semi-custom approach to solve three kitchen-storage challenges.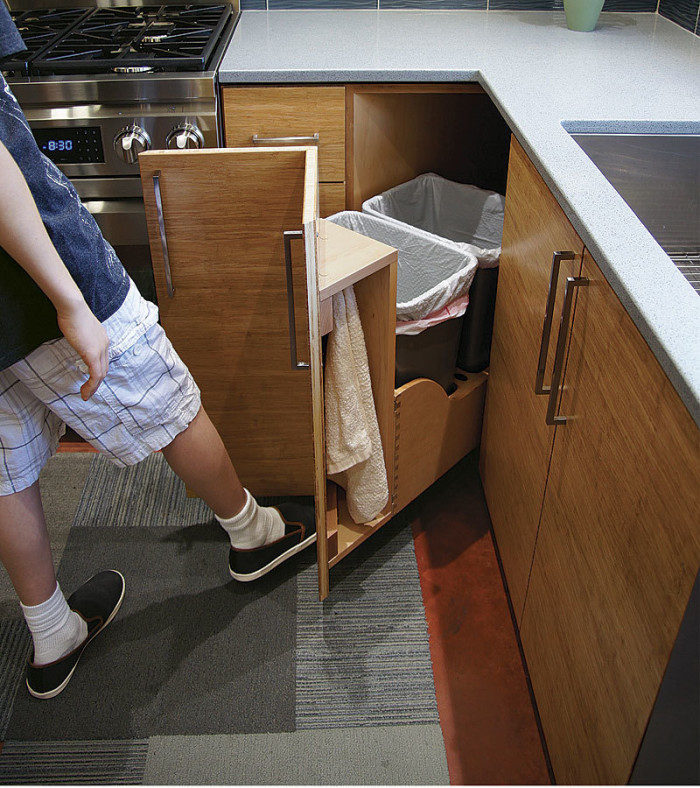 In updating my kitchen for a growing family (see "A Perfect Kitchen Grows Up," FHB #255 pp. 38-41), I knew that storage would be a major consideration. My husband and I quickly realized that manufactured solutions would take us only so far and that outfitting our kitchen the way we wanted would require some improvisation. Using this semi-custom approach, we identified specific storage challenges and solved them innovatively using off-the-shelf products and the help of our cabinetmaker, Mark Burford.
Of the many storage solutions we adapted, three stand out. My favorite is the pullout trash and recycling center built into the corner cabinet (see photo). I am not a fan of lazy susans, and the deep sink we'd chosen left no space under the sink for trash, so it seemed logical to use the corner cabinet. Located between the sink and the range, it puts trash disposal nearby—but not in the way—while we're working at either location.
Mark started with a Rev-A-Shelf double 35-qt. 15-in.-wide waste container pullout designed for a regular base cabinet, and he modified it to work in the corner. To attach the pullout's angled door, he made two triangular brackets and affixed them to the adjustable door-mount clips that are part of the Rev-A-Shelf unit design. In addition to holding the door in place, these angled brackets created two vertical spaces, separate from the trash and close to the sink, in which to attach hooks for dish towels.
I also wanted to be able to access the containers without using my hands when food prep got messy. Foot-activated openers on the market aren't made for corners, and mechanical solutions can break, so Mark went low-tech and simply cut an opening in the bottom of the cabinet so it could be opened with a foot. We also installed two handles vertically on the door front to maintain the appearance of standard cabinet doors and to make it easy to pull open the door from either side.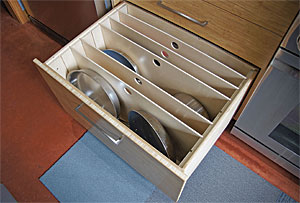 My husband's favorite drawer is on the other side of the range. His pet peeve is having to store skillets and sauté pans in a pile, so inspired by cabinet inserts used to store cookie trays (which we have over the fridge), I asked Mark if a similar system might be used to store skillets. The resulting solution uses 1/2-in. plywood dividers that fit into grooves routed in two sheets of 1/2-in. plywood mounted on the insides of the drawer. Finger holes drilled at the top make it easy to re-position the dividers as needed. The challenge with this type of storage was that it required a drawer box deep enough to fit cookware on end (ours measures 13-1/2 in. tall by 19-3/4 in. wide), but the payoff was worth it—no more digging through a pile of skillets to find the right one, and no more scratches on our nonstick pans.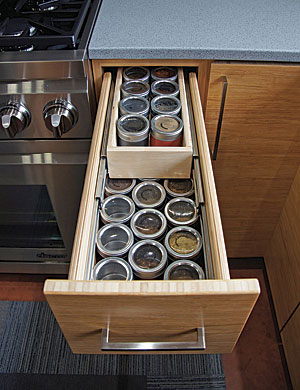 With the fridge, range, pot drawers, and trash pullout situated, we were left with 10 in. of cabinet space to the right of the range. I hadn't found a place to store the many spices that we cook with, but I didn't want a vertical pullout. I'd seen drawer-within-a-drawer hardware used for utensils and thought we could make it work for spices. After confirming that my spice containers (2-in.-dia. stainless-steel tins from Kamenstein) would fit, Mark obtained the nested drawer boxes from CCF Drawers (ccfdrawers.com). He outfitted these with 18-in. Accuride 3832 slides for the inner tray and Blum 563 undermount slides for the drawer itself. The inner tray is only 3/4 in. shorter in length than the main drawer box, but it extends completely out of the way through a cutout in the back of the main drawer, making the contents of the entire bottom section visible and accessible.
Previous:
Upgrade Your Kitchen with a Pull-Out Trash Drawer
Next:
Foolproof Inset Cabinet Doors