Ways to Improve the Kitchen
Expensive appliances and stone counters won't add up to a dream kitchen if your pots and pans are difficult to reach and the work zone is too spread out.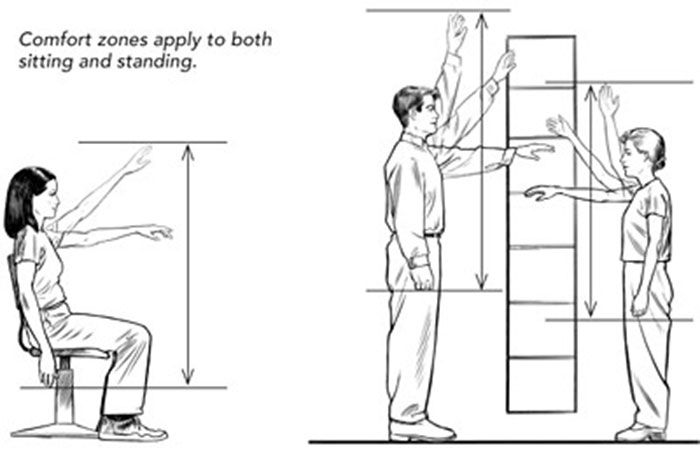 Beginning in 1993, I directed a five-year study at the Rhode Island School of Design that eventually included more than 100 students and faculty members. Our goal was to identify the reasons that kitchens are typically bastions of poor design. All too often, our kitchens make us bend, stoop, retrace our steps, and work in poor light at counters that are too high or too low. Based on what we learned in our studies and on the lessons I've learned as a designer, I offer these ways to help move your kitchen into the 21st century.
Consider the comfort zone
For a kitchen to be your own, it has to fit your comfort zone. What's a comfort zone? It is the space defined by the comfortable reach between one hand raised above your head and the other dropped to your side (see drawing). This range applies to both sitting and standing; the key is that everybody has a different comfort zone. This means you should adjust a kitchen's components to fit its primary user. To that end, start by:
Getting rid of upper cabinets, or pulling out the counter a bit and bringing the cabinets down to counter level.
Storing less-essential tools, dishes, cookware, and foodstuffs in tall, pullout storage units or in pantries away from work zones. Everybody can find their comfort-zone range within either of these storage options.
Shrink the kitchen triangle
The triangle has been the basis for organizing the kitchen footprint since the beginning of fitted kitchens. The theory is that the work areas should be inside a triangle that connects refrigerator, sink, and stove. This arrangement supposedly yields the most efficient work flow. But over time, this triangle connection has been undermined as kitchens have grown. Contemporary kitchens often have more counter space between the three points of the triangle. An island in the center of the kitchen will further impede traffic between the stove, the sink, and the refrigerator.
We conducted time and motion studies in our kitchen project and concluded that you can reduce by half the time it takes to prepare a simple meal by eliminating unnecessary walking. The way to do this is to make sure you have the essential elements for preparing a meal within reach of your work zone. Frequently used foods and condiments, water, utensils, pots, pans, and a cooktop all should be within reach. A good layout for a kitchen is an island backed up by a work and storage wall.
Optimum work zone
---
Jane K. Langmuir is a designer and adjunct associate professor at the Rhode Island School of Design in Providence. Drawings: Matt Collins
Previous:
Kitchen Design Solutions
Next:
Opening up a Small Kitchen