How-To
Installing a Drop-In Sink
Careful measuring and cutting of the hole in your countertop are the keys to success when adding a new sink.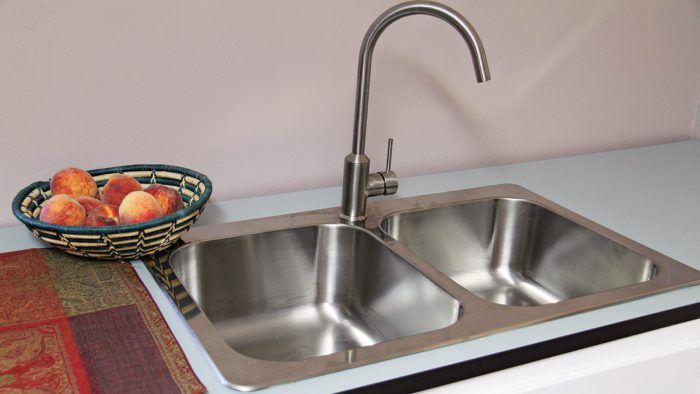 If you are replacing an existing sink, remove it: Unplug the garbage disposal, disconnect the dishwasher hose, and unscrew one or more nuts on the trap. If it is stainless steel, remove the clips (see Step 11); if it is cast iron, cut through the bead of caulk around the rim. Then lift it out carefully, watching for any connections you missed. If you plan on keeping the countertop, choose a sink that fits into the existing hole.
If you are installing a new countertop (as shown in this sequence), position the sink above a "sink base" cabinet, which allows room for the sink. Measure to be sure the sink will fit, preferably with several inches to spare. There should be a drain line and supply stop valves nearby in the wall.
TIP: To make absolutely sure a laminate countertop will not chip, some remodelers turn the countertop upside down and cut with a circular saw. Of course, this complicates things.
Cutting a Solid Countertop
If you have granite, quartz, or solid-surface, you can cut it using a grinder equipped with a diamond blade. Cut slowly and stop periodically to check that you are not overheating the blade. If the blade gets very hot, gently spritz it with water, taking care that the water does not splash up onto the grinder itself.
TIP: It will save trouble if you install as many parts as possible—the strainers, the disposal, the faucet, and the trap—with the sink upside down and resting on the counter or a pair of sawhorses. Use a drop cloth to protect the counter from scratches.
If There Is No Disposal
If you have no garbage disposal, here is a very simple trap configuration for a double-bowl sink, where both bowls share a single trap. However, codes in some areas require that each bowl have its own trap.
Boring a Mounting Hole
Most sinks come with holes predrilled for faucets and accessories, but if you need to cut a hole in your stainless-steel sink, it is usually not difficult. In most cases, a bi-metal hole saw, as shown, will do the trick. (If your sink is very thick and hard, you may need a titanium step drill bit.) The hole size is usually 1-3⁄8 in. Determine the center of the hole, and tap with a hammer and nail set to create an indentation so the pilot bit will not wander. Then drill the hole, squirting oil on the bit regularly. Take your time; it may take 5 or 10 minutes to make the hole. If the bit heats up and starts to smoke, stop and let it cool off. If the finished hole is rough around the edges, deburr it with a file or sandpaper before installing your new faucet.
Setting a Cast-Iron Sink
Cast-iron sinks are heavy, so they need no mounting clips. Just set the sink in place, make sure there are no gaps, and apply a bead of silicone or "tile and kitchen" caulk around the rim.
---
Excerpted from Plumbing (The Taunton Press, 2016) by Steve Cory.
Previous:
Better Undersink Plumbing
Next:
Installing a Farmhouse Sink