How-To
Installing a Farmhouse Sink
The process of installing this popular style of sink is different from but not much more complicated than that of a simple drop-in sink.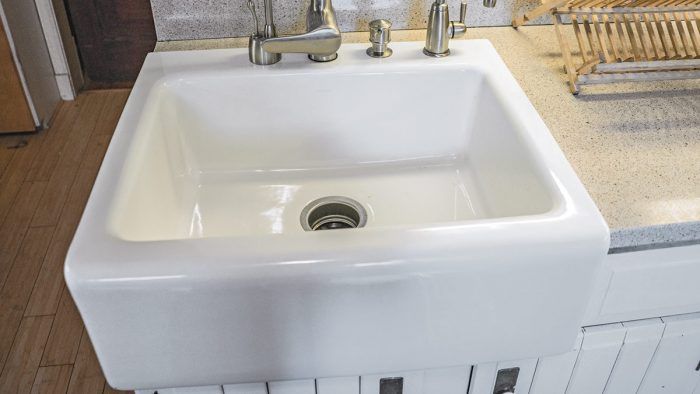 Also called an apron sink, a farmhouse sink is typically made of glazed ceramic and has one large basin and a front apron that forms a decorative vertical face. Because farmhouse sinks usually have thick walls and deep basins, they can take up more cabinet space than drop-in sinks, so take that into consideration when planning your new kitchen.
This article illustrates the installation of a self-rimming farmhouse sink, which is a do-it-yourself-friendly project because it rests on top of the countertop on three sides. Alternatively, installing undermount models or ones without flanges can be more complicated because of how they are supported and how they interface with the cabinetry, so that style isn't covered here.
Plumbing a farmhouse sink is not much different from a standard sink. However, the cabinet opening must be prepared with care. It's important that the countertop be level at all points, so the sink can rest firmly. This sink will be installed at the end of a countertop, so there is a panel on one side. The top of the panel is level with the top of the countertop.
2. CUTTING A STONE TOP. It is possible to cut a granite or quartz countertop for a self-rimming sink. Use a grinder equipped with a diamond blade and cut slowly.
---
Excerpted from Plumbing (The Taunton Press, 2016) by Steve Cory.
Previous:
Installing a Drop-In Sink
Next:
Installing a Cast-Iron Kitchen Sink: Faucets and Drain