List
What's New in Countertops
Engineered materials promise unmatched performance, while classic choices still hold their own.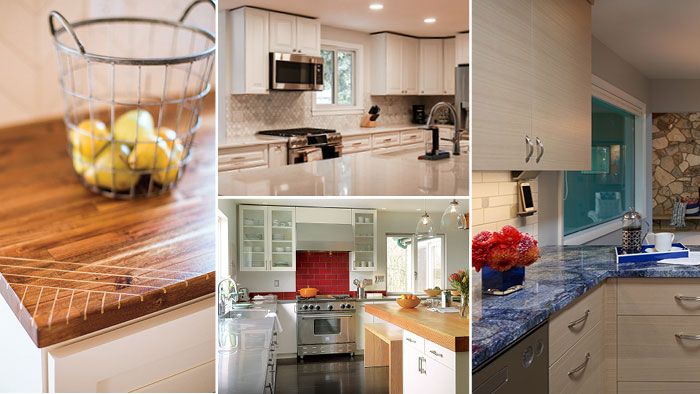 While the kitchen is still center stage for countertop materials, there are other places inside and outside the home where a durable, attractive work surface is essential. Bathrooms, laundry rooms, and outdoor kitchens all need countertops, and some countertop materials are used for wall cladding too.
The good news is that there are more great materials than ever to deploy in those environments—for every budget, taste, and need. Here are some key points to help you sort through the myriad choices you've seen on Pinterest, Houzz.com, and your favorite home-improvement show. If you're a designer or homebuilder, the following will equip you for a productive conversation with your next client.
I'll start with some general considerations for any countertop choice, and then follow with a deep dive into each of the popular categories of materials.
Where is the counter going?
While you may be solely focused on looks and price, the first question a good designer or dealer will ask is where the countertop is going. Kitchen countertops have the toughest job. The kitchen is the toughest zone for any countertop material, with the heaviest use and the highest potential for damage—from water, heat, knives, food oils and acids, and dropped pots and pans. The countertop sees wear and tear from myriad art projects, purses and backpacks, packages, and appliances slid to and fro.
At the same time, kitchen countertops have the most visual impact of any work surface in the home, so the stakes are high.
If the countertop is going elsewhere in the home, in a lower-wear area like a bathroom or laundry room, your choices multiply, and you'll likely pay less for a lasting look. Water is obviously a factor in the bathroom, but a laundry-room table can be made from almost anything that strikes your fancy.
Not all countertop materials do well outdoors. Most engineered quartz, for example, lacks the UV blockers needed to prevent damage. So most designers will turn to natural-stone, concrete, or ceramic countertops. Solid surfaces, like Corian, are another good choice, as long as they have an acrylic base.
How much wear should the countertop show?
The hostile environment takes a toll, so the next question is how pristine you want your countertops to stay. Some materials will show wear and tear no matter how careful you are, so you'll need to see that patina as part of their charm. Others materials are extremely tough and require very little maintenance, but may not have the unique look and feel you're after.
A related question is who lives in the home and how the kitchen will be used. If your kitchen gets heavy use and you want the countertops to keep that showroom sparkle, you'll need to pick a material that is either super tough or easily repaired—or wait till the kids move out.
How easily is the countertop maintained, and is it repairable?
Maintenance is another key consideration for most people, but is often overblown. For natural stones, for example, maintenance amounts to nothing more than a coat of sealer every year or two, and protection just means a little extra vigilance. No matter which countertop material you choose, and how bombproof the brochure promises it to be, you should protect it from high heat, avoid cutting on it directly, and clean up grease and acidy food spills as soon as you can.
More important than maintenance is repairability. Take soapstone, for example. While it's undeniably softer than some other countertop materials, and will show wear over time, it is easily sanded and polished to remove deep scratches, and refreshing the surface is as easy as wiping on another coat of mineral oil. The bottom line is that most countertop materials can be repaired, but the difficulty and price vary widely.
Consider the budget when considering countertop materials
Last but not least are looks and cost, which are often interrelated. If you want your countertops to be truly unique, for example, you may have to invest in a natural stone like granite or quartzite. That said, there are deals to be had, and your countertop installer or local stone yard should tell you about them.
There are deals to be had on manufactured materials too. Take today's most popular countertop material, engineered quartz, which can emulate the look and feel of almost any other material while offering an unmatched combination of high durability and low maintenance. Depending on the style you choose, however, you can double or triple the price of a slab.
Looking around the kitchen, not all areas face the same demands. That's an invitation to mix materials. For example, while you probably don't want a wood countertop to bump up against a sink or stove, wood can act as an organic, welcoming element in an otherwise modern-looking space, making it perfect for an inset cutting area or the top of an island.
DIY, or don't
For handy homeowners looking to DIY, or contractors looking to produce distinctive cabinetry from top to bottom, there are a variety of countertop materials that can be cut and shaped with common tools.
Concrete can be cast into any shape, either in the shop or in place atop the cabinets, with funky colors, additives, or objects mixed in. Wood is obviously DIY-friendly, but soapstone can be cut and shaped with many of the same woodworking tools. So can solid-surface materials like Corian. Laminate is another good choice for DIYers, who can apply it to a plywood substrate, and edge it with wood or metal.
Read on for a closer look at each material. While the market is dominated by just a few popular options, there's an amazing array of materials for distinctive, durable countertops, and each has its own unique advantages.
Looking for the maximum in durability and the minimum in maintenance? Want a bold look on a tight budget? Love your football team so much you want its logo on your kitchen island? Click on the links below to find the perfect countertop for your next project.
Asa Christiana is a contributing editor to Fine Homebuilding magazine