Tools & Materials
Guide to Countertops: Natural Stone
Unique, durable, and easily repaired, stone is still hard to beat for kitchen countertops and bathroom vanities.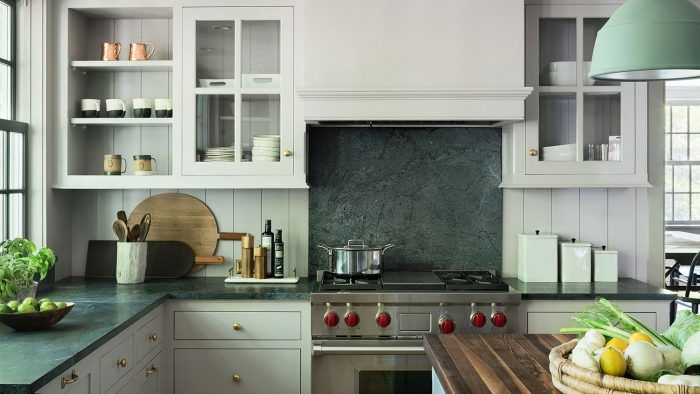 Quarried from the earth, stone continues to be a popular choice for beautiful, durable countertops. While manufactured materials can simulate the look of naturally occurring stone, there is no mistaking the real thing, both in look and feel.
"It's a polished rock," said Justin Macki, who has been fabricating and installing countertops for 25 years in the Pacific Northwest. "It's been around forever and it's going to last forever."
Unlike most other countertop materials, every stone slab is unique, marbled by minerals that give it life and flow and tell the story of its creation. For that reason, stone slabs are picked out individually or in matched sets at a local stone yard. That adds a layer of unpredictability to a kitchen design, for example, but also a design opportunity.
Portland, Ore., interior designer Joel Fraley recalls visiting a local stone yard and changing an entire kitchen design after finding a slab of quartzite "that looked like it came from another planet."
The unique story of every slab—the continent where it is quarried, the difficulty of doing so, how much is still accessible, and shipping costs—means that stone prices vary as widely as their looks and types. That can be good news for budget-minded customers, however.
There are beautiful slabs of granite, for example, mined in South America or Canada and trucked to the U.S., that can be had for 70% to 80% less than slabs mined in Italy or India and shipped over the ocean. You may not get the precise look you saw on your favorite home show, but you'll get the unique look and feel of real stone, not to mention the time-tested durability.
Although there are deals to be had, you can't save money by DIYing a stone countertop, with soapstone being a notable exception (see below). So part of what you are paying for will be a dedicated stone shop who will cut and polish your slabs, and then install them on-site with invisible seams.
Since natural stone has lived in the earth for millennia, it's just as happy outside as in, making it a good choice for outdoor kitchens.
Natural stone can be textured and buffed to any degree of polish. The two main choices are a "polished" (glossy) finish and a "honed" finish, which omits the final polishing stage, leaving behind a velvety, matte look and feel. The latter is better for softer stones and high-use areas, as it does a better job hiding scuffs and scratches. For outdoor use, experts recommend a "leathered" or "antique" finish, with a fine pebbled texture that is even better at hiding stains and dings.
Maintenance and care
While some buyers are scared off by the maintenance required to seal stone and avoid stains that might etch or stain its surface, experts say the fear is overblown. A good fabricator will seal the stone after installation, and all the homeowner has to do is reseal it every year or two at most. Products like TileLab Stone Sealer & Enhancer make it easy, cleaning and resealing in a single step. Another favorite is Tenax's Proseal, designed to soak into the stone and protect it against all water and food stains for up to 5 years with a single application.
Another key to maintaining the look is wiping up spills as soon as possible. Permeability and reactivity vary by stone type, but in general, acidy foods will stain or etch stone surfaces if left in contact for too long. So you need to remember to wipe up spilled wine and citrus juice before you stumble off to bed.
If your stone countertop does get damaged, most are very easy to repair by a skilled installer, who can grind and polish out shallow stains and damage, and mix stone chips into color-matched epoxy to create an invisible fix for big cracks or dents, which are extremely unlikely in most stone countertops.
The approach to hiding cracks is the same for hiding seams, which is why you won't see them in a well-installed set of stone countertops.
Stone types and performance vary widely
Rock types vary widely, from soft, sedimentary stone like travertine to metamorphic stones formed by heat and pressure. There are even differences within the same type.
While undeniably elegant and luxurious-looking, marble is one of the most reactive stone types. It's also relatively soft. At the other end of the spectrum is quartzite, increasingly popular for its crystalline look and unmatched durability and hardness. In the middle somewhere is granite, offering excellent hardness and durability, and options for the budget-minded. And off to one side is soapstone, which is relatively soft but extremely heat-resistant and nonreactive.
A good designer or countertop shop should have an honest and open conversation about expectations when clients are picking a natural stone. For softer types, signs of wear are inevitable, and customers must be ready to embrace the patina of age and use as the character of a unique, timeless material.
Read on for a closer look at the most popular types of stone for countertop use.
Granite
Price: $$-$$$$
Pros: Very durable with proper care, wide array of choices and looks, broad range of pricing, heat- and scratch-resistant, excellent repairability
Cons: Prices high for some looks, can be too busy for some kitchen designs, requires occasional sealing, reacts to food and water if left in contact
In most regions, granite is still the leader for high-end stone countertops, but only just, with super-hard quartzite snapping at its heels. Granite is time-tested, it's widely available in a range of unique colors and patterns, it is extremely durable, and it's one of the easiest types of countertop to repair. "You can find everything from plain-looking granite to a piece of art," Macki said. "You can't capture that with an engineered surface."
Because granite is so well-established, slabs are available for picking and purchasing in every area of the country, with skilled fabricators and installers nearby to collaborate with local cabinetmakers and remodelers. "Granite is still the go-to for most of my customers," said Paul Johnson, who has been building and remodeling homes in Oregon for 20 years. "It's relatively inexpensive, depending on what you choose. There are so many varieties, and everyone knows how to work with it and repair it."
Quartzite
Price: $$-$$$$
Pros: Super dense, hard, and durable; translucent quality; requires less care and maintenance than other stones
Cons: Price, brittleness
Threatening to overtake granite as the leader in natural stone, quartzite is sedimentary quartz sandstone that has been transformed by pressure and heat into a super-hard, metamorphic rock. The quartz not only makes it extremely dense and durable, but also uniquely beautiful, with a range of translucent, crystalline colors and patterns, including variations that look like marble and soapstone. Give quartzite a glossy polish, and you can look into its surface like glass.
Its density and hardness also makes quartzite less prone to staining and scratches than other stones, rivaling the low maintenance of manufactured materials. "Lots of my clients like it over engineered quartz because it's unique, with lots of variety," Johnson said. "It can be brittle, though, so you need to watch out where you grab it when installing it, and think about supporting it with extra cross-members in the tops of your cabinets."
Harder than knives and glass, and resistant to etching from acids like lemon juice or vinegar, true quartzite has relatively consistent properties. Unfortunately, quartzite labeling is anything but consistent.
Partially due to its sharply rising popularity, you'll find the "quartzite" label on everything from marble to sandstone. So it's critical to ask your fabricator or stone yard for true quartzite. The hardness and etching are easy to test on a sample of stone. One sign you have the real thing will be the price. True quartz costs significantly more than most of the imposters.
Experts warn that some of the lightest colors of quartzite may contain veins of more porous minerals. Those areas will be more prone to etching from food acids, so a honed finish is preferred over a polished gloss. Like all stone, however, quartzite can be repaired by a skilled stone fabricator.
Marble
Price: $$-$$$$
Pros: Unmistakable elegance
Cons: Price, softness, etching, staining, signs of wear (for some)
Marble is the Greek god of countertop materials. Instantly recognizable, it's the stuff of ancient temples and statues. In today's modern and transitional-style kitchens, white varieties are the most popular.
Other than cost, marble comes with a number of caveats for countertop use. One of the softer stones, it's vulnerable to scratches, chips, and bruising. The latter happens when something is dropped on the surface, leaving a dime-size white spot around the nick or dent. The softness also means marble shows signs of wear.
Composed of calcium carbonate and magnesium carbonate, marble is also reactive to acids like lemon juice and vinegar, which will etch the stone, leaving a whitish mark. Leave it longer, and you'll get an orange-peel texture.
Frequent sealing is helpful but won't prevent the problems. This is why marble is generally sold with a honed finish, which hides the patina of age and use. Light, whitish colors also do a better job at hiding bruises and etching. And edges softened with a curved profile will be less prone to chipping.
The right customer for marble is one that will embrace the inevitable signs of wear as character. As with soapstone (below), the patina of age and use is beautiful to some and a deal-breaker for others.
Soapstone
Price: $$$ ($$ if DIYed)
Pros: Beautiful, stainproof, heat-resistant, crack-resistant, can be cut and shaped with common tools
Cons: Can be expensive*, soft, scratches and dents relatively easily
Soapstone is unlike any other countertop material, in a variety of ways. Like marble, it is a softer stone, and shows signs of age and use. Unlike marble, it is nonporous and inert. That means it doesn't need a sealer, it is very sanitary, and it won't react to water, food chemicals, or heat.
Those unique properties are why soapstone has been the preferred countertop for chemical labs for decades. Soapstone also has a variety of unique looks, from jet black with white marbling to silvery greys with iridescent veins as well as dark-green varieties.
The reason there's an asterisk around pricing is that soapstone can be cut and shaped with woodworking tools, just one more thing that makes it unique. DIYers can cut the installed price in half by buying raw slabs, cutting them to size with carbide blades, shaping their edges with router bits, and polishing and oiling them like wood.
That workability means that drain grooves can be cut next to a sink, and the sink itself can be fabricated from soapstone. It also makes soapstone easy to refresh and repair by its owner, with no need to call in a pro.
While soapstone does not require a sealer, it is always saturated with oil after installation, to make the look darker and more unified, and make its veins more translucent. When it does pick up nicks, scratches, and dents from use, another coat of oil blends those in—or the whole slab can be sanded and polished to make it like new.
Like marble, soapstone countertops are beloved by the right customers.
Limestone and travertine
Price: $$-$$$
Pros: Price, rustic looks
Cons: Soft, porous, prone to scratches and dings, damaged by food acids
Drawn in by their lower price ranges and warm, rustic feel, some customers choose softer sedimentary stones like limestone and travertine (a type of limestone) for their countertops.
Limestone is harder and lighter, generally, and travertine is softer with darker, earthier colors, making it popular for outdoor kitchens.
Performance-wise, both stones have a similar list of caveats. Both are very porous—travertine so much so that its voids and hollows are often filled with resin and grout. Being made of calcium carbonate, both are also very reactive to acids, meaning that regular sealing is critical, as well as vigilance around food preparation.
While these soft stones are poorly suited for heavily used kitchens and homes with children, they will remain beautiful with proper care.
Asa Christiana is a contributing editor to Fine Homebuilding magazine
Main photo by Amanda Kirkpatrick
Previous:
A Bolder Backsplash
Next:
Guide to Countertops: Stainless Steel